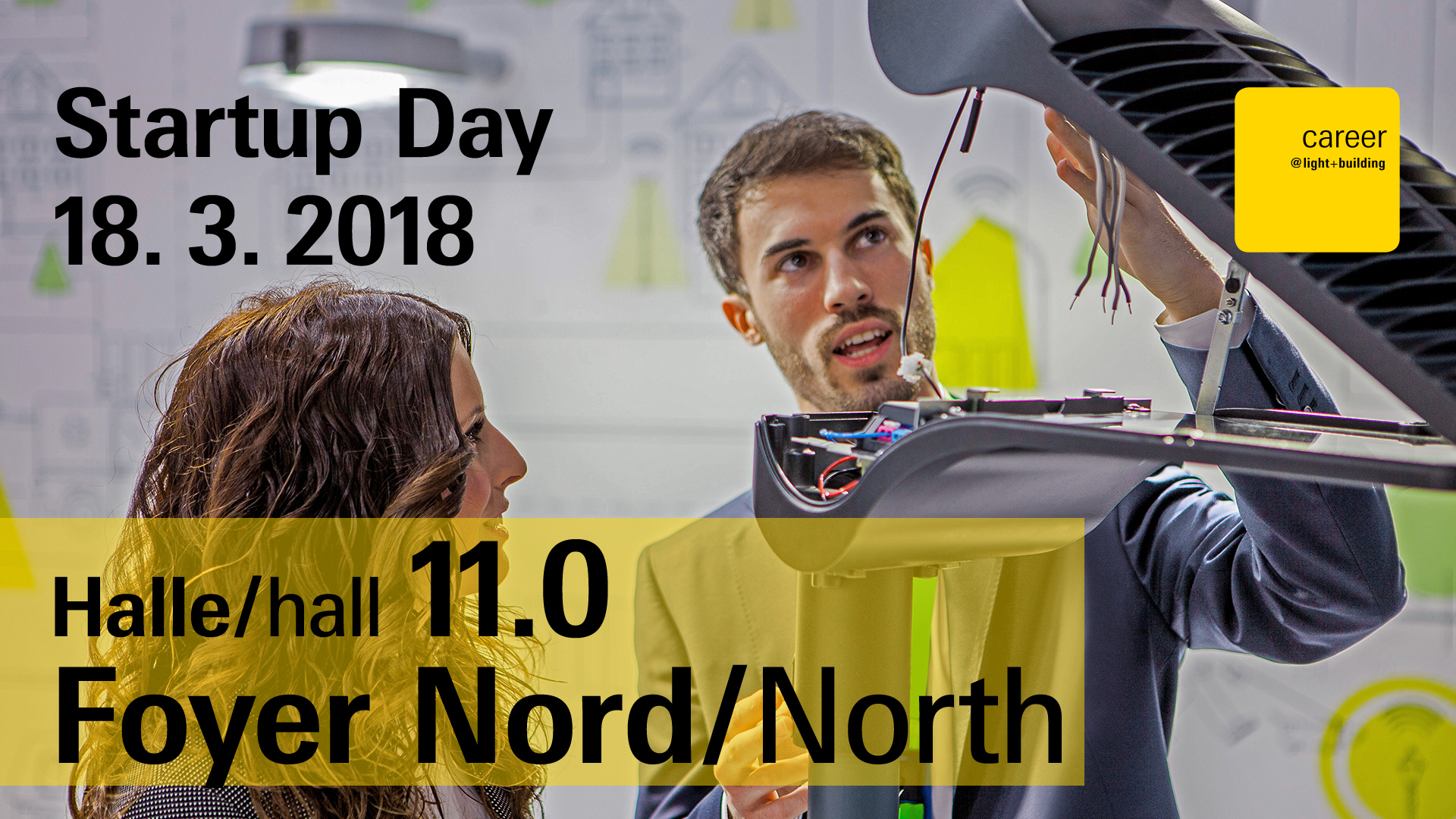 Organiser: Messe Frankfurt in cooperation with the start-up scene
Date: 18 March 2018
Location: Hall 11.0, foyer, north side
This year's Light + Building is holding the first Start-up Day, were young companies can put the spotlight on their innovations.  
What does the Light + Building Start-up Day offer young companies?
Right at the start of the fair, Sunday, 18 March, the focus will be on start-ups and their ideas. Then, young entrepreneurs have the chance to present their products and services in a special start-up area free of charge.
What does this mean for you? Above all, it means lots of business opportunities. For, among the exhibitors and visitors of Light + Building, there are representatives of market leaders and the industry's blue chips, as well as small-to-medium sized companies and numerous other start-ups, all of whom want to gather and exchange ideas and information. In other words, it is an excellent chance to reach future customers and meet potential partners for business ventures. After all, the big players know: young, inventive talent is the key to survival in the market.
Another benefit: start-ups taking part receive as many admission-ticket vouchers as they need to take their network with them to Light + Building. Moreover, they will be sent promotional materials in advance of the fair, so they can draw attention to their presentation at Light + Building.
But that's not all: start-ups can also participate in the stage programme, which begins at 14.00 hrs and is designed to promote the exchange of ideas and information between new and established players.
The participants in the stage programme include Domagoj Dolinsek, CEO of the construction-defect management start-up, Planradar, which last year attracted millions of investment dollars and has just been singled out as the best Proptech Startup at the MIPIM Proptech Summit in New York. And key players from the sector, such as Schüco, which is creating its own start-up space and thus supporting the start-up scene in Bielefeld. On stage, they will discuss the chances for the construction industry generated by new players.
The day will be rounded off by an informal networking event, the Light + Building Exhibitor Evening where start-ups will have the opportunity to enter into a dialogue with a host of other companies.
The startups introduce themselves: