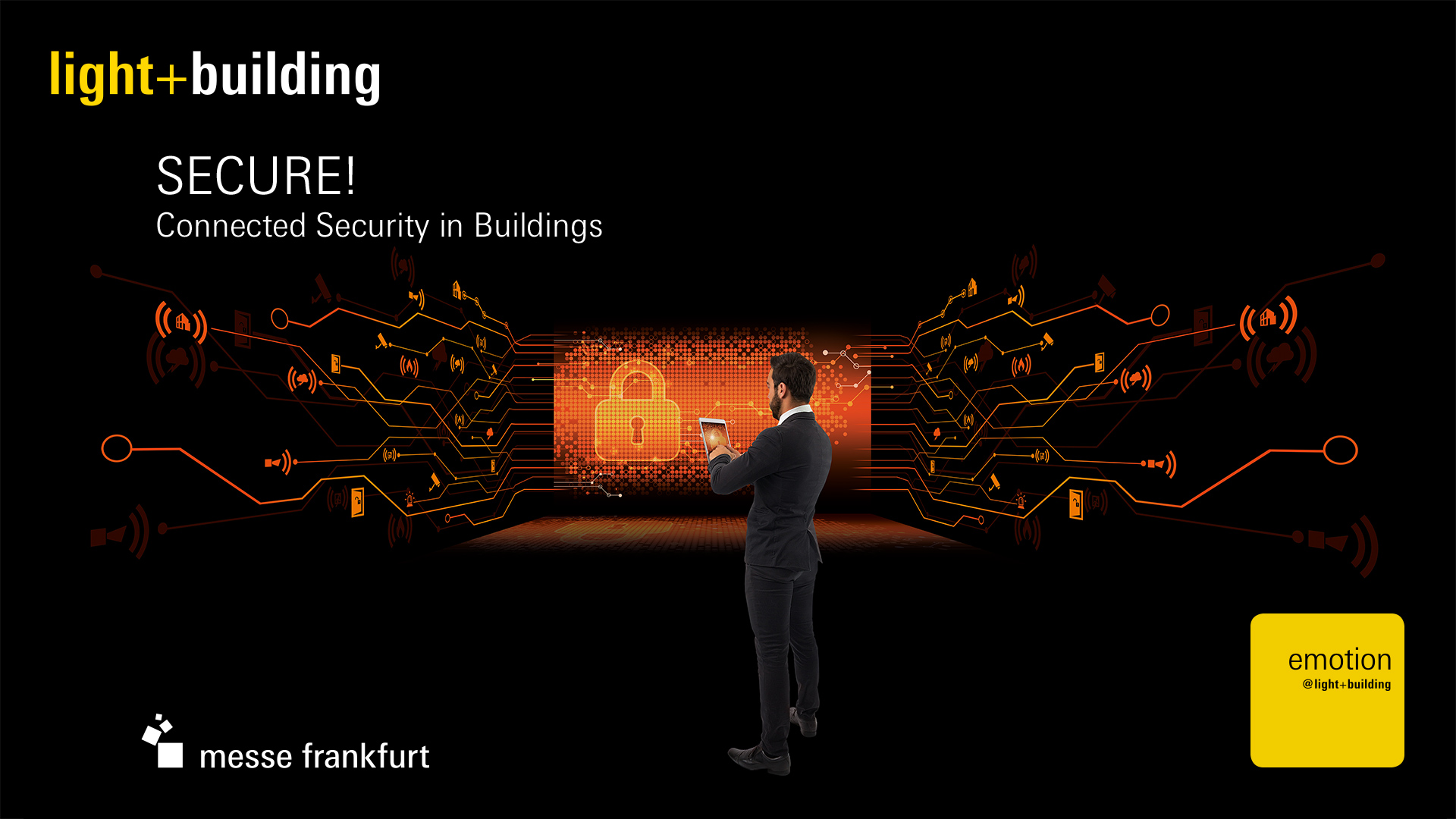 The increasing shift from analogue to digital technology is changing processes in building services management. Digitalisation makes it possible for us to integrate applications from different trades in automated networks and, as a result, is crucial in enabling flexible uses of the available technology. There is an increasing move to integrate security technology with other services in the building, which have hitherto still remained, for the most part, autonomous and independent. The interfaces between the various trades play a central role in all this.
And this topic is the subject of the special exhibition - SECURE! Connected Security in Buildings.
SECURE! shows how innovative technical solutions can help increase the efficiency and hence cost-effectiveness of a building, enhance the level of sophistication of the security systems and take into account the individual needs of the users. Based on 3 specific applications, 'Hotel – Office – Industry', it will look at the issue from the point of view of the safety and security of the users and of the user interfaces themselves and thus present a concept for integrative building services.
Taking examples from various pioneering technologies, SECURE! will showcase what possibilities and options are on offer for taking advantage of the progress that is being made in digitalisation and applying this in the field of building automation and building services engineering. To this end, several sub-systems will be networked with one another, in order to demonstrate the inter-operability of the technologies under operational conditions.
The special display, SECURE!, shows the systems behind the systems that are involved, explains the relationships, points to the pitfalls that can occur in building planning, and provides hints and tips for ways of overcoming the challenges.
SECURE! enables people to see the various technologies involved in the security and automation of buildings at first hand. Moreover, the special exhibition demonstrates the possibilities and options for taking advantage of the growing trend for digitalisation in security and building services engineering.
What is behind the new special show? - An interview with Bertram Canzler, managing director of Canzler GmbH
In the immediate vicinity of the special show will be the Intersec Forum, which is being held concurrently with Light + Building from 19 to 23 March 2018 – a constellation that will bring together the complete range of security technology for both trade-fair visitors and conference participants at the same time and place in March 2018.
The following companies support the exhibition with products and know-how:
ABB Stotz-Kontakt GmbH, Hall 8.0 F50 / G50, www.abb.de
ABM Notstromtechnik GmbH, Hall 8.0 D82, www.abm-notstrom.de
Advancis Software & Services GmbH, Hall 9.1 C65, www.advancis.de
Axis Communications GmbH, Hall 11.1 C07, www.axis.com
Beckhoff Automation GmbH & Co. KG, Hall 11.0 C56, www.beckhoff.com
Bihl + Wiedemann GmbH, Hall 9.1 D51 / D66, www.bihl-wiedemann.de
Bosch Sicherheitssysteme GmbH & Co. KG, Hall 9.1 C60, www.boschsecurity.com
CONTROLtronic GmbH, Hall 11.1 C84, www.controltronic.com
Danfoss GmbH, Hall 9.0 D10, www.danfoss.de
Daitem / Atral-Secal GmbH, Hall 9.1 F31, www.daitem.de
Dehn + Söhne GmbH + Co. KG, Hall 8.0 D90, www.dehn.de
Digivalet, www.digivalet.com
GEZE GmbH, Hall 9.1 C30, www.geze.com
GFR – Gesellschaft für Regelungstechnik und Energieeinsparung mbH, Hall 11.0 C12, www.gfr.de
Gira Giersiepen GmbH & Co. KG, Hall 8.0 F98, 11.1 A16 / A32 / B16 / B32, www.gira.de
G&N Gefahrenmelde- und Nachrichtentechnik GmbH, www.gn-gmbh.de  
Gretsch-Unitas GmbH Baubeschläge, Hall 9.1 F42, www.g-u.de
Hermos AG, Hall 9.1 B61 / D66, www.hermos.com
H.M. Heizkörper GmbH & Co. KG, www.muhr.net
Honeywell – Novar GmbH, Hall 9.1 B50, www.esser-systems.com
INH GmbH / HHO_Automation, www.inh-hho.de
Inolares GmbH & Co. KG, www.inolares.de
Inotec Sicherheitstechnik GmbH, Hall 4.1 A70 / B70, www.inotec-licht.de
Jola Spezialschalter GmbH & Co. KG, Hall 9.0 A43, www.jola-info.de
JUNG - Albrecht Jung GmbH & Co. KG, Hall 11.1 A60 / B56 / B72, www.jung.de
Knürr GmbH, www.technical-furniture.com
KNX Association cvba, Hall 8.0 F98, 9.1 E14, 11.1 C92, Galleria 1 A02 / A30 / B01 / B21 / B31, www.knx.org
Lindner AG, www.lindner-group.com
Alexander Maier GmbH, Hall 8.0 K82, www.busbaer.de
MBS GmbH, Hall 9.1 E66, www.mbs-solutions.de
Microsens GmbH & Co. KG, Hall 9.1 E31, www.microsens.de
Neuberger Gebäudeautomation GmbH, www.neuberger.net
OBO Bettermann Holding GmbH & Co. KG, Hall 8.0 E90, www.obo.de
Osram GmbH, 2.0 B50, www.osram.de
Phoenix Contact GmbH & Co. KG, Hall 9.1 E12, 11.0 D70 / D74 / D75 / D84 / D85, www.phoenixcontact.com
Dipl. Ing. Preiser MRT oHG, www.preiser-technik.de
Roma KG, www.roma.de
RP-Technik GmbH, Hall 4.1 D31, www.rp-group.com
Sauter-Cumulus GmbH, Hall 9.1 D66, www.sauter-cumulus.de
SBC Deutschland GmbH, Hall 9.1 B54, www.saia-pcd.de
ScreenLine GmbH & Co. KG, www.screenline.net
S. Siedle & Söhne Telefon- und Telegrafenwerke OHG, Hall 11.1 C56, www.siedle.de
Siemens AG, Hall 9.1 A40, 11.0 B56 / B72 / B86, www.siemens.com
Siteco Beleuchtungstechnik GmbH, Hall 2.0 B50, www.siteco.de
Stöbich Brandschutz GmbH, www.stoebich.com
Theben AG, Hall 8.0 D30, www.theben.de
Trilux GmbH & Co. KG, Hall 3.0 D11 / E11, www.trilux.com
Trox GmbH, www.trox.de
Zumtobel Group AG, Hall 2.0 A30 / B30 / B31, www.zumtobelgroup.com