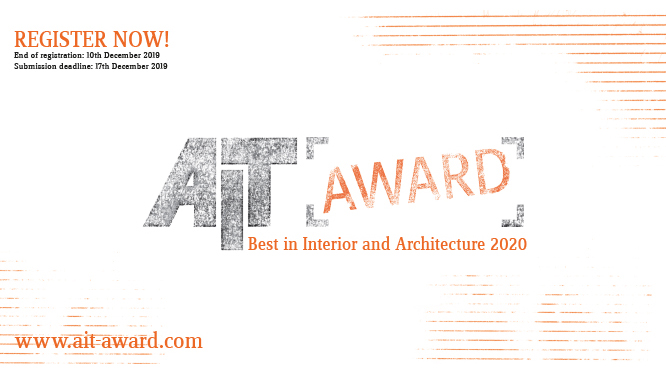 The AIT‐Award is one of the most prestigious international awards for realized concepts in architecture and interior design. Originating from the contractworld.award, initiated in 2000, the AIT‐Award will be awarded for the fifth time and follows on from the past with around 800 submissions from 50 countries.
Categories
1. Living single‐family
2. Housing multi‐family
3. Hotel
4. Restaurant
5. Retail / Trade fair design
6. Office / Administrations
7. Health / Care
8. Sports
9. Public Buildings / Culture / Leisure
10. Education
11. Production / Commercial
12. Newcomer
Special categories
13. Mixed‐Use
14. Social Design / Participatory architec
Projects completed after the 30th of June 2017 can be handed in by their architects and interior designers until the submission deadline on 17th of December 2019. A maximum of three projects per entrant may be submitted in one or more categories. There is no charge for entering the competition.
The Award ceremony will take place on 11th March 2020 at Light + Building. All awarded projects will be presented within the context of the award ceremony in a special exhibition.