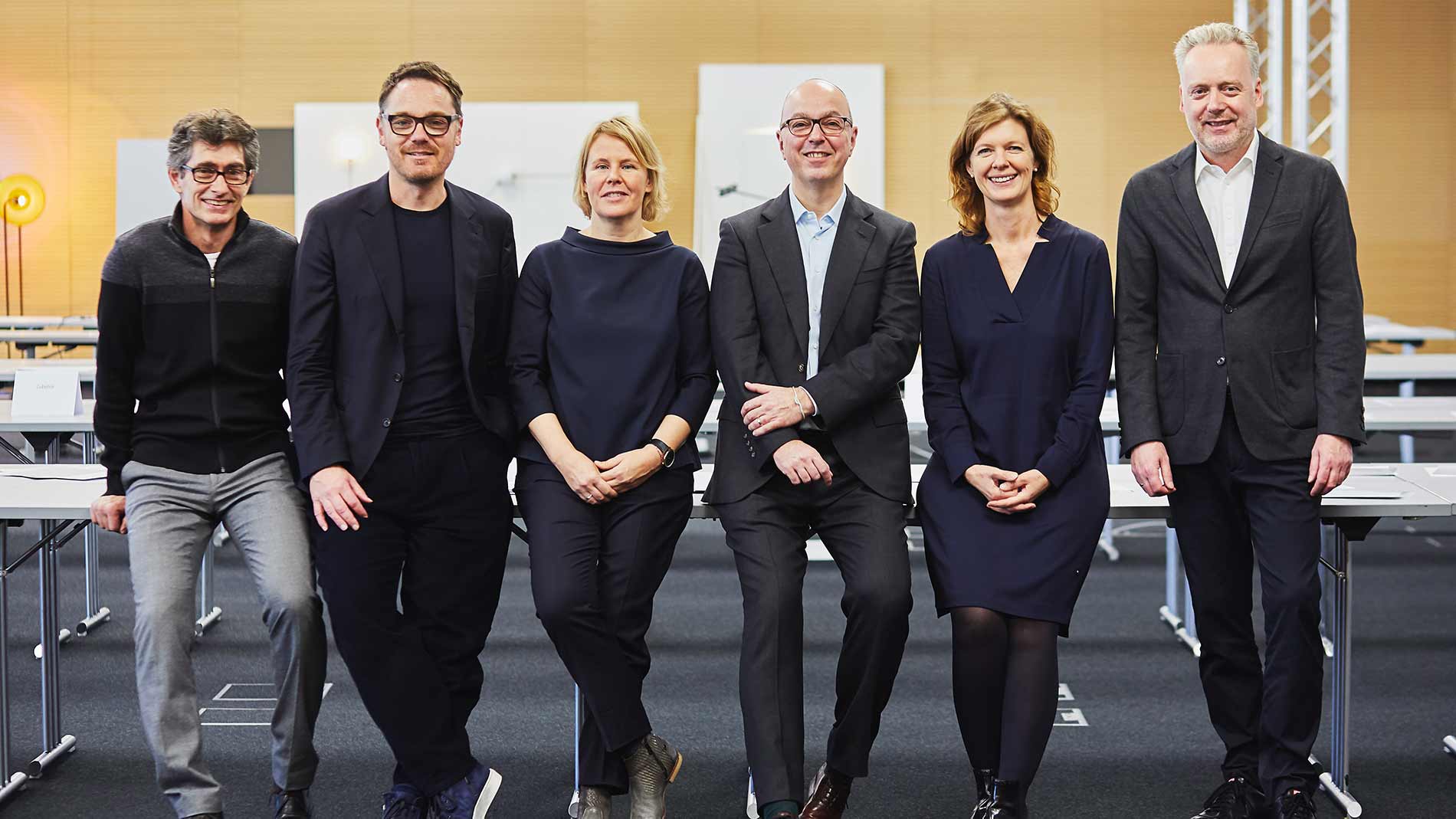 Organiser: Messe Frankfurt in collaboration with the German Design Council
Location: Hall 1.2
The competition Design Plus powered by Light + Building is presenting awards to innovative products which meet the highest standards of design, ease of use, sustainability and technical quality. Design Plus is known as one of the most important design prizes in Germany.
It is organised by Messe Frankfurt and the German Design Council and awarded by an independent expert jury. 126 businesses from 24 countries took part in the competition, with a total of 177 products. 34 innovative products have received a Design Plus Award as part of the competition. The prize-giving will take place on 8 March as part of Light + Building. All the prize-winning products will be shown during Light + Building from 8 to 13 March 2020 in Frankfurt am Main in the Design Plus special show in Hall 1.2.
You are interested in the Design Plus newcomers' competition? Further information can be found here.
Prize winners Design Plus powered by Light + Building 2020
Best of
Photographs of the products source: images by the awarded companies
Discovery Vertical 140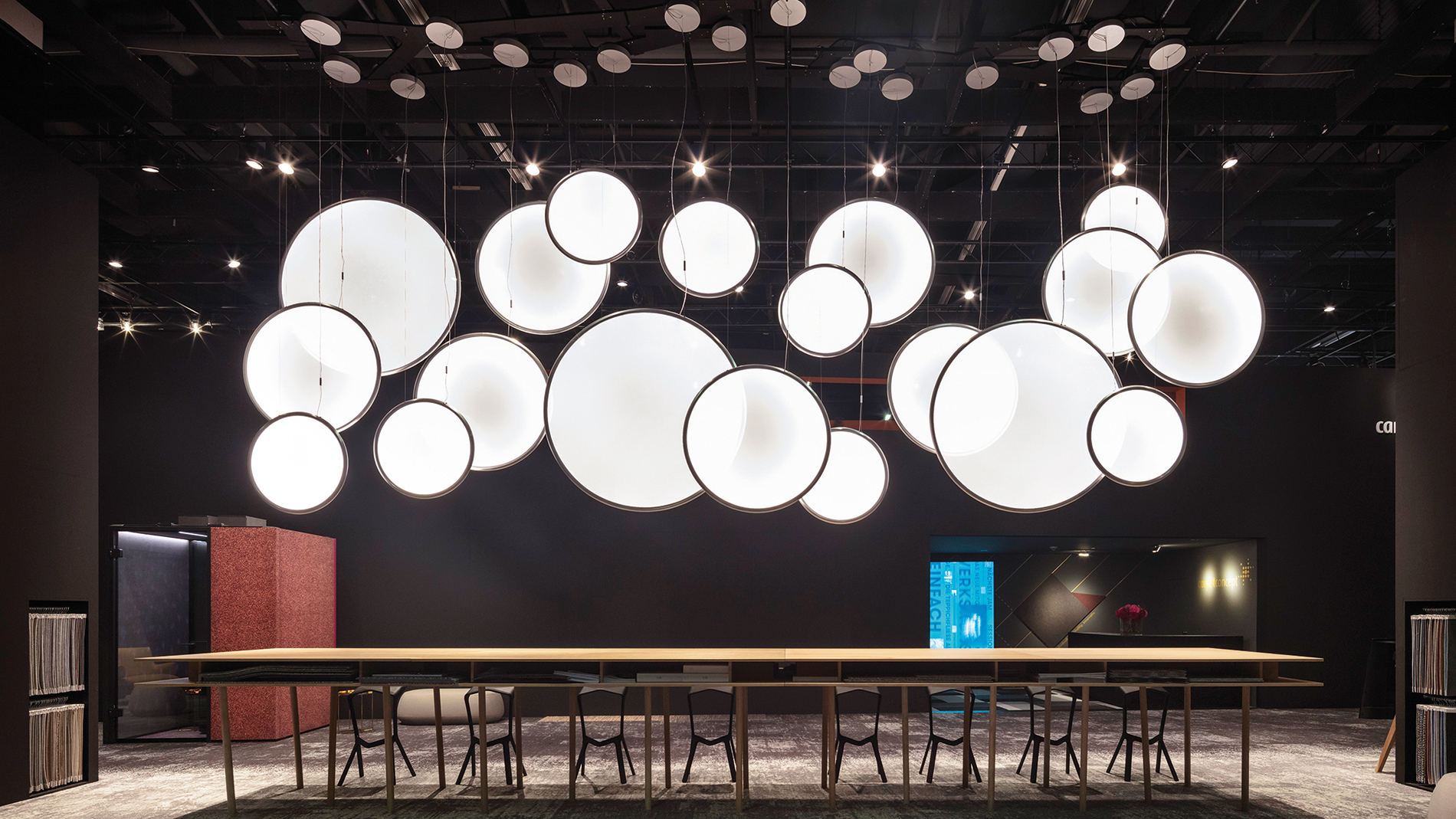 Design: Artemide Deutschland GmbH & Co. KG
Manufacturer: Artemide Deutschland GmbH & Co. KG
Discovery Vertical is already special because it is not suspended horizontally, but vertically. With its circular, flat shape, it looks absolutely timeless and fits into many settings. However, its full optical effect becomes apparent in the group when the different-sized cloudy translucent surfaces overlap, creating a unique installation that lends rooms an unmistakable identity of their own.
Smoke Detector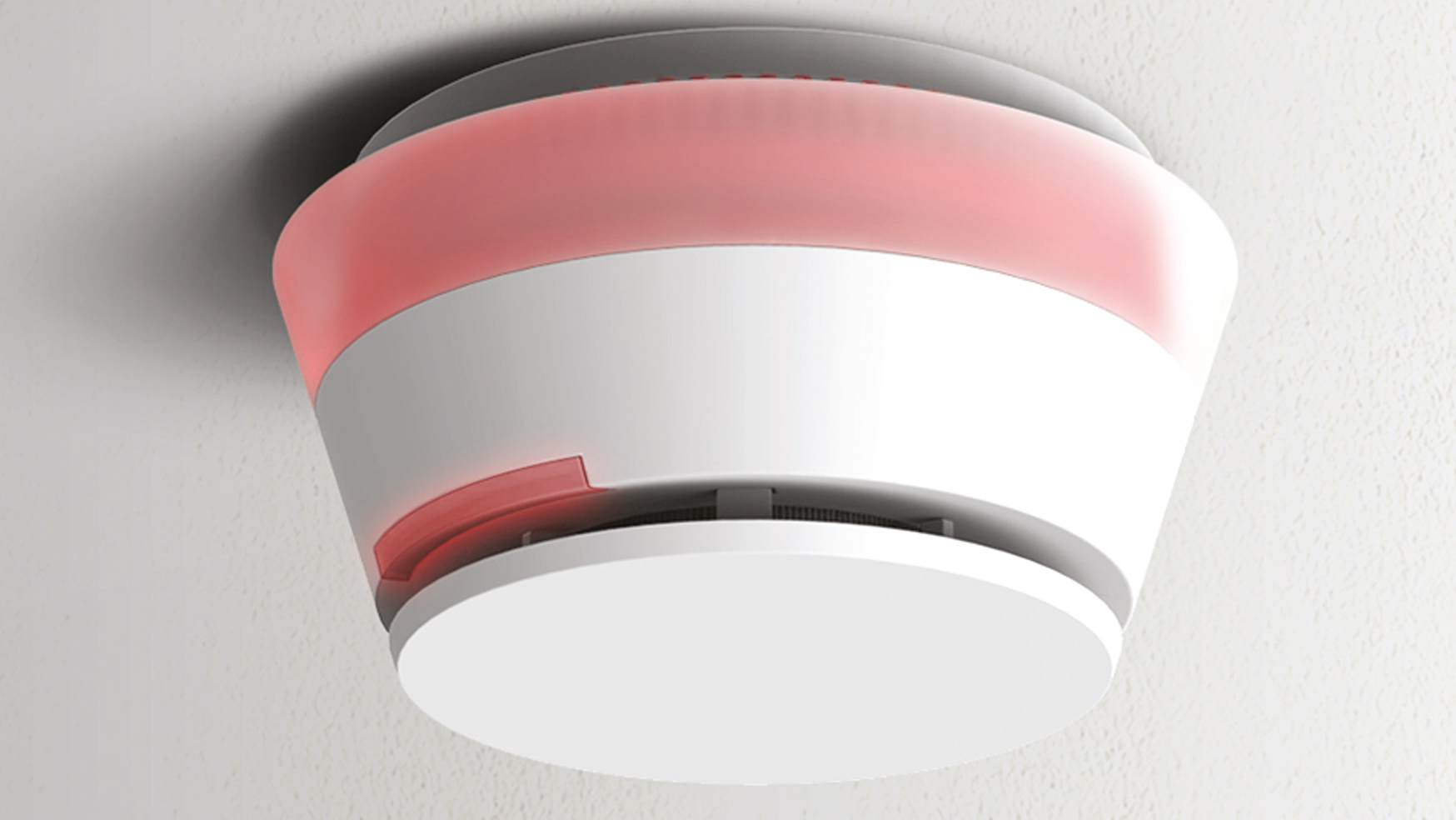 Design: Habits Srl
Manufacturer: COMELIT GROUP SPA
The smoke detector convinces with its pleasantly clear style that enables it to blend harmoniously into many architectural environments and meet even the highest design requirements. The signal LEDs were integrated flush into the cone and the end cover plate was also kept completely clean. It is a product that is cleanly designed down to the last detail, which has a very high-quality overall look, making it stand out clearly in this segment.
Illan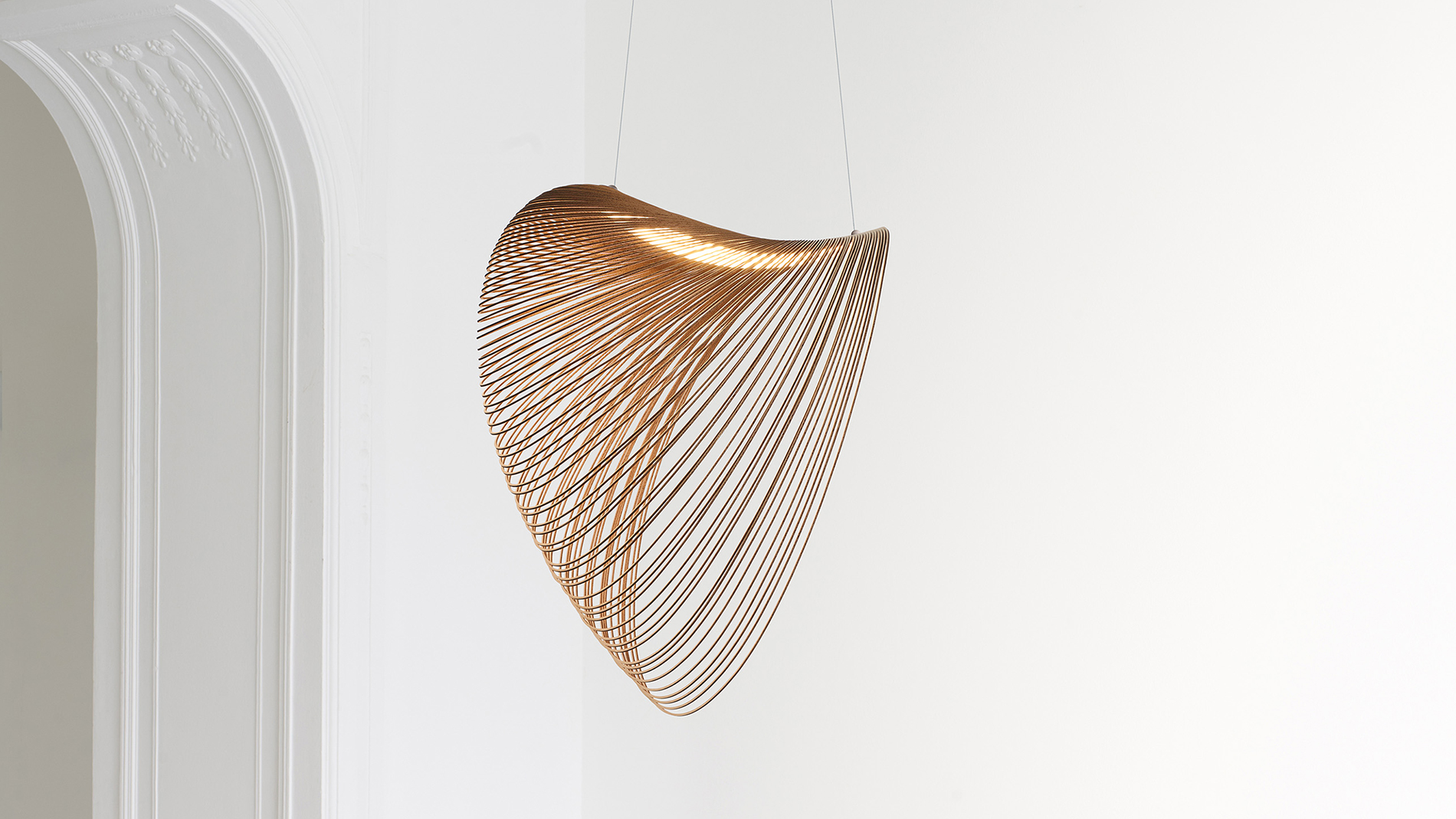 Design: Zsuzsanna Horvath
Manufacturer: Luceplan srl
With its organic form, poetically reminiscent of a cornucopia, the pendant luminaire is an eye-catcher above any table. Thanks to its incredible filigree structure made of curved wood, it nevertheless appears wonderfully light and seems to float in space. A fantastically designed, timelessly elegant luminaire that serves as a decorative object during the day and creates a subtle play of light and shadow in the dark.
Trypta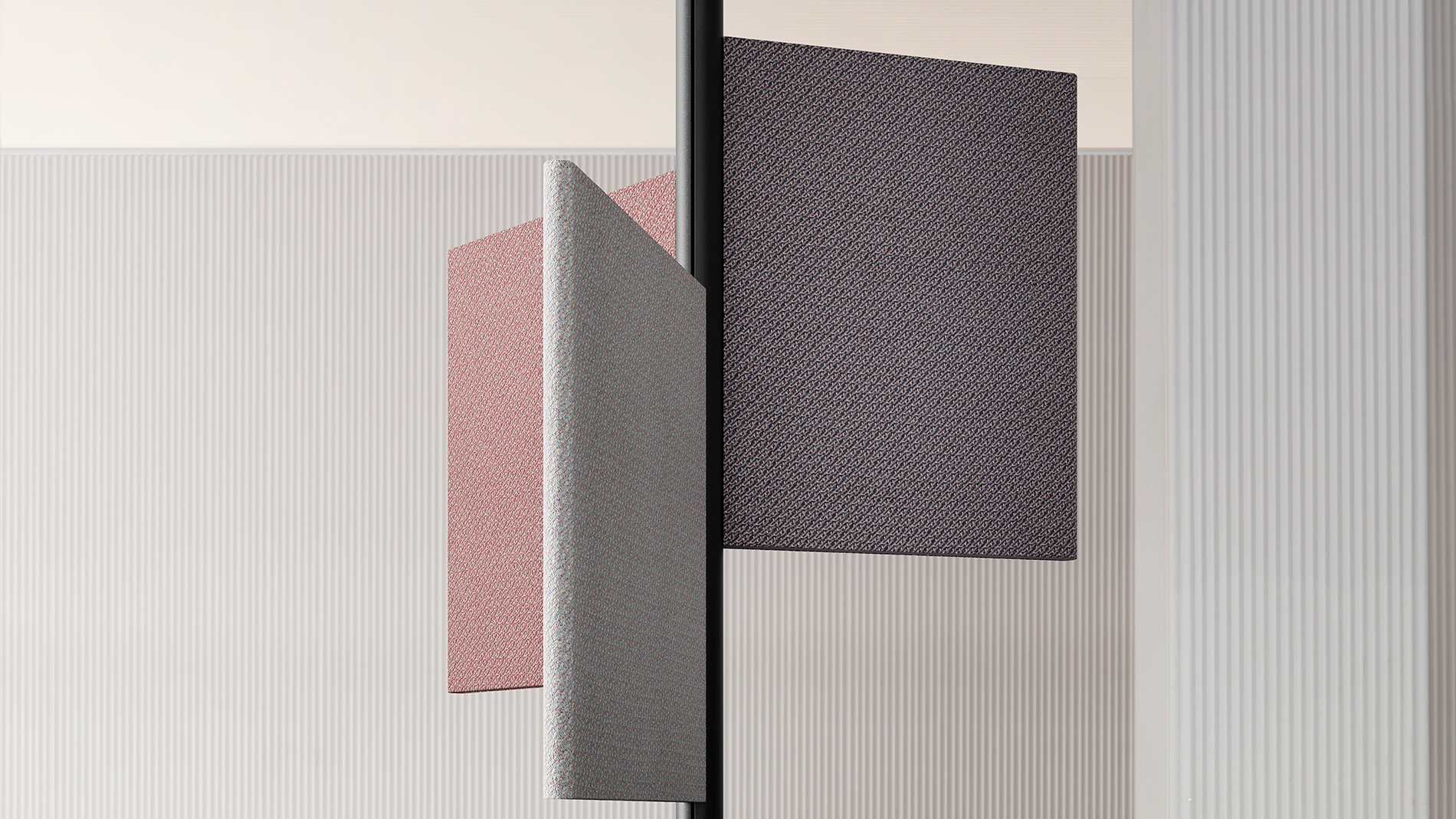 Design: Stephen Burks Man Made
Manufacturer: Luceplan srl
The design of the Trypta combines sound insulation with a clear design to create an elegant pendant luminaire that gives rooms a special atmosphere without being obtrusive. The wings are also available in different colours, allowing the luminaire to be perfectly matched to its surroundings.
BREAK-IT
Design: OLIGO Lichttechnik GmbH; HYVE Innovation Design GmbH
Manufacturer: OLIGO Lichttechnik GmbH
BREAK-IT is a pendant luminaire consisting of two cylindrical elements that can be connected by a simple mechanism to form a coherent horizontal luminaire. The luminaire also detects whether it is hanging horizontally or vertically and switches the light automatically. This makes it an original design idea that has been realised according to high creative standards in terms of form and function, offering genuine added value.

LightGlass - selbstleuchtendes Glas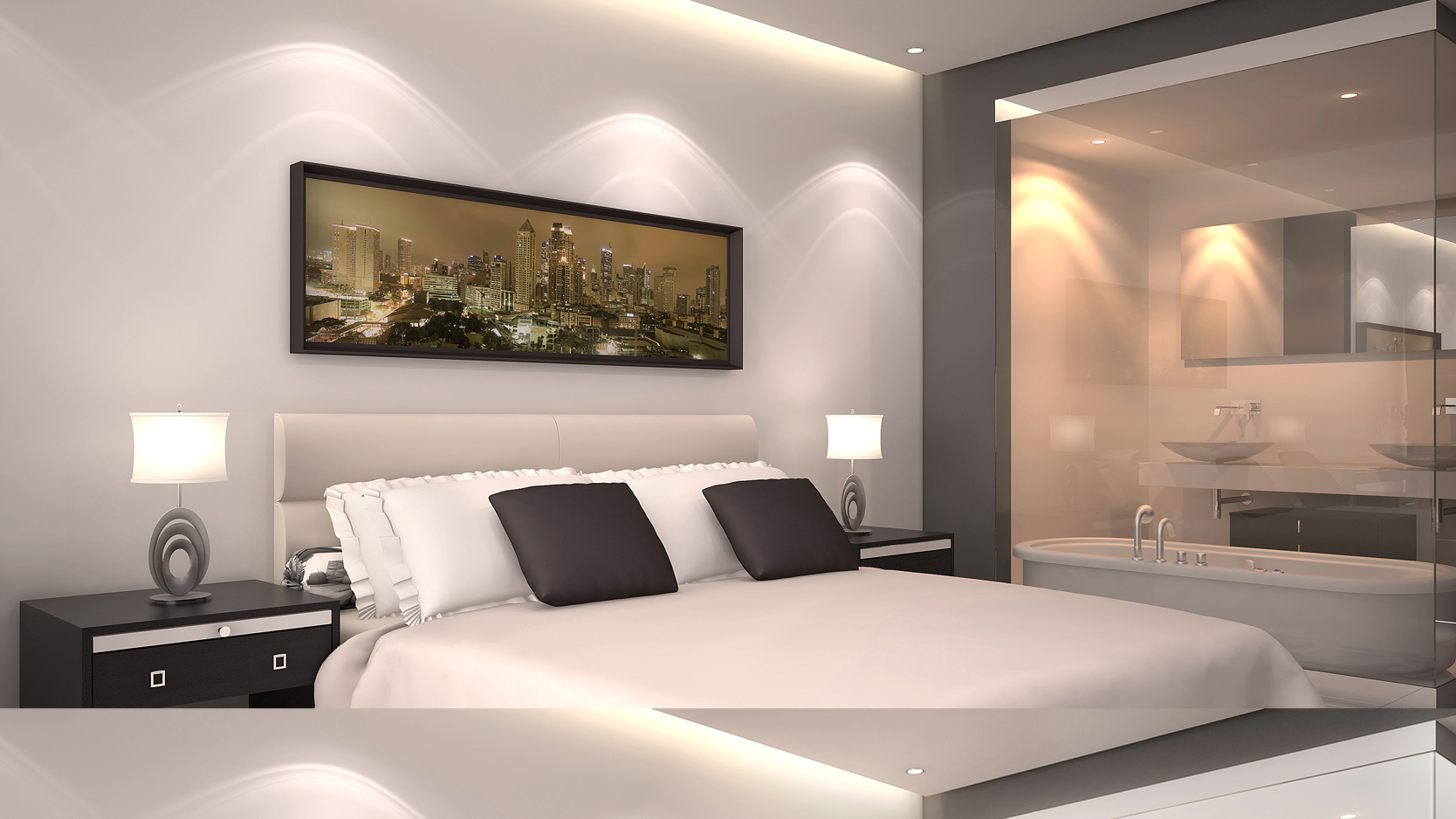 Design: Glass Technology GmbH
Manufacturer: Glass Technology GmbH
LightGlass is the first industrially available, self-luminous glass for the world market. Switched off, LightGlass has the appearance of normal multi-plane insulating glass, but when switched on, it becomes a homogeneous, dimmable full-surface light source. LightGlass is available in the following variations: Brilliant White, Tunable (HCL), and Rainbow (RGB-B) plus Privacy-Effect. For Façades – outside – or indoor use, as window, as skylight, door, partitioning wall, residential buildings, shopfitting, hospitality, etc.
Ghost for Cladding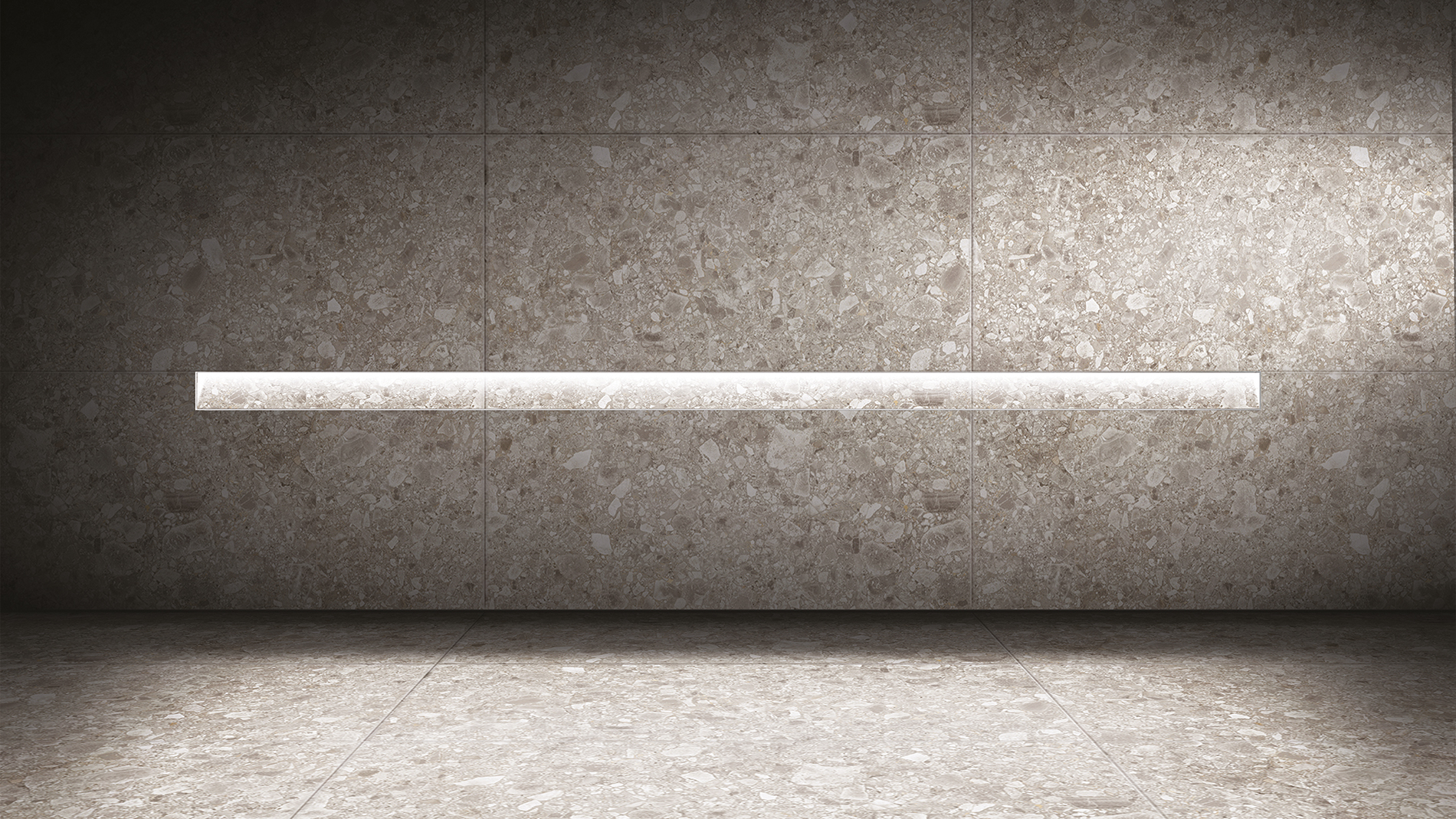 Design: Studio Sadler
Manufacturer: Simes S.p.A.
Ghost for cladding or plasterboard is the most recent development of the family Ghost. It has been developed to be completely covered with the same material finish as the wall, such as plasterboard, mosaic, ceramic tiles or stone finish and obtain the total integration of the fixture into the architecture. Ghost, just light.
Pebbles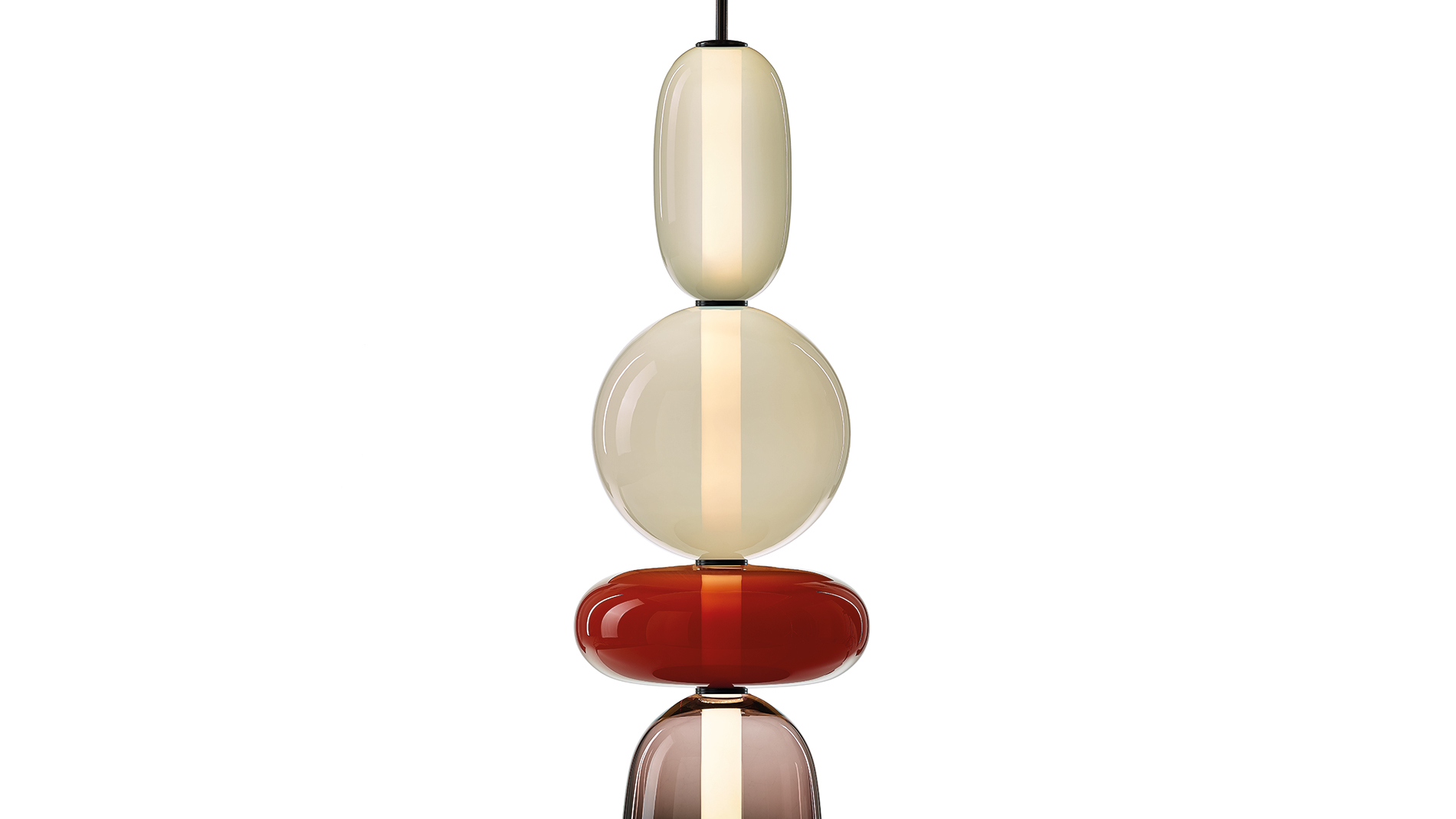 Design: Boris Klimek
Manufacturer: BOMMA
Smooth pebbles from summer beach, or as a reminder of someone special. Their diverse shapes and colours inspired this collection, which lets you create distinctive combinations. String the hand-blown glass elements just like colourful beads, connected by their interior light source.
ERCO Eclipse Konturenstrahler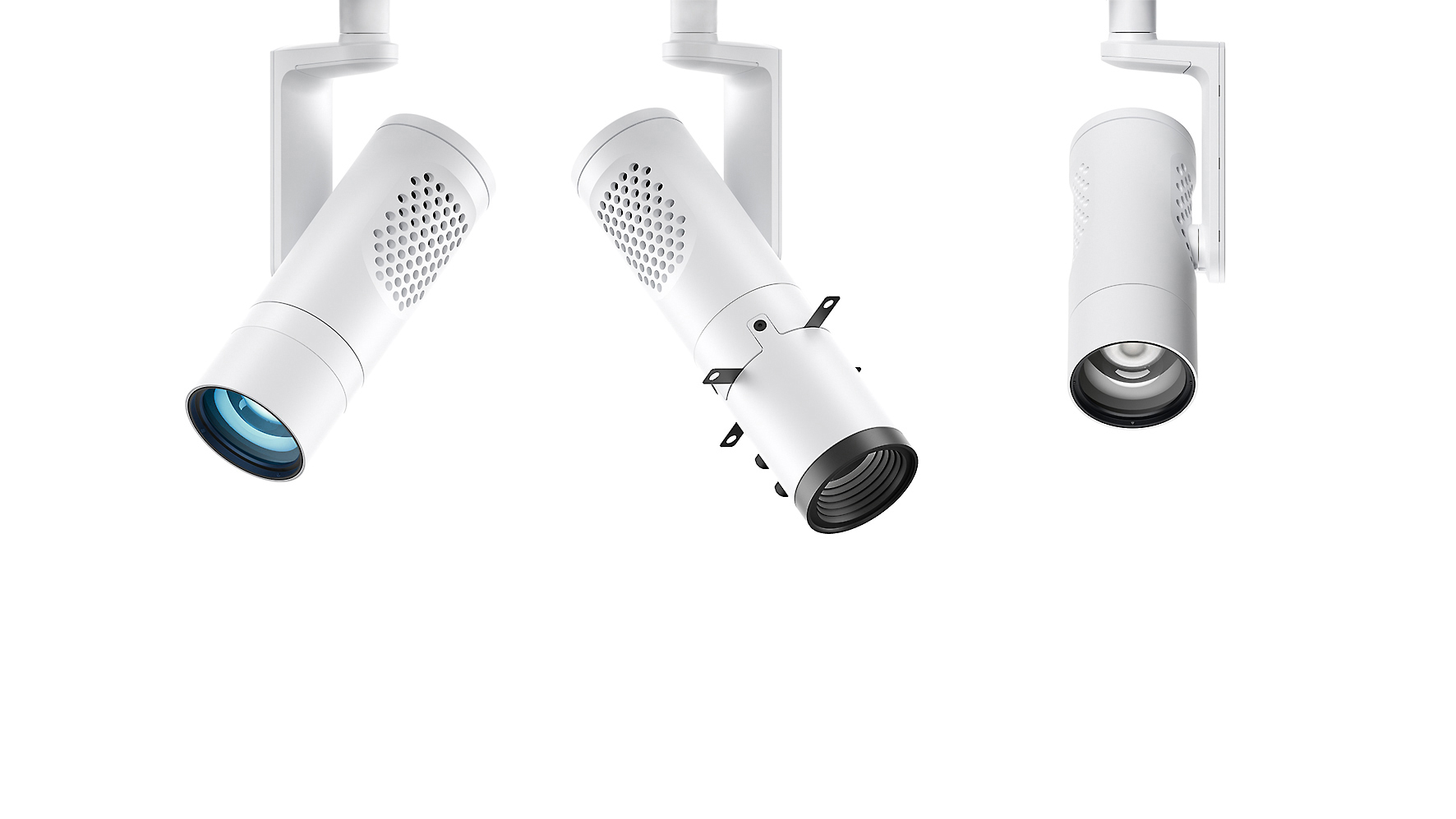 Design: ERCO GmbH
Manufacturer: ERCO GmbH

The new Eclipse spotlight range from ERCO includes 28,000 solutions for individual lighting tasks: The new spotlights, floodlights and wallwashers  not only impress with innovative technical details but also with unprecedented system scope. Never before has ERCO had a range of spotlights with so many sizes, optics, light colours and connectivity options – as well as such a wide range of accessories, which further increases possibilities.
Berker Serie 1930, Drehschalter mit Beleuchtung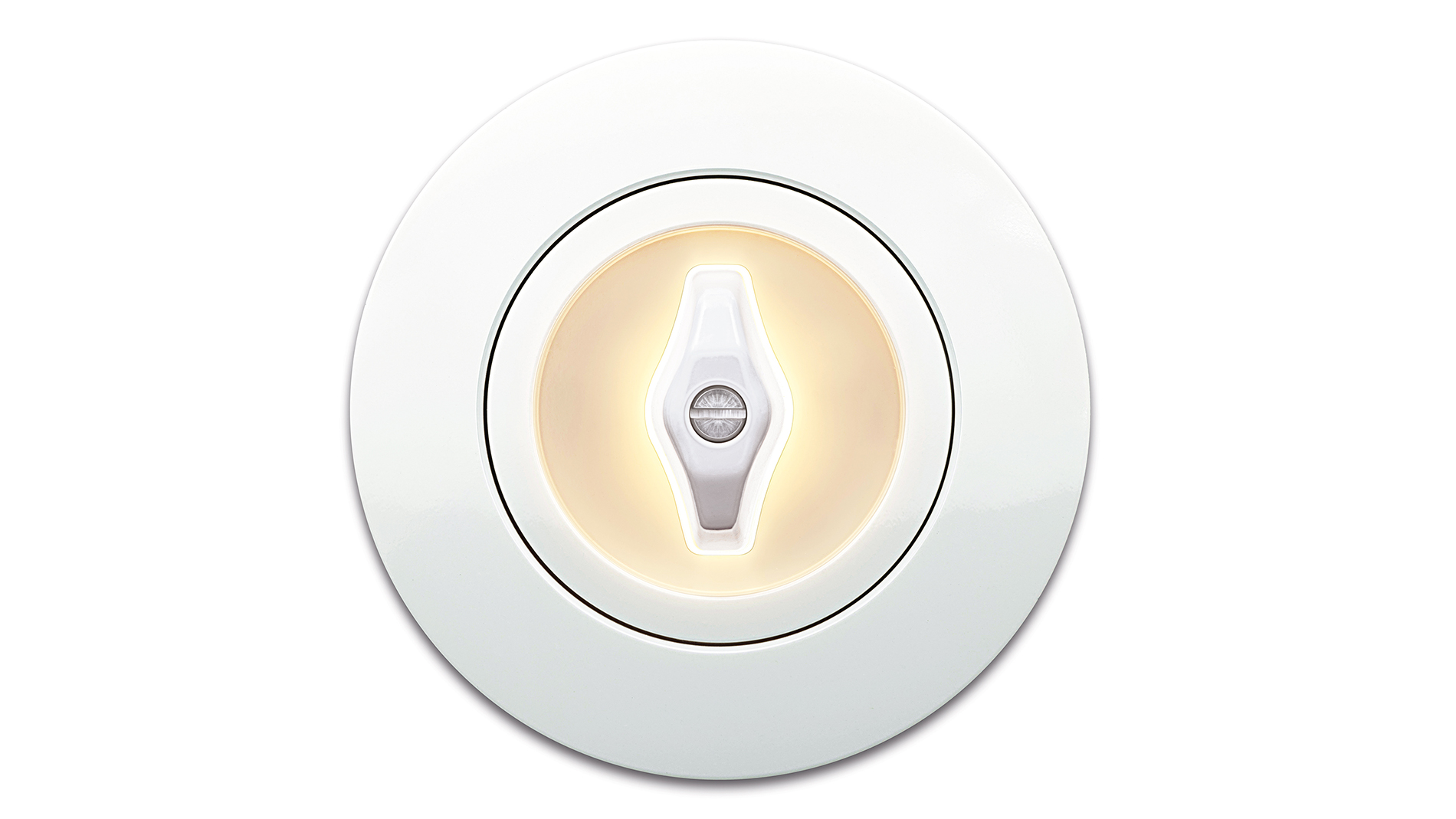 Design: Hager Group; Berker GmbH & Co.KG
Manufacturer: Hager Group
2019: Berker and the Bauhaus celebrate 100 years of existence. To mark this occasion, there is a new highlight for the Berker Serie 1930: the first integrated LED lighting for the rotary switch. The switch is thus an homage to historical forms and design in the style of Bauhaus. Fans of the Bauhaus era can use it to create interiors, right down to the last detail. With its form and illumination, it embodies pure functionality and follows the Bauhaus credo of clarity and simplicity.
FLC210 [GP] IP66: LED-FT/26W/3K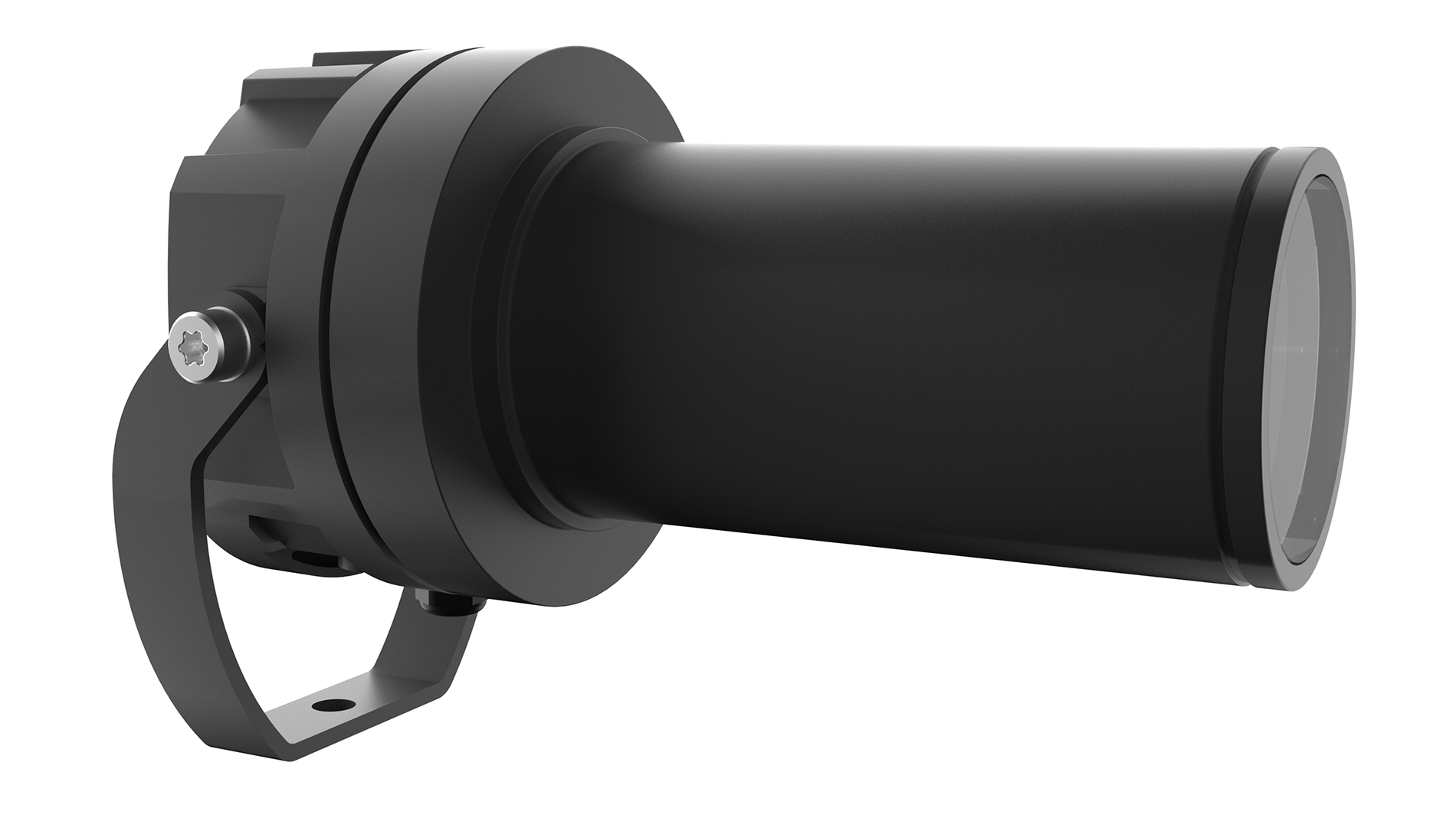 Design: WE-EF LEUCHTEN GmbH
Manufacturer: WE-EF LEUCHTEN GmbH
The FLC210 projector from E-EF, which belongs to the FLC200 family, impresses with its individual lighting design options, such as the projection of sharply defined light circles, gobos or the illumination of polygonal surfaces. The very small projector with a size of just 298x172x197 mm in 18W and 26W, along with two different colour temperatures, enable it to play in a league all of its own.
PRIMO 2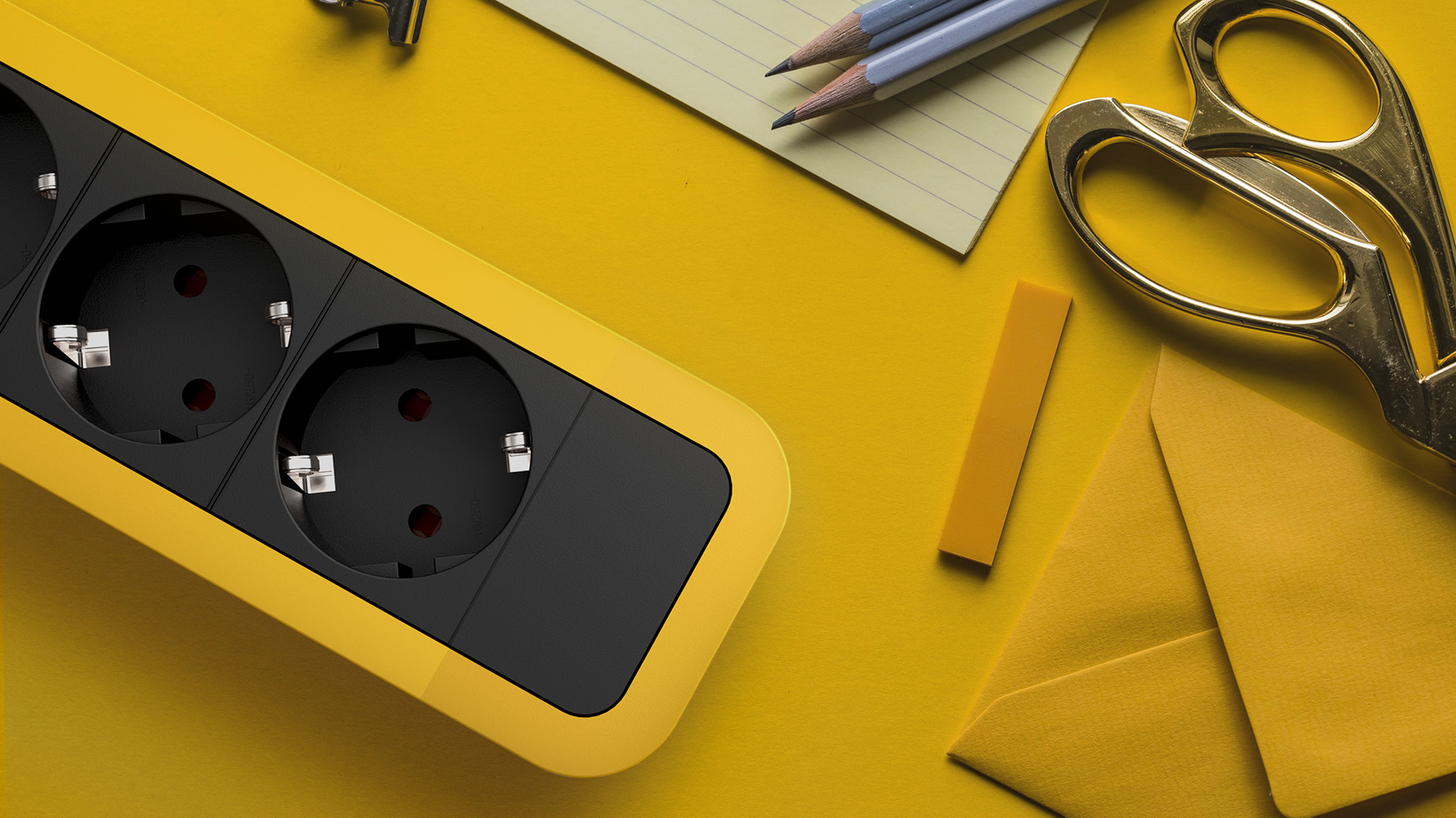 Design: Designstudio ID AID
Manufacturer: Bachmann GmbH
Function meets design: PRIMO 2, as a socket  strip for the office and home area, embodies  what distinguishes a perfect symbiosis of modern design and functionality. Colourful, floating and stylish, it steals the show from  its competitors. It impresses with its functional variants and different colours to match the design on site, thus creating a positive attitude to life. The variable end caps and optional loop for hanging round off off its perfect appearance.
FIFTY FIFTY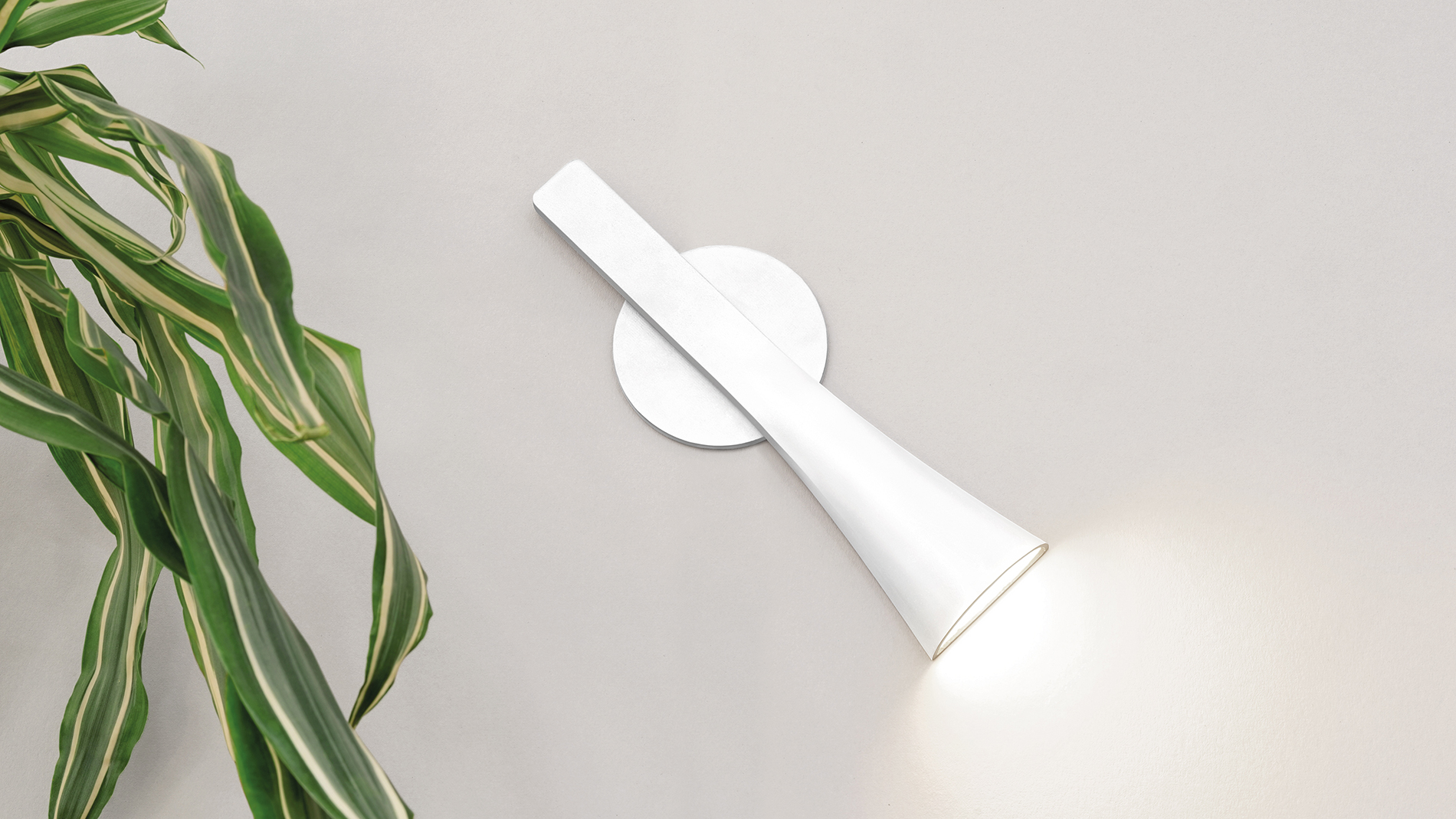 Design: Michael Raasch
Manufacturer: Serien Raumleuchten GmbH
Halved form. Maximum light. The FIFTY FIFTY lamp series fascinates with minimalism and an innovative form. The lamp head is halved lengthwise and can be positioned in any direction with a 360° swivel joint. The stand profile is also freely rotatable by 360°. FIFTY FIFTY is dimmable with the Dim2warm function. The control unit is integrated flush within the flat profile. All surfaces are powder-coated and the edges are finely rounded. The luminaire is available in black and white.
REFLEX²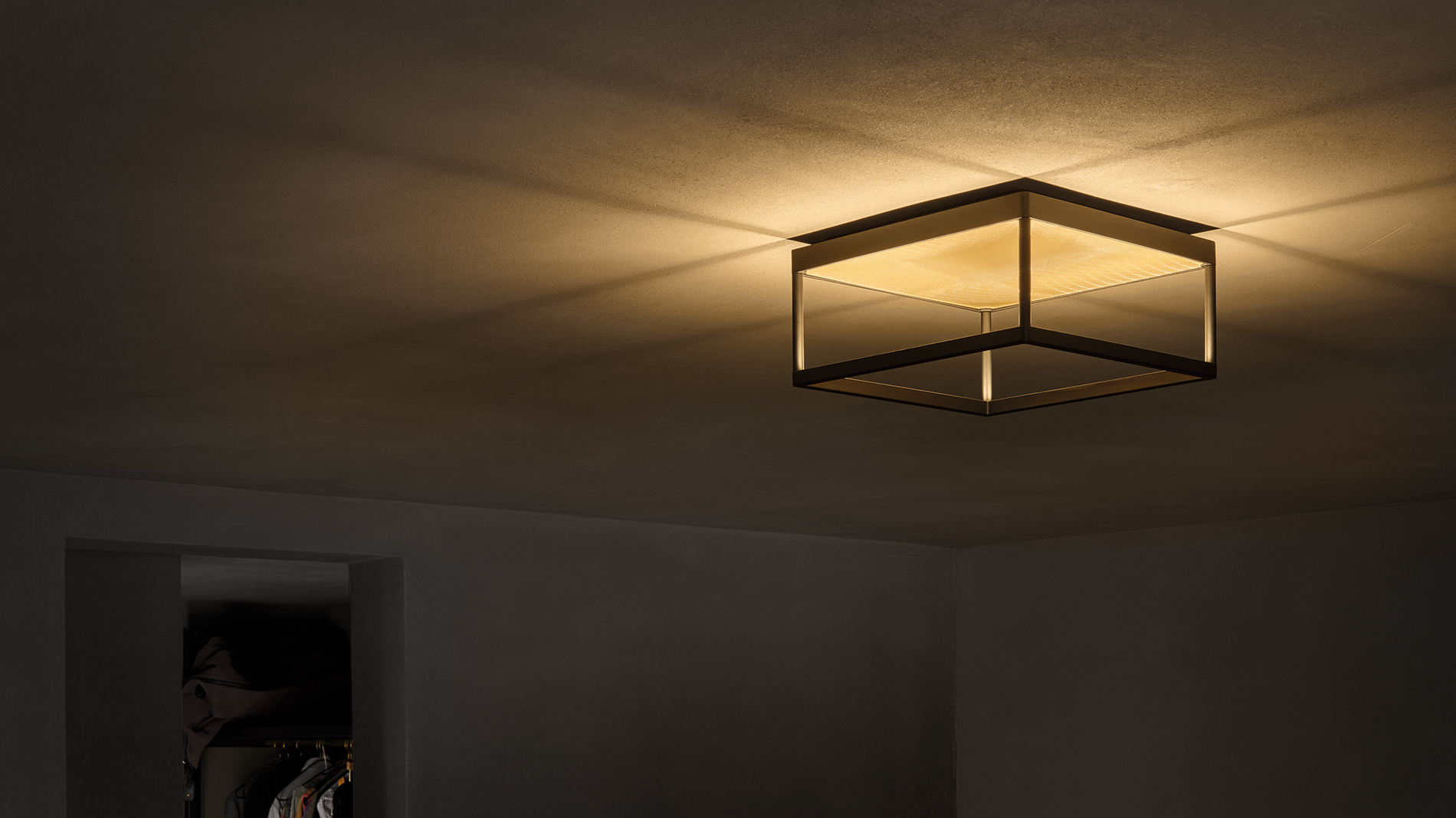 Design: Jean-Marc da Costa
Manufacturer: Serien Raumleuchten GmbH
REFLEX² cleverly combines today's technology and aesthetic sensibilities. A fine, elegantly rounded frame structure contains the LED boards. These radiate on a prismatic reflector surface of the same basic dimensions. Even at full power, REFLEX² creates an absolutely glare-free light, whose colour may be further adjusted optionally via Bluetooth, from a warm lightbulb glow to pure white, using Tunable White technology. As such, the subtle structure gives rise to intensive lighting moods in the room.
INTUS 700slim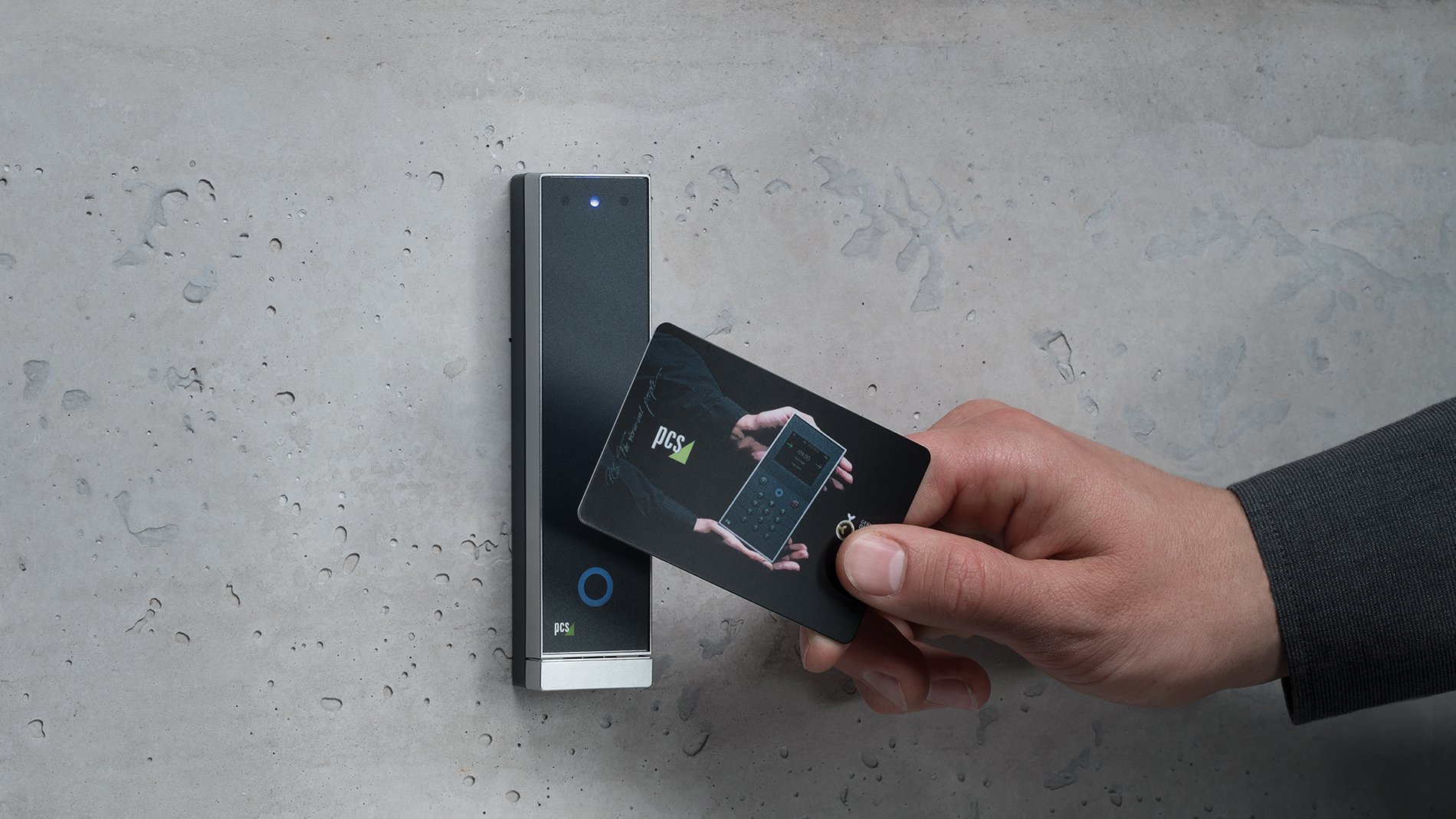 Design: PCS Systemtechnik GmbH; ergon3Design
Manufacturer: PCS Systemtechnik GmbH
Slim shape with the latest technology: INTUS 700slim is an RFID access reader and so compact that it can be installed directly on a door frame or jamb. The blue ring – a design element shared by all the INTUS family devices – indicates that the reader is ready. Three LEDs at the top edge signal the reading status. The optional PIN keypad is backlit for easy operation in the dark, while the tactile membrane keyboard facilitates operation for partially sighted employees.
Giro Edition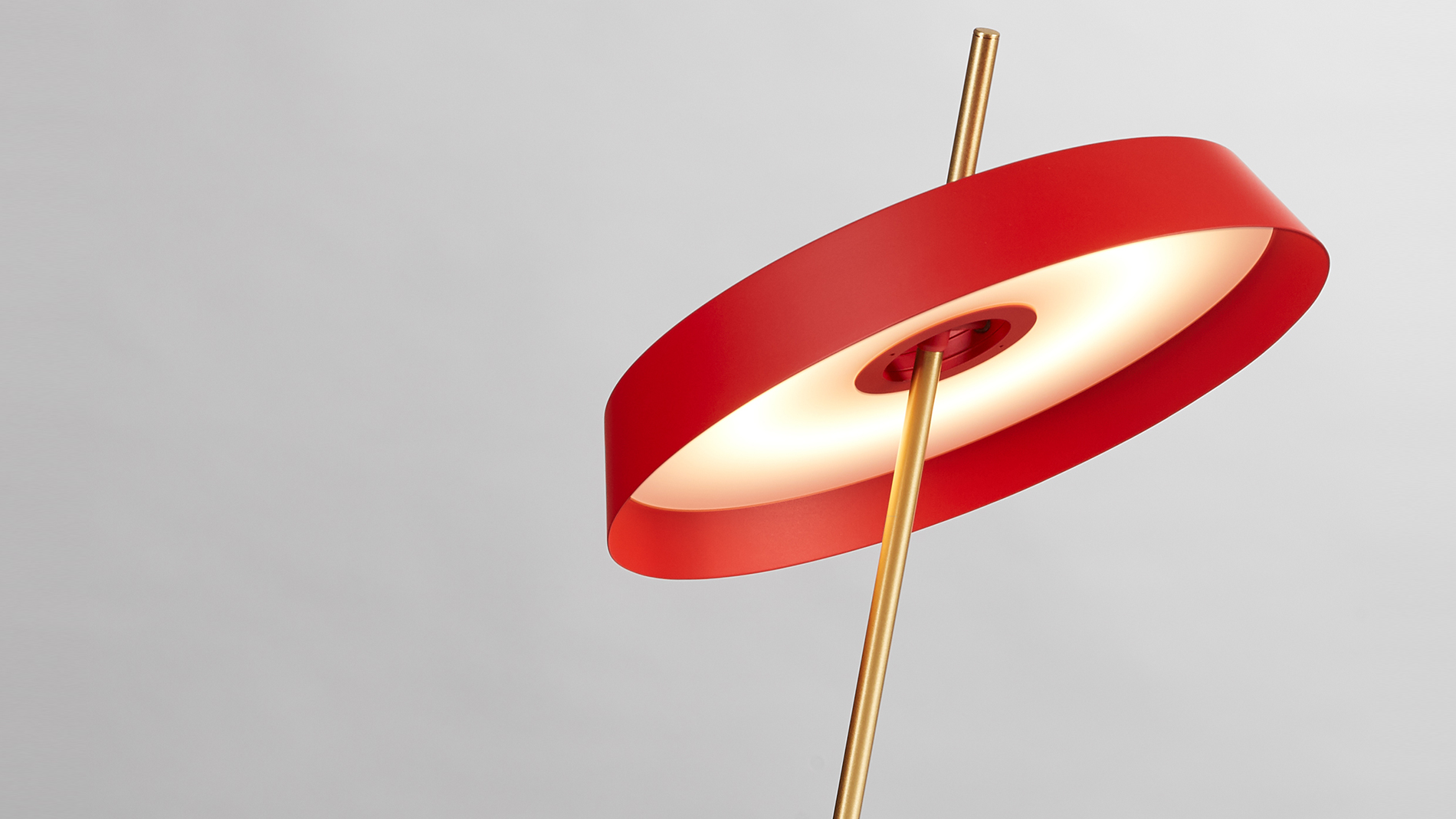 Design: Serge & Robert Cornelissen
Manufacturer: mawa design - Licht- und Wohnideen GmbH
The functional design of the three-part lamp consists of two inversely oriented truncated cones, separated and pierced by a round rod of brass. A stylishly technoid appearance emerges as a result of its screw-free design, minimal joints and high-quality  finishes; perfect for work surfaces in the office. Additionally, the energy efficient LED technology guarantees an even and glarefree illumination of your desktop. The round rod and lamp shade can be inclined elliptically as desired.
KJ LED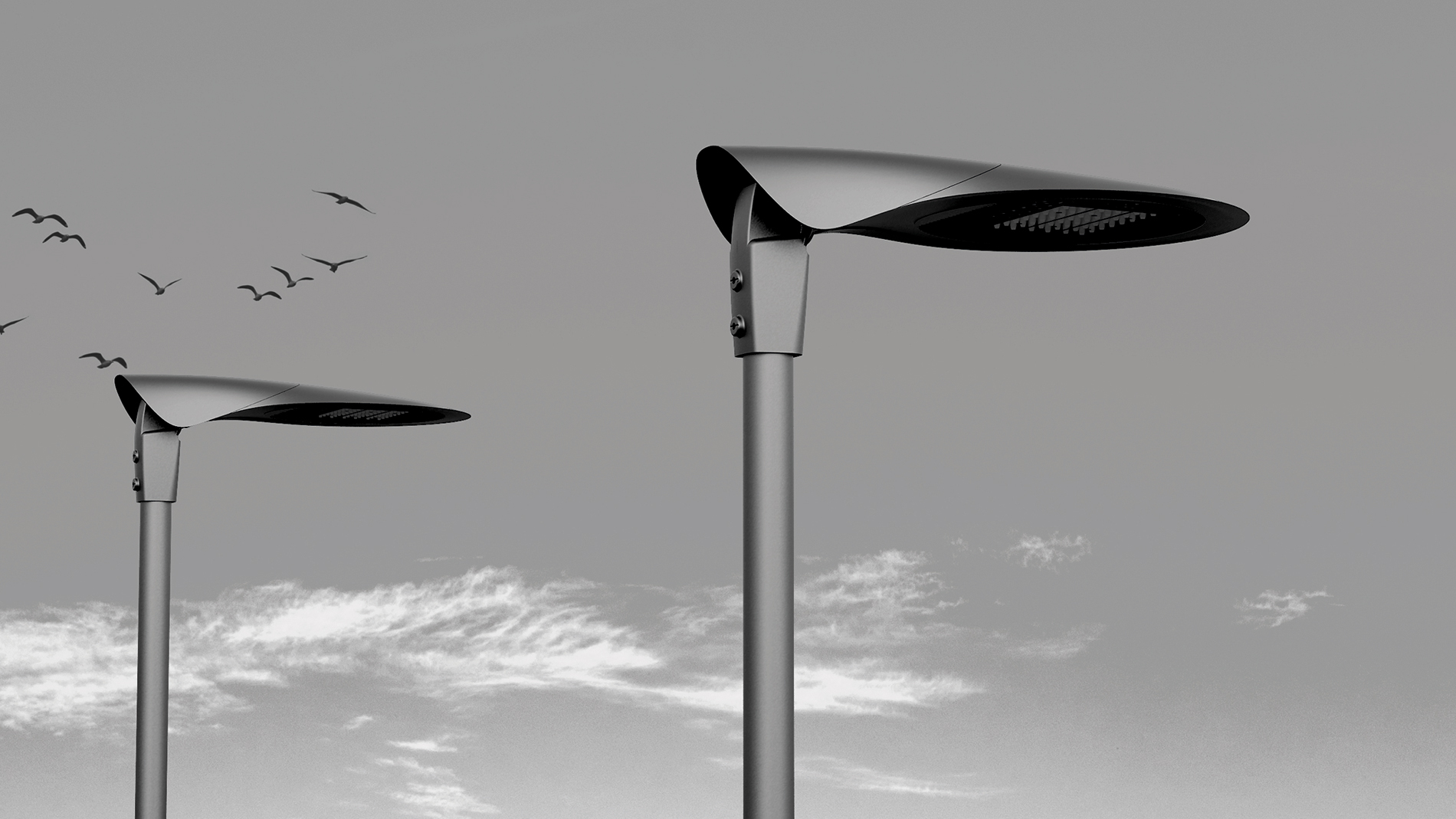 Design: Stephane Chapelet Design
Manufacturer: Fontes de Paris
Innovative and contemporary design for this LED street lighting luminaire, developed in cooperation with Stephane Chapelet Design. All aluminium parts are exclusively manufactured from recycled aluminium. Equipped with the latest LED technology including optional presence detection sensor.
BIG ONE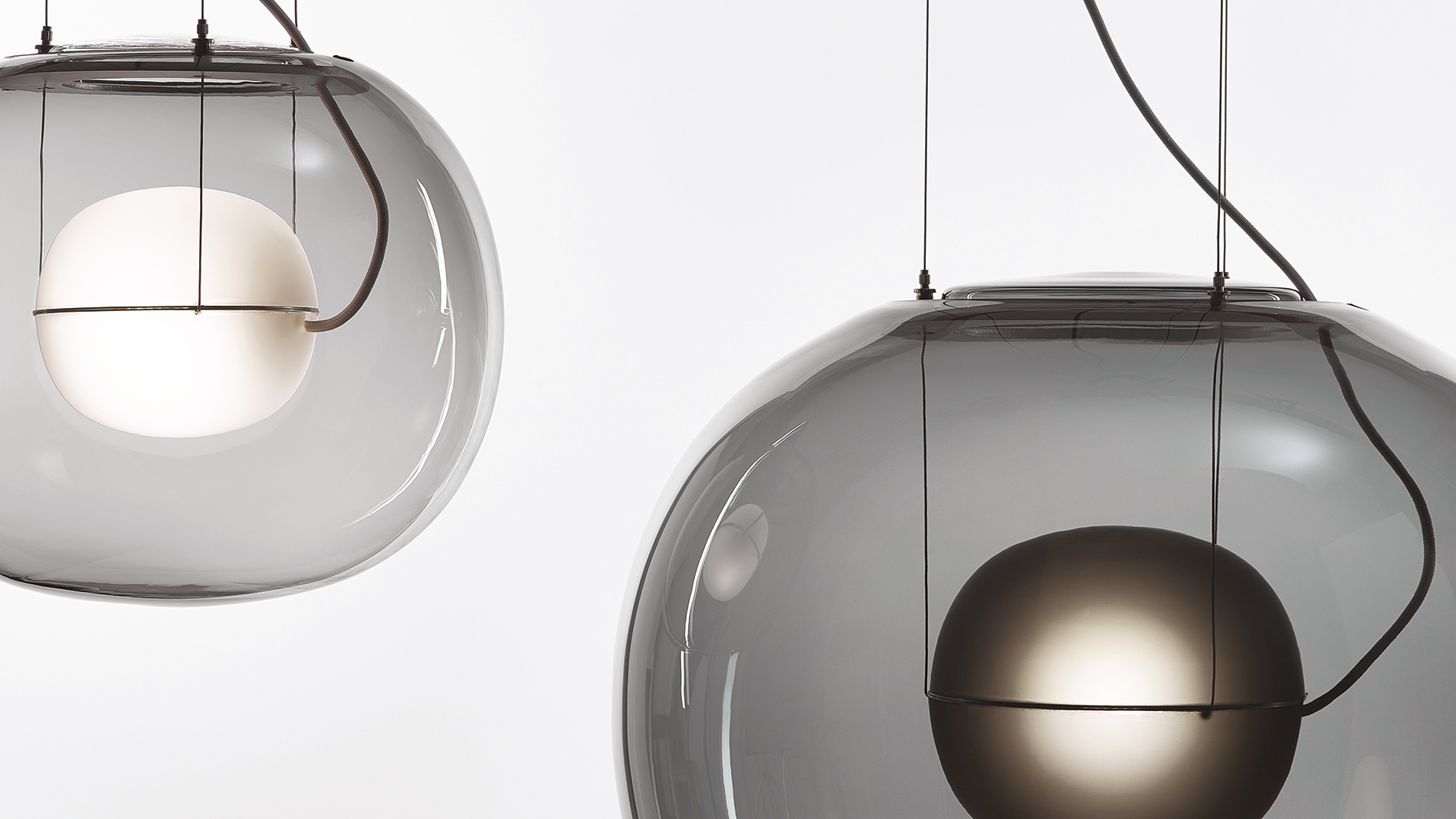 Design: Lucie Koldova
Manufacturer: Brokis s.r.o.
This large-format light with a matte core by designer Lucie Koldova embodies a gentle poetry, simplicity, purity, and balanced proportions. A key role is played by the inosculation of luminous bodies and their mutual interaction in space. The sophisticated design of a bubble suspended in the centre of a large sphere evokes a sense of levitation.
FAVO CELL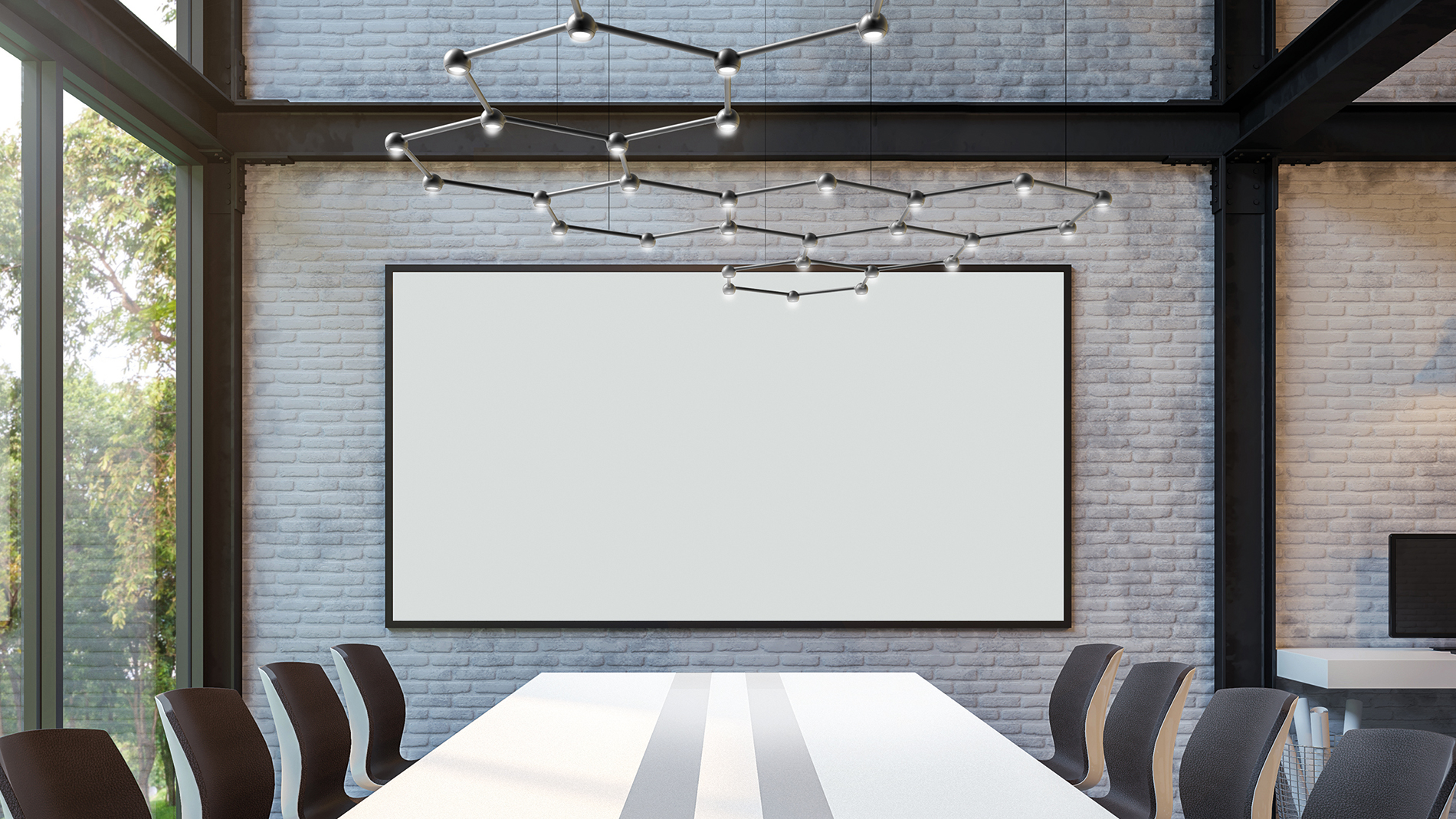 Design: Blocher Partners; Sattler GmbH
Manufacturer: Sattler GmbH
The FAVO LIGHT CELL can create individually suitable configurations for different applications and enables customized solutions to be implented simply. Thanks to its low weight and modular construction with snap connections, assembly can be realised quickly. One spot per light head, equipped with a 24° lense. Modern, efficient LED technology with 3 watts / 300 lumens. Another lens on the top of the node allows switchable indirect light.
Tracker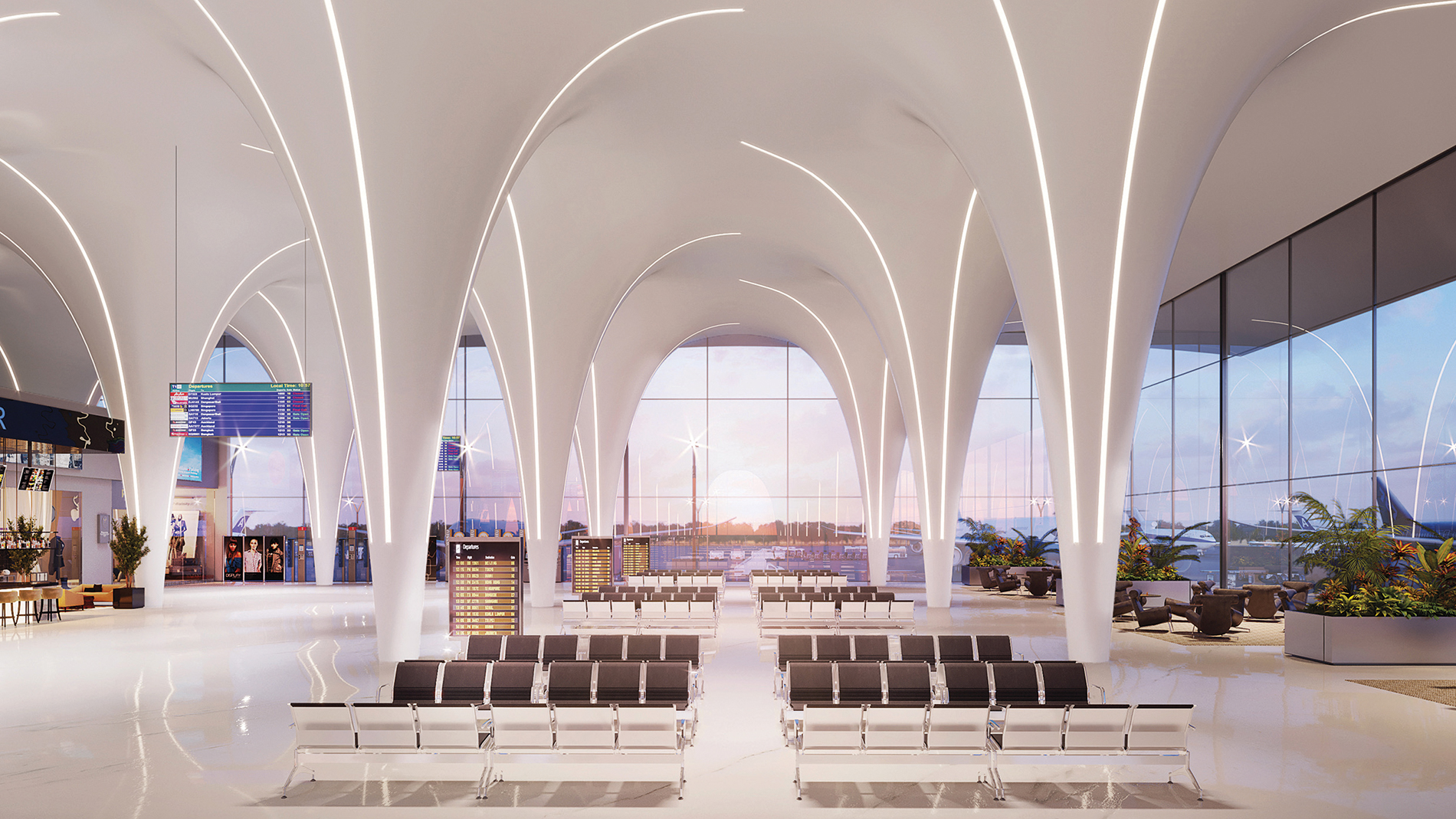 Design: Intra Lighting d.o.o.
Manufacturer: Intra Lighting d.o.o.
Tracker is made to track fluid architecture and is by far our most adjustable trimless luminaire when it comes to shape. Tracker is the first luminaire to go beyond horizontal movement and introduce endless possibilities for also following vertical lines in the space. With its ability to adapt to wall or ceiling ratios (+/-500 mm), Tracker can vary from bold and artistic to a luminaire that discreetly blends in and supports the creativity of the architect or lighting designer.
Eye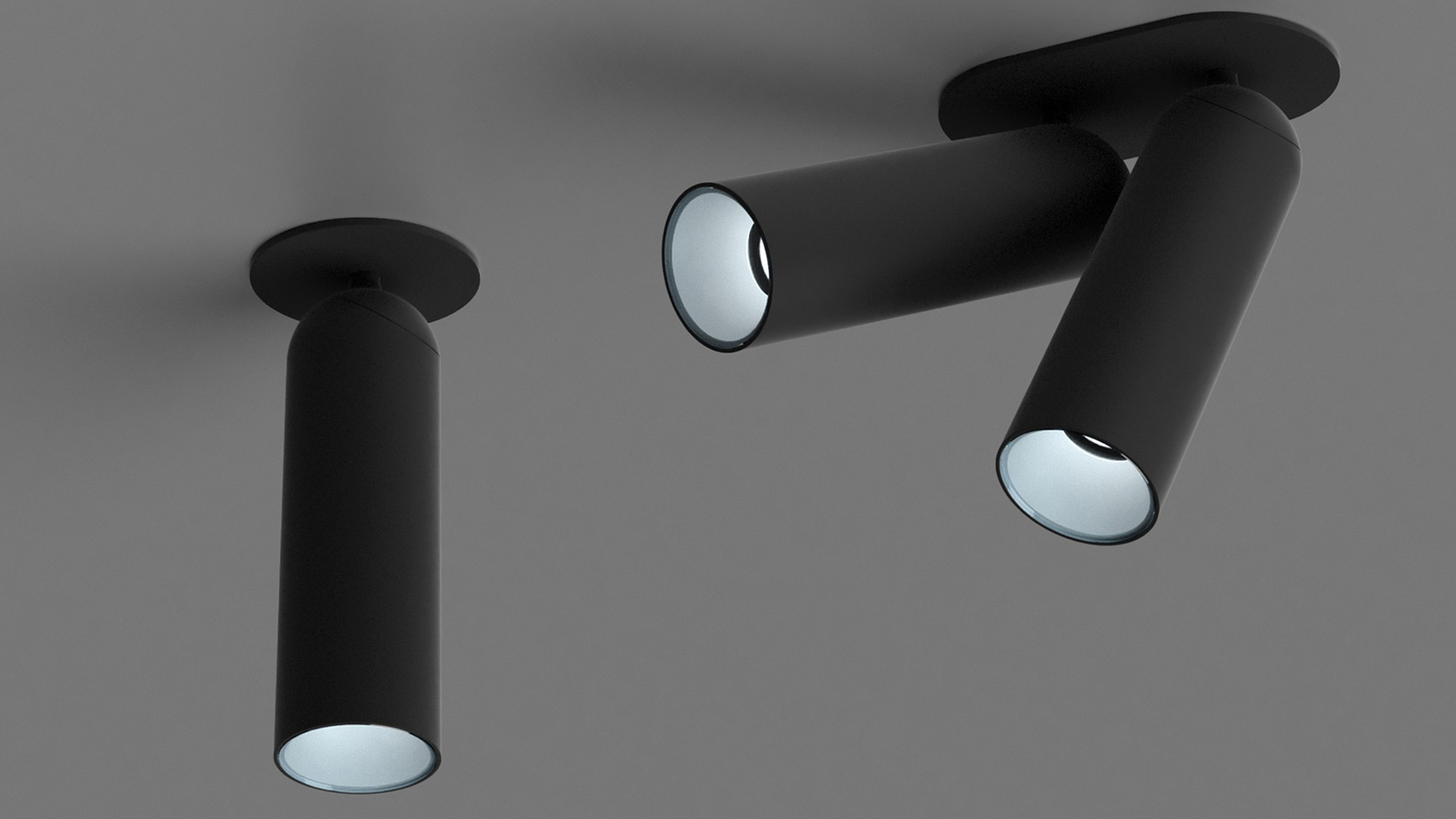 Design: Serge Cornelissen
Manufacturer: Intra Lighting d.o.o.
Good-looking all round. Inside and outside. There really are a lot of spots out there, but Eye is not just "one more spot"! Come closer. Can you find any visible screws or gaps? No matter how hard you try, you won't find them. All the details are carefully thought-out. Its clean elegant look with the possibility of a 360-degree orientation makes it a perfect luminaire for hospitality, retail and private residences. Due to its high IP protection, outdoors is also the right place for it.
MULTI.SENSOR KNX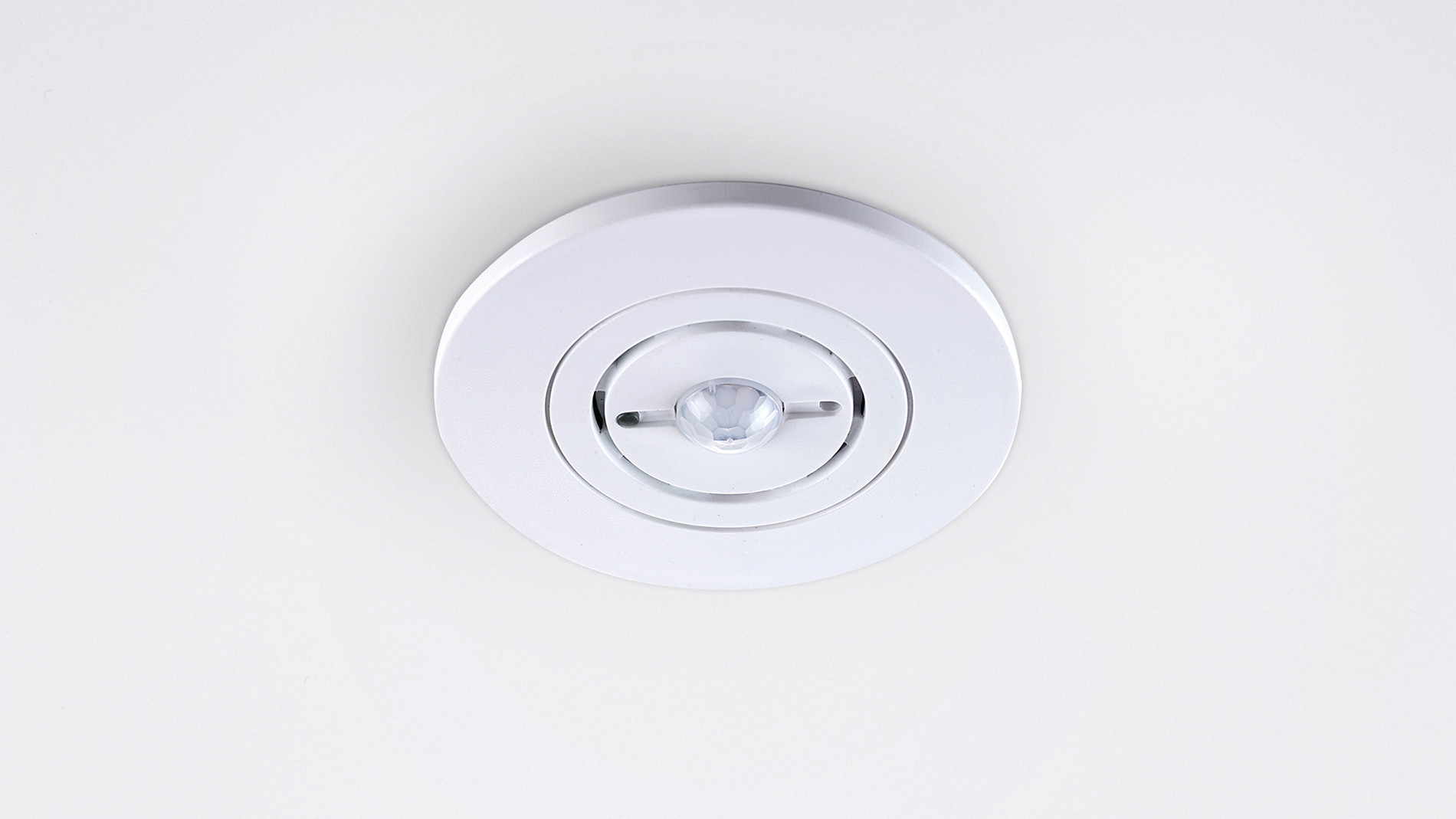 Design: Marco Fossati
Manufacturer: Eelectron SpA
A smart, innovative and reliable sensor, combining information on presence with a brightness sensor for environmental lighting control, humidity and temperature sensors with the relative control algorithms and a sound sensor that can be used in rooms with parts not totally visible to the infrared sensor. It also allows for different functions with presence detection logics: i.e. a lighting comfort closer to reality thanks to brightness control and the "Circadian Rhythm" logic.
Wallbox eMH2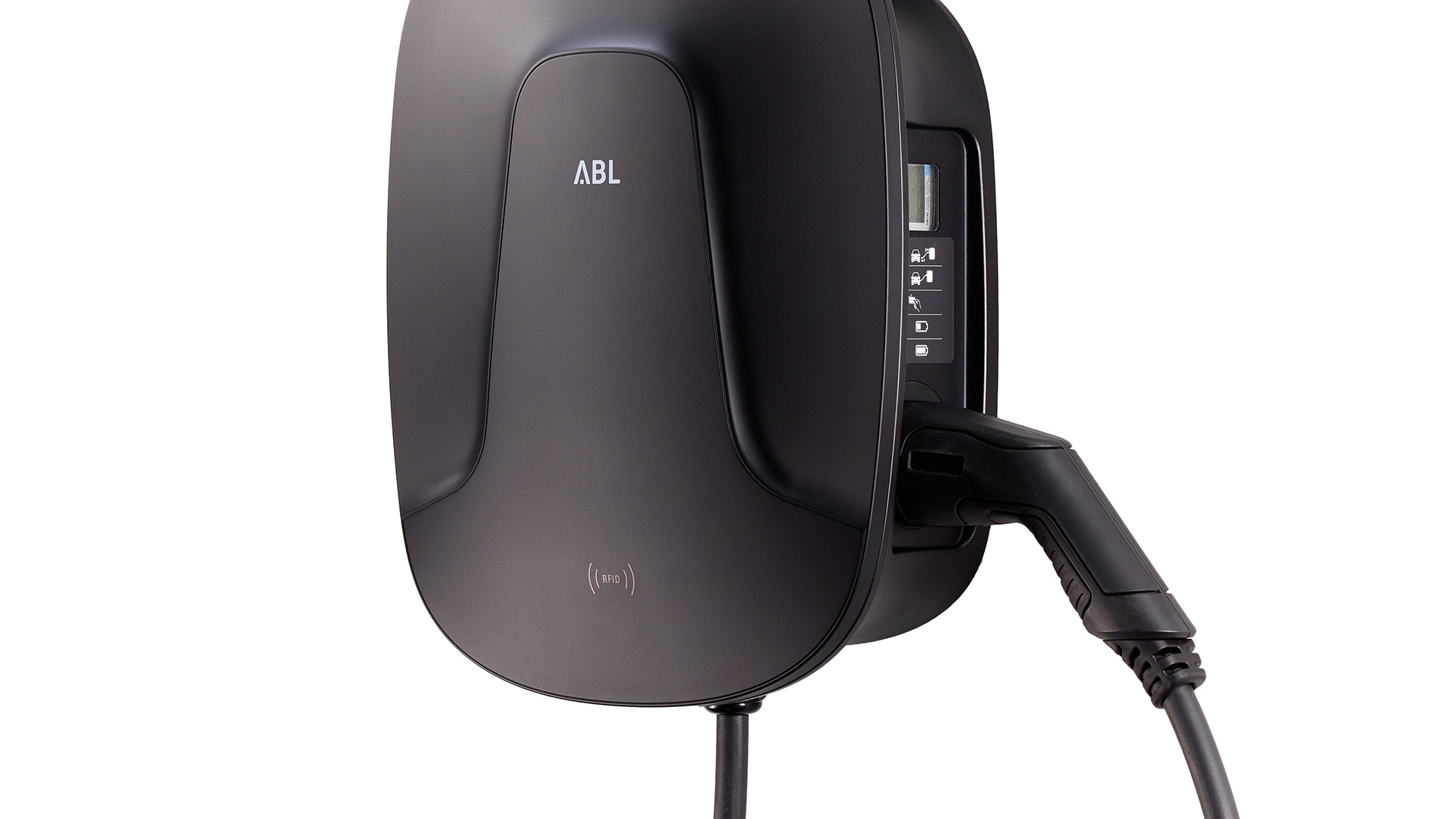 Design: ABL Sursum Bayerische Elektrozubehör GmbH & Co.KG
Manufacturer: ABL Sursum Bayerische Elektrozubehör GmbH & Co.KG
The eMH2 Wallbox is our smart, attractively designed charging solution for domestic and semi-public applications. The translucent cover shows colour backlit pictograms to indicate the current charging status. The integrated RFID module ensures fast and secure access.
Seitenlichtfasersystem M-Fibre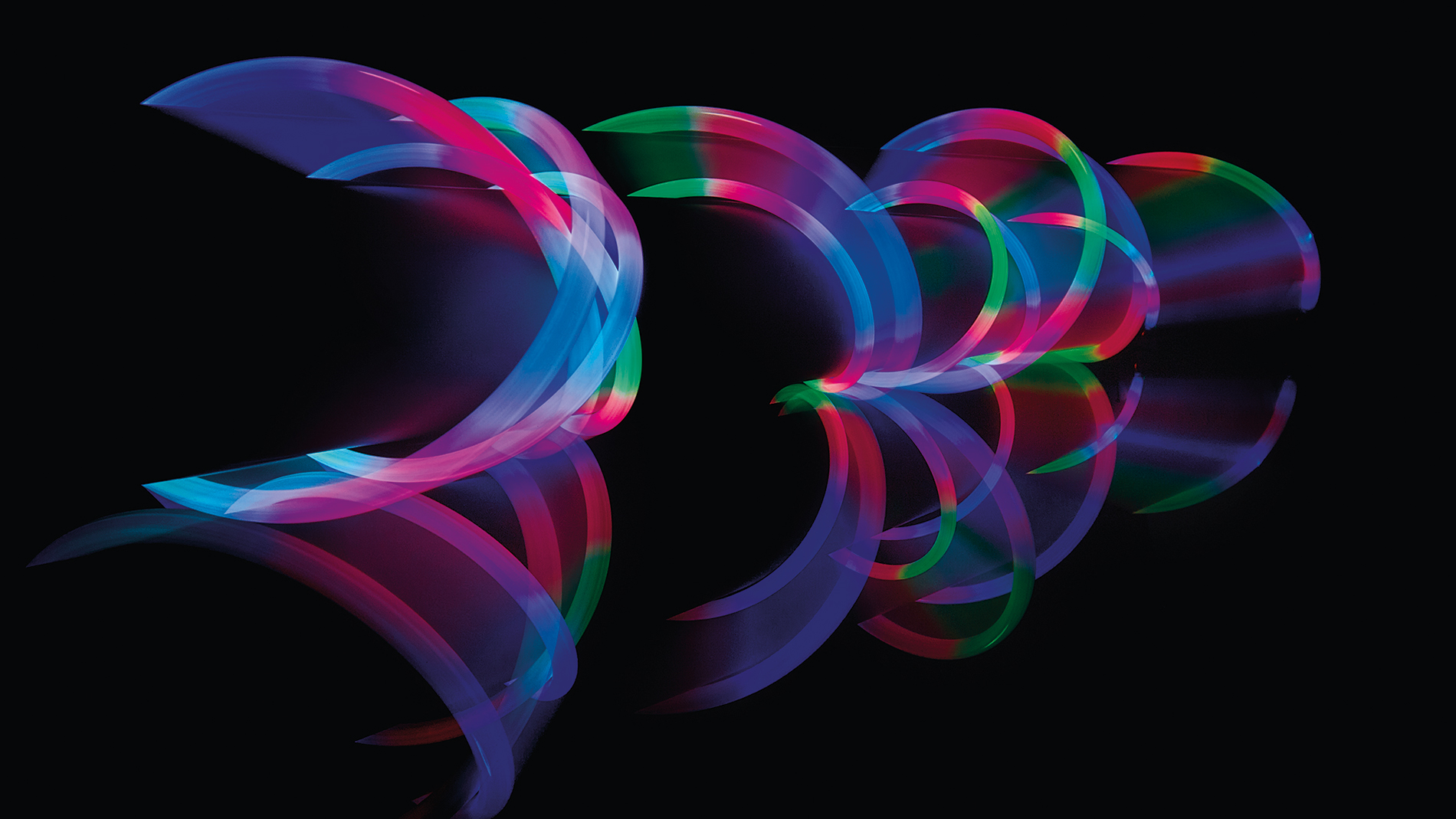 Design: Mentor GmbH & Co. Präzisions-Bauteile KG
Manufacturer: Mentor GmbH & Co. Präzisions-Bauteile KG

M-Fibre is a new Side-light Fibre system made of polymer-optical fibres and coloured LED modules. It is predestined for both direct visible functional or decorative line lighting and indirect ambient lighting. It thereby offers manifold and fascinating design options for product designers and product engineers to implement new design ideas with light energy-efficient and optimised to the installation space. This means they can create innovative products with added value.
ROHDE+ROHDE Unsichtbare Steckdosen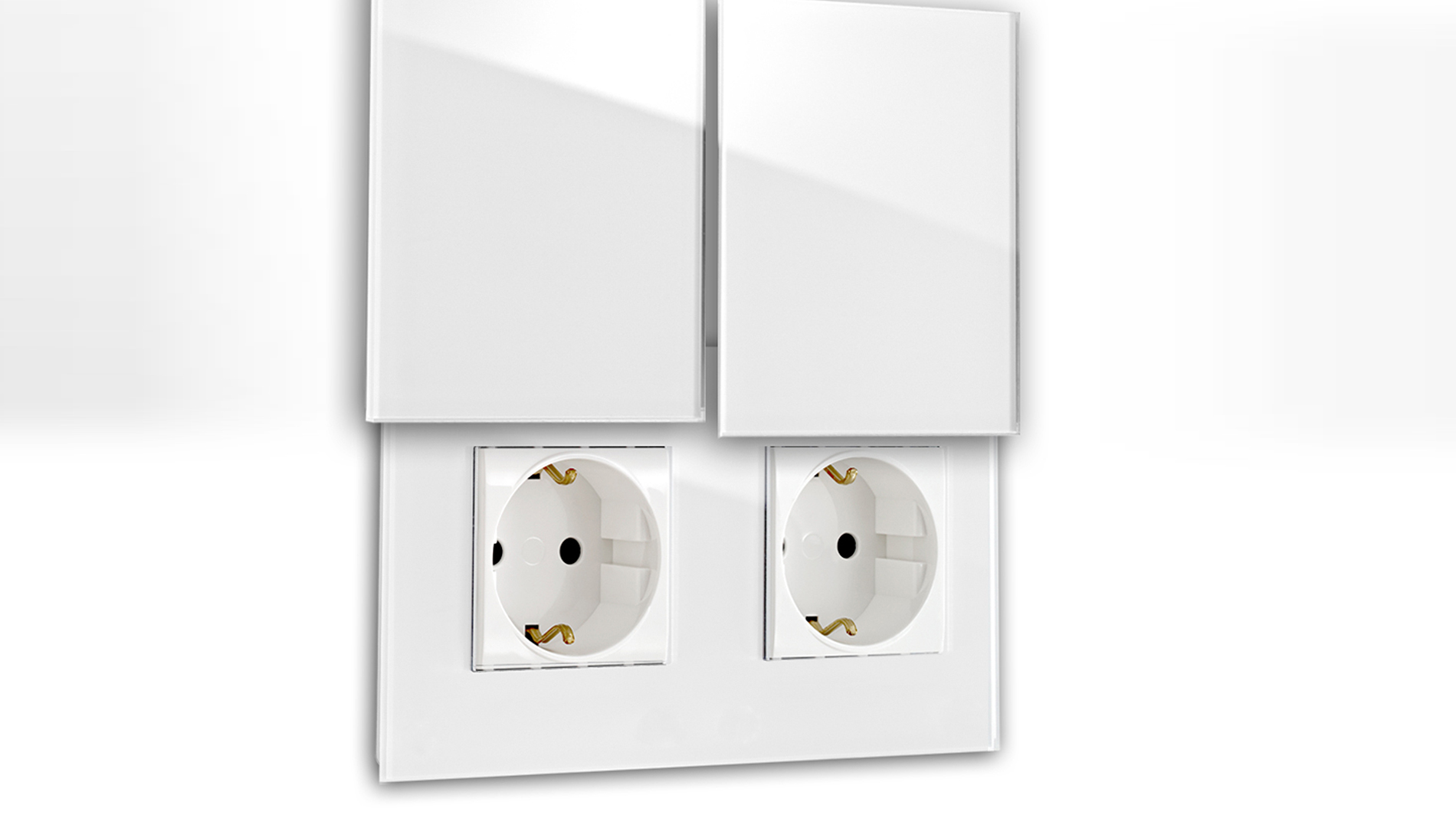 Design: ROHDE+ROHDE UG (haftungsbeschränkt) & Co. KG
Manufacturer: ROHDE+ROHDE UG (haftungsbeschränkt) & Co. KG
Full-surface covers literally make power outlets disappear: when the socket is not in use, you only see a straight, flat surface from the front. The sockets remain completely hidden behind it. If necessary, simply remove one or more covers. Removing and replacing them is very easy, because powerful magnets pull them into the correct position. Removed covers can be »parked« on the side of the frame.
BLOP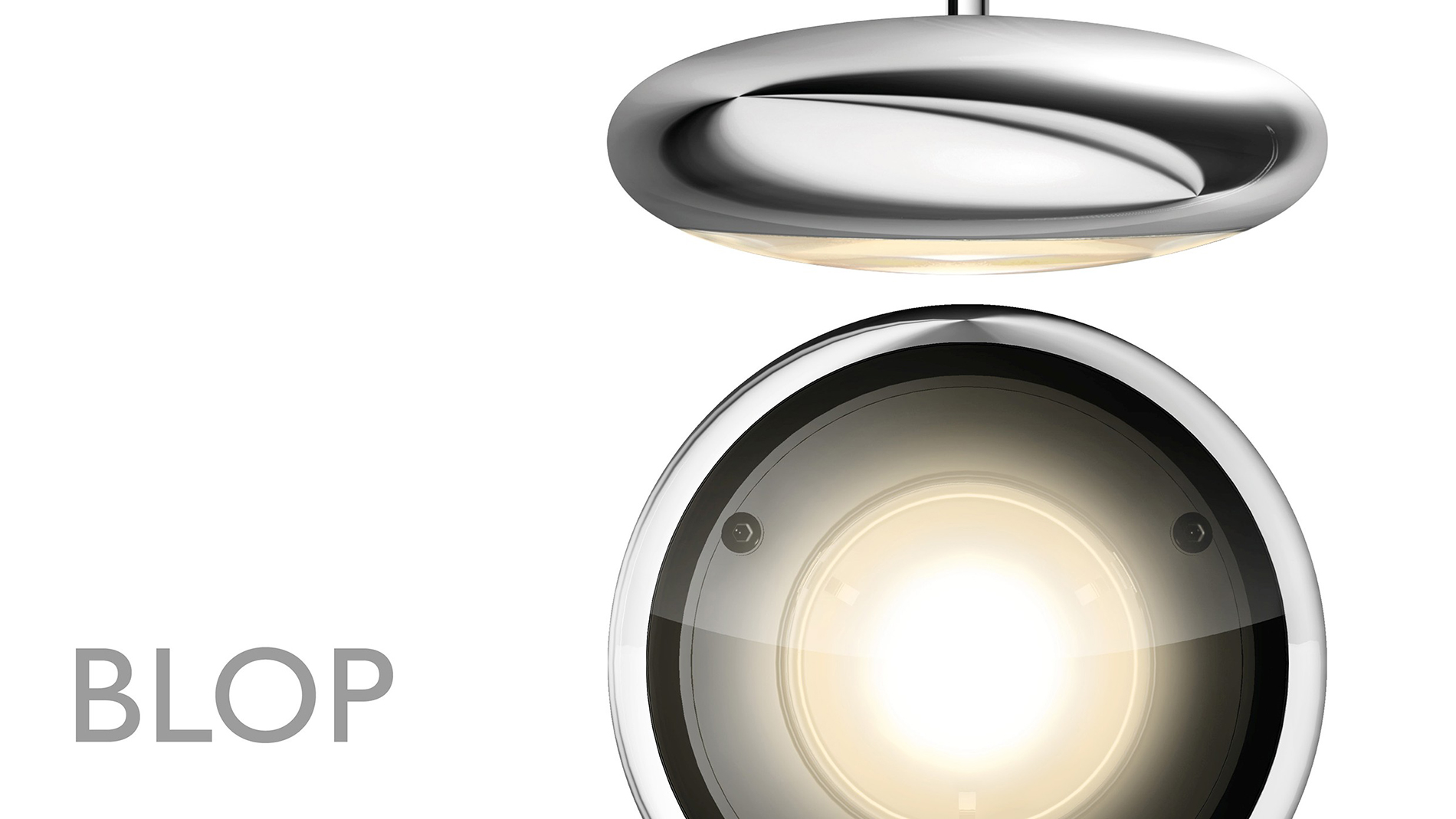 Design: Dirk Wortmeyer
Manufacturer: Bruck GmbH & Co. KG
Blop is a compact spot in a massive Aluminium body. An innovative LED for mains voltage makes it possible to fit both electronics and sophisticated optics into flat dimensions. A spot of 30° in a height of only 33 mm is unique in the market. Different optics and filters are part of the programme. Blop has started out as a suspended light and as a track-spot. Other variations will follow.
GORDON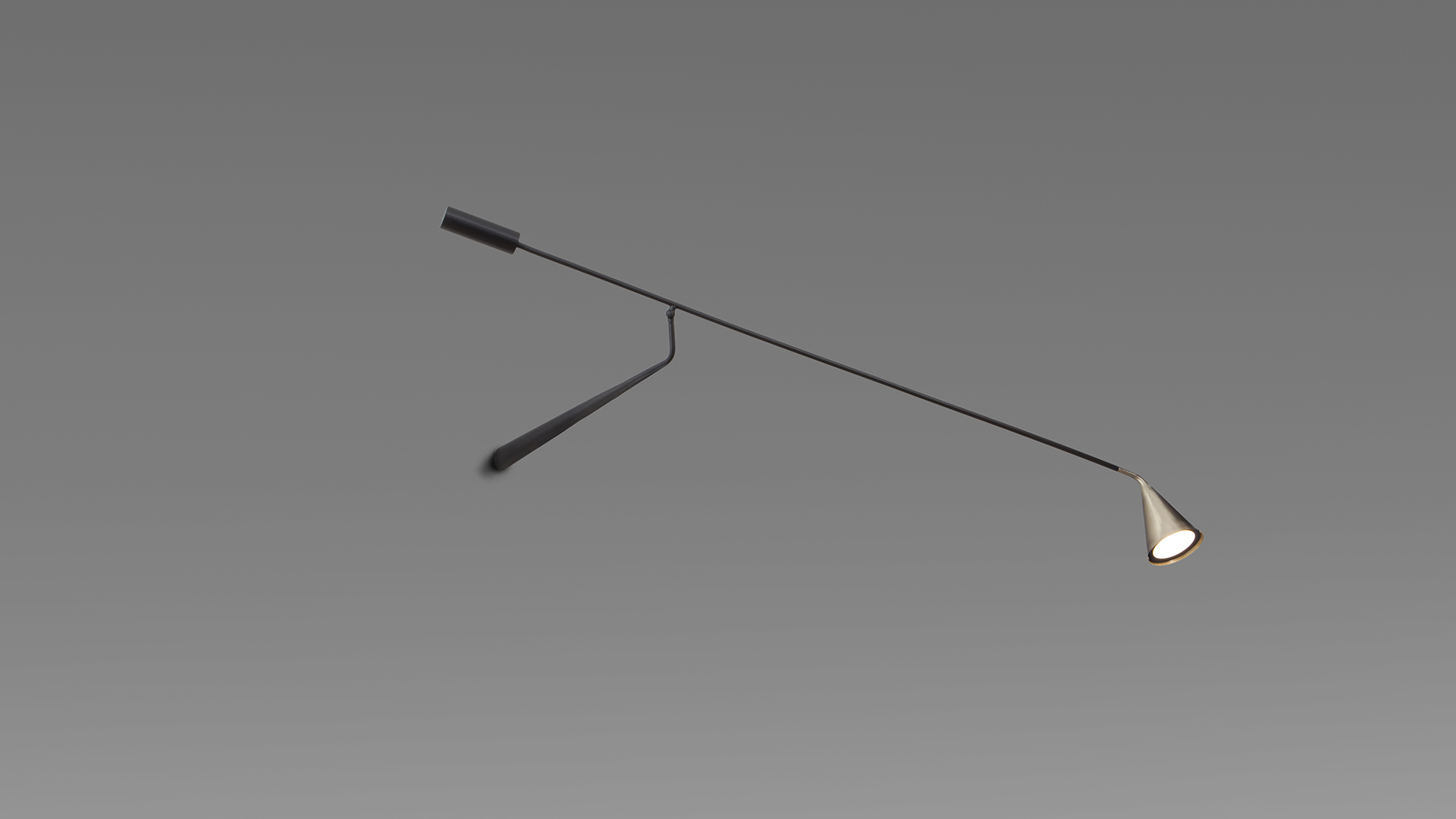 Design: Corrado Dotti
Manufacturer: Tooy srl
A new formal and material interpretation of the conical diffuser is the main feature of this wall lamp, providing direct light. The essential and refined aspect with a strong character is conferred by the shape of the brass casting; this practical and versatile lamp with adjustable arm and reflector is suitable for use in different environments, from the domestic to the working environment, as well as in commercial spaces and hospitality.
YESLY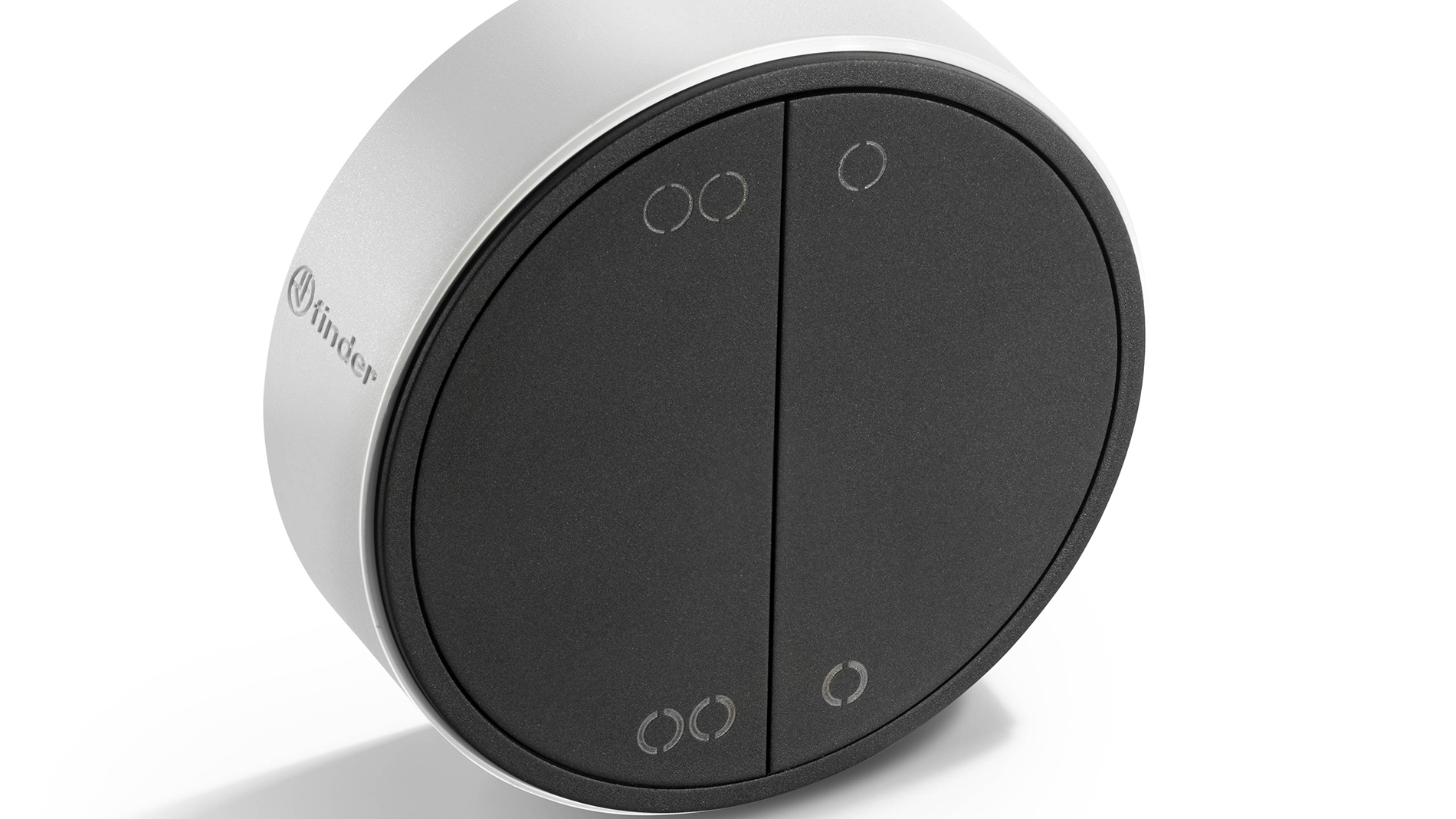 Design: Finder SpA
Manufacturer: Finder SpA
Yesly networks lights and electric shutters via dimmers and actuators, using wireless Bluetooth Low Energy technology. It is controlled either via the smartphone app, the Beyon button or classic wired or wireless buttons. With Yesly, comfort, energy efficiency and safety are significantly increased on the one hand, while on the other the system offers its users maximum flexibility.
Calipso Linear 120 Stand Alone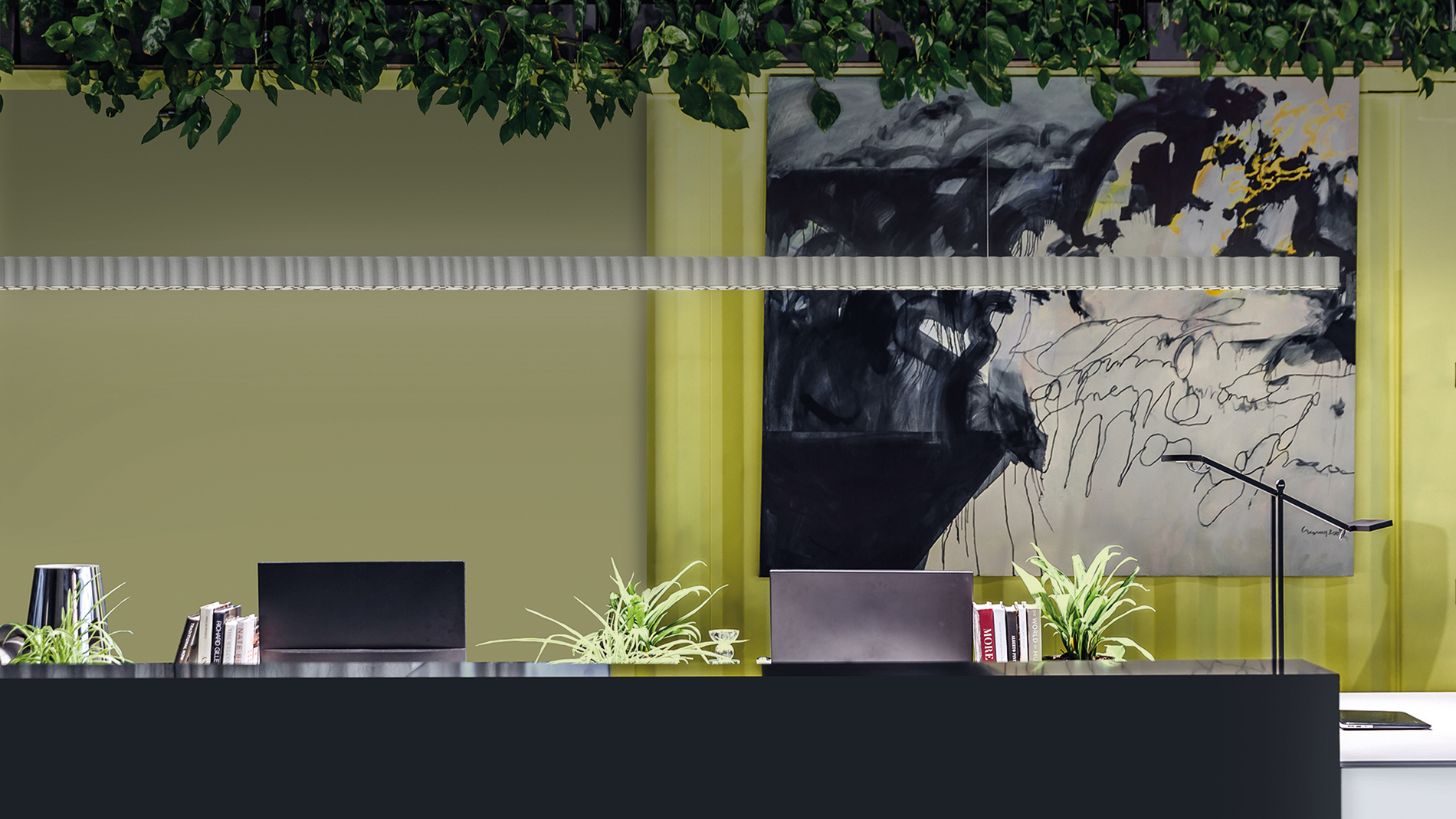 Design: Neil Poulton
Manufacturer: Artemide Deutschland GmbH & Co. KG
Calipso consists of an organically shaped honeycomb, composed of tubes of different diameters  that are seemingly arranged randomly. This structure characterises the lamp both aesthetically and visually. Not only is its design unique, but also its even light emission, which is suitable for use in the workplace. The result is a highly emotional light that combines creative and technical intelligence.
AYNO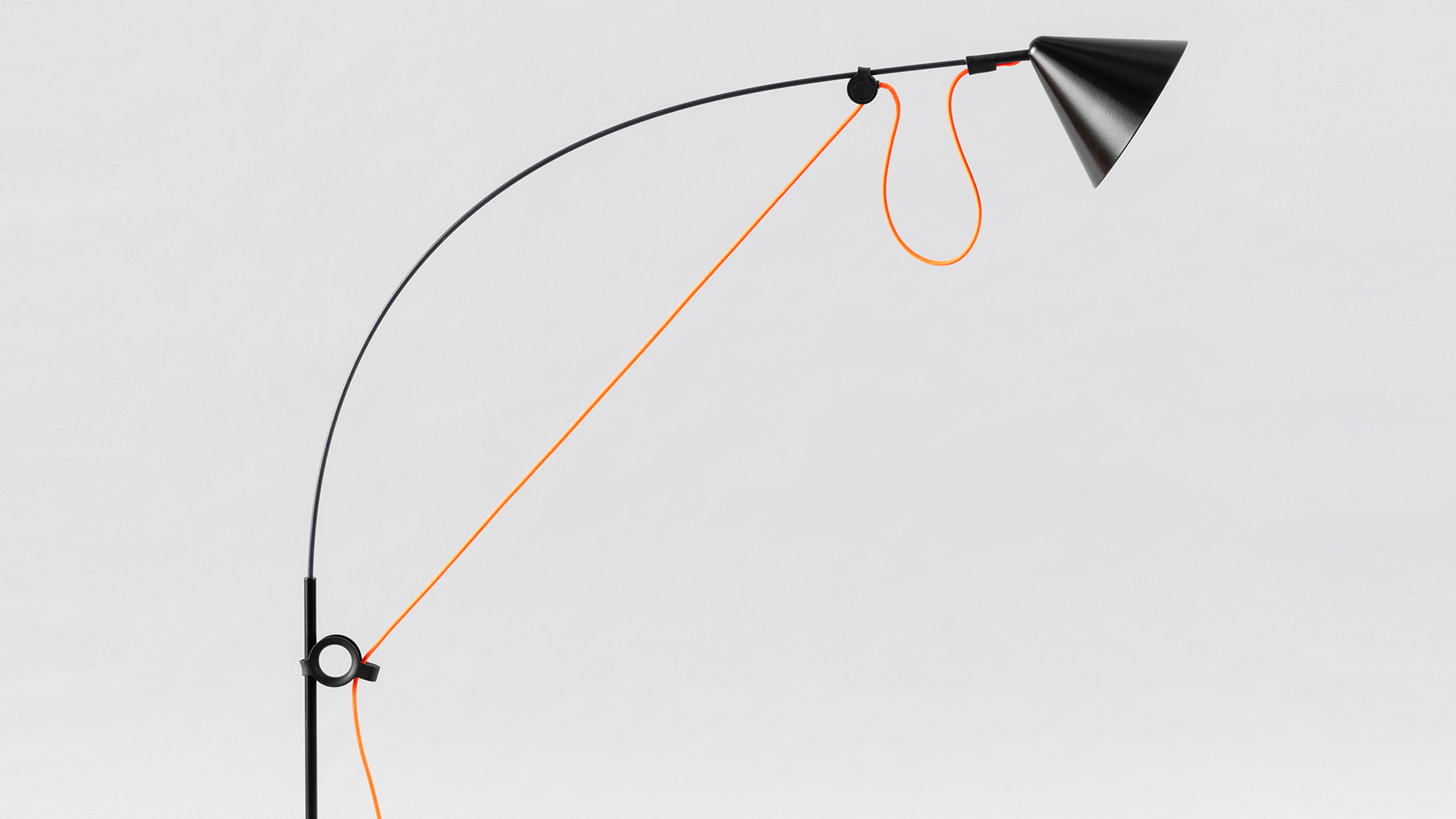 Design: Diez Office
Manufacturer: Midgard Licht GmbH
The central feature of the AYNO lighting family is a fibreglass rod, which is stretched to the bow by the textile cable. The inherent tension of the rod allows for a lamp without any joints. By sliding the two adjustment rings at the top and bottom, the fibreglass rod is bent into the desired position and light is directed where needed. The cable tightens the rod into an arc, of which the radius can be varied as required using the adjustment rings. The fine adjustment is done with the swiveling lampshade.
Hero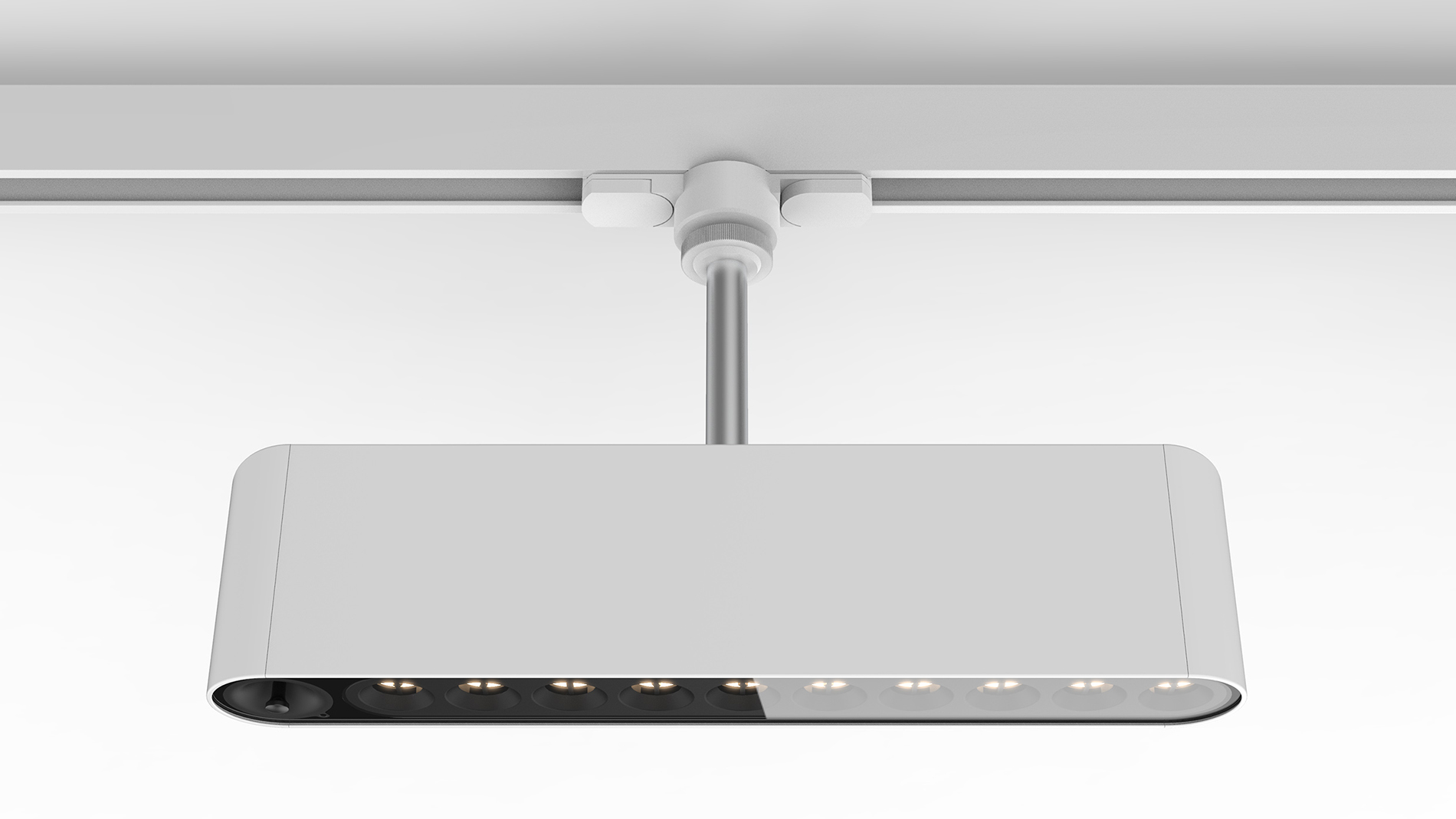 Design: Whipsaw
Manufacturer: Glint
Hero is the first luminaire to give users the ability to aim light in any direction without tilting the luminaire itself. Hero is installed in a fixed position. Users can manipulate the built in joystick to aim the light in any direction. Effective glare control and slim form factor allow Hero to virtually disappear when installed on a track, as a pendant, or recessed into a ceiling. With little glare from the bright LEDs, attention is focused only on what's most important.
PIEGA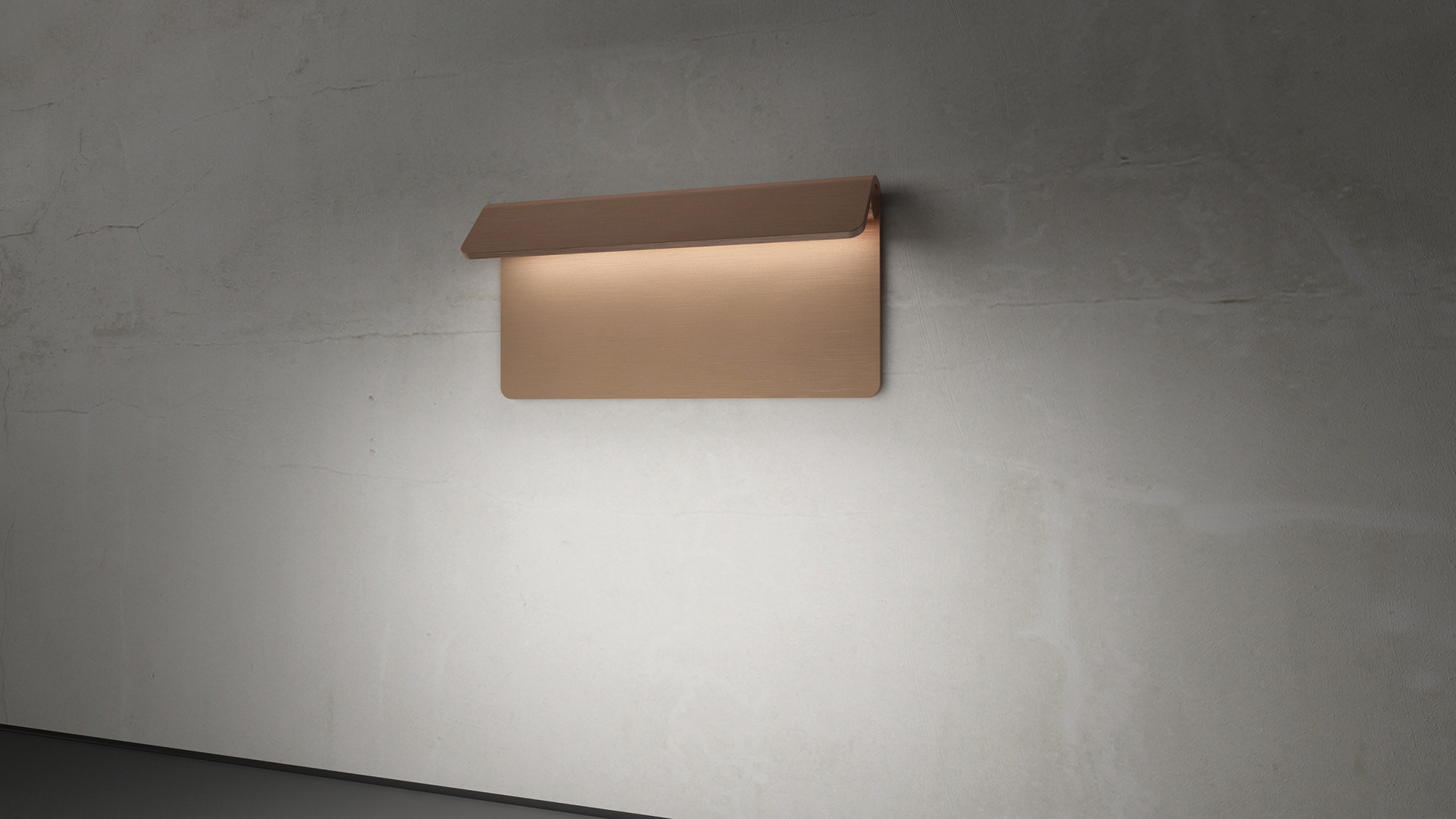 Design: Valerio Sommella + Anonima Luci
Manufacturer: DGA SRL

PIEGA is a step light that aims to emphasize precious finishes. Like a sheet of paper elegantly folded up it hides the light source, with the added effect of washing the surface with light, thus showing its richness and creating at the same time the typical step light effect on the wall. Available both in IP40 and IP67.
Hoop | Luminaire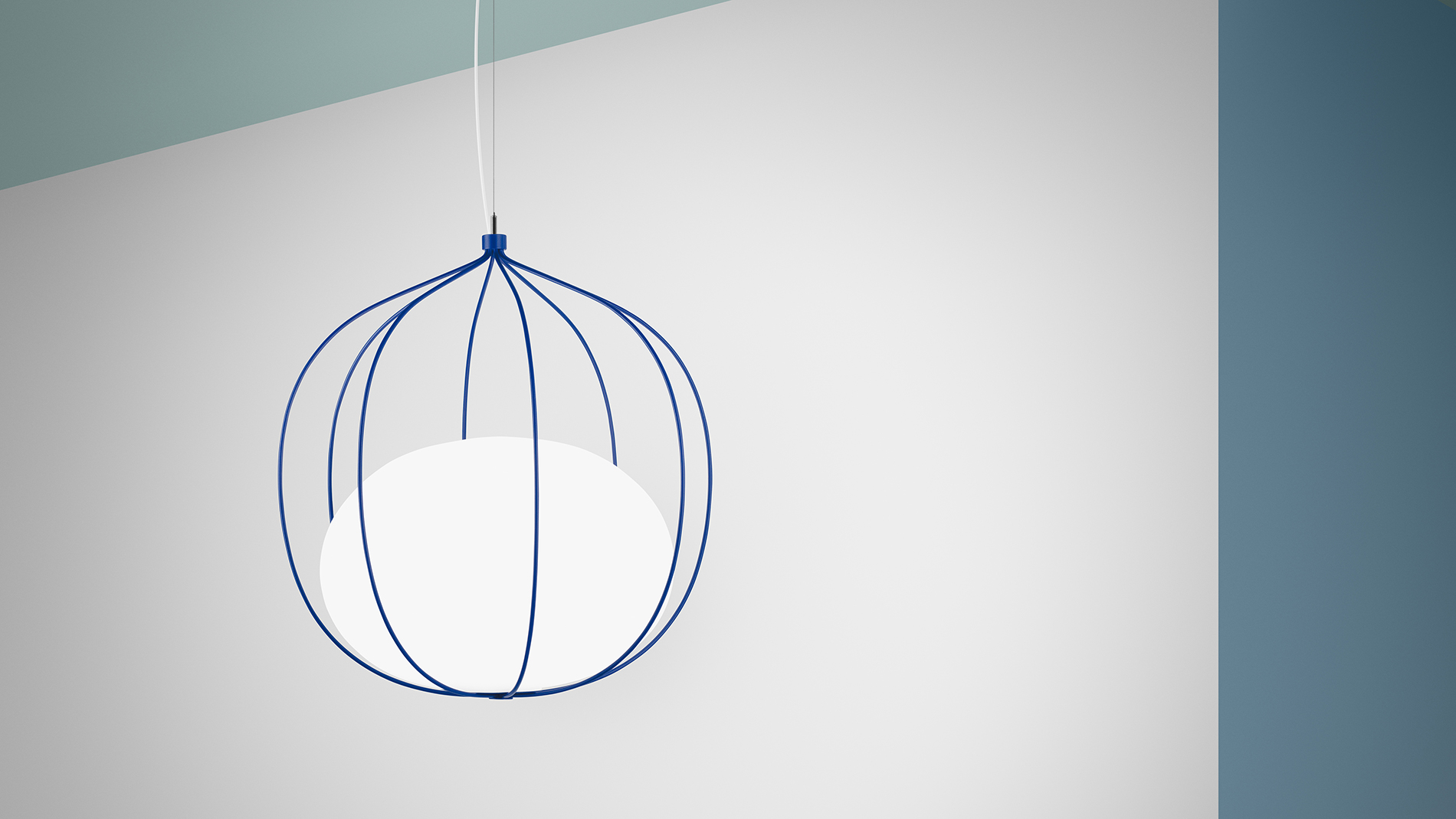 Design: Front Design
Manufacturer: Zero Interior AB
FRONT DESIGN's new pendant, Hoop, has an elegant and thin metal structure. A slightly elliptical globe rests in Hoop's system of rings which are illuminated inside. The electrical parts are perfectly integrated in the construction and has a built in LED module, possible with DALI.
Alphabet of Light circular | Luminaire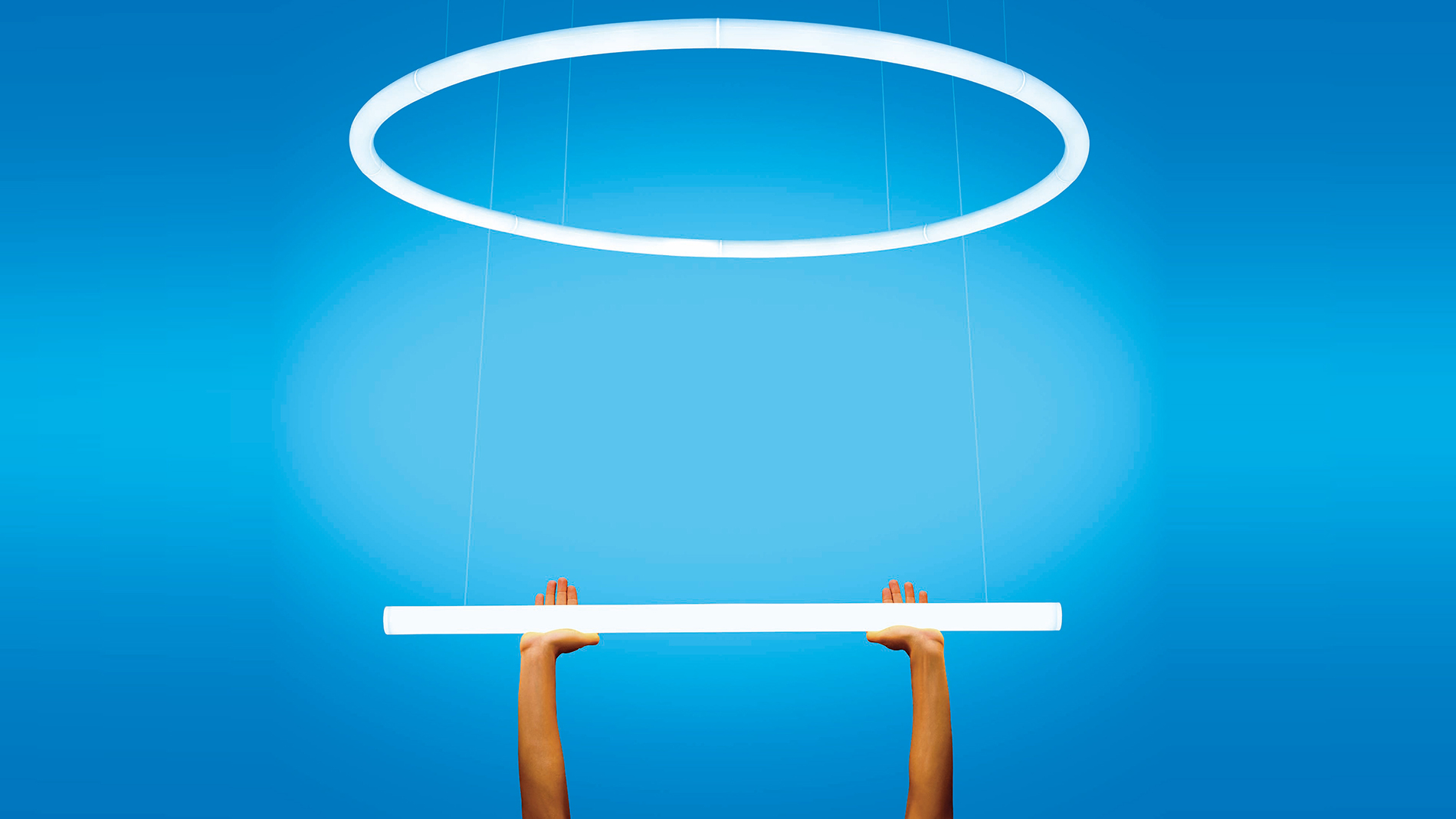 Design: BIG – Bjarke Ingels Group
Manufacturer: Artemide S.p.A
Alphabet of Light is a modular system of lighting components that allows signs to be written and straight and curved lines to be produced. The components can be combined in any way you choose and link together thanks to a hidden electromagnetic connector that leaves no trace of shadow or discontinuity. Alphabet of Light generates uninterrupted and consistently homogenous light, with power carried from one module to the other end up to 5 metres away.
Bicult LED | Luminaire series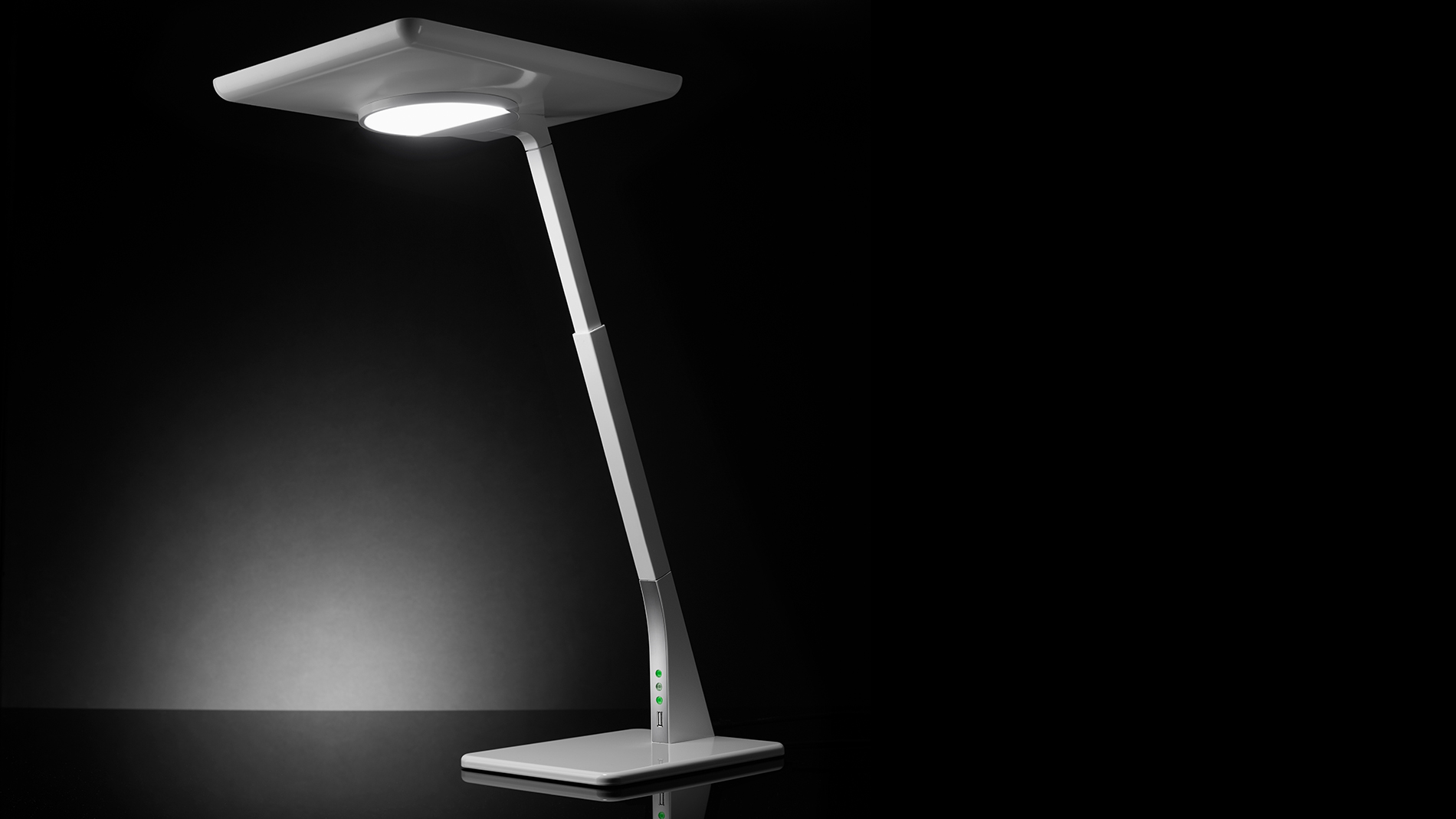 Design: Licht Kunst Licht AG
Manufacturer: TRILUX GmbH & Co. KG
The new Bicult LED is a revolution in office lighting: as the first desktop luminaire in the market, it com bines direct and indirect light for office lighting com pliant to standards. The innovative No Glare System (NGS) prevents any glare: light could not be more flexible or individual! Whether for networked open space offices or home offices – individual light setting and the settable circadian curve ensure perfect well-being everywhere.
HUB series | Radio alarm system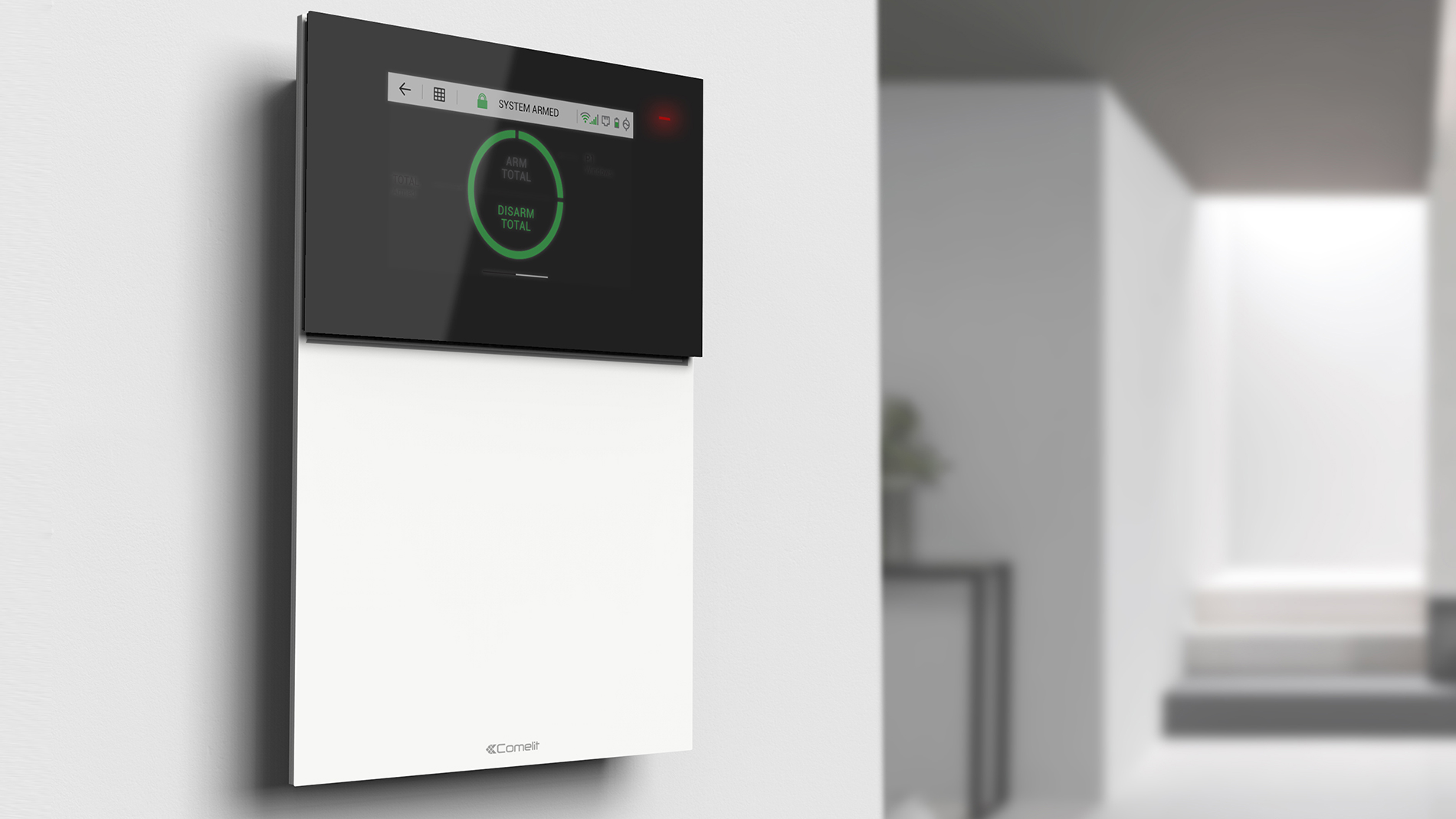 Design: Studio Habits
Manufacturer: Comelit Group S.p.A.
HUB is the new radio alarm system by Comelit, whose language creates a new architectural category on the market. The elements of the collection (central alarm, keypad, sensors, video camera, indoor/outdoor sirens, remote control) share a line based on the juxtaposition of parallelepipeds and contrasting finishes (matte white and glossy black). White represents the architectural surface, black is the computational intelligence of the system.
DIVUS CIRCLE | Intercom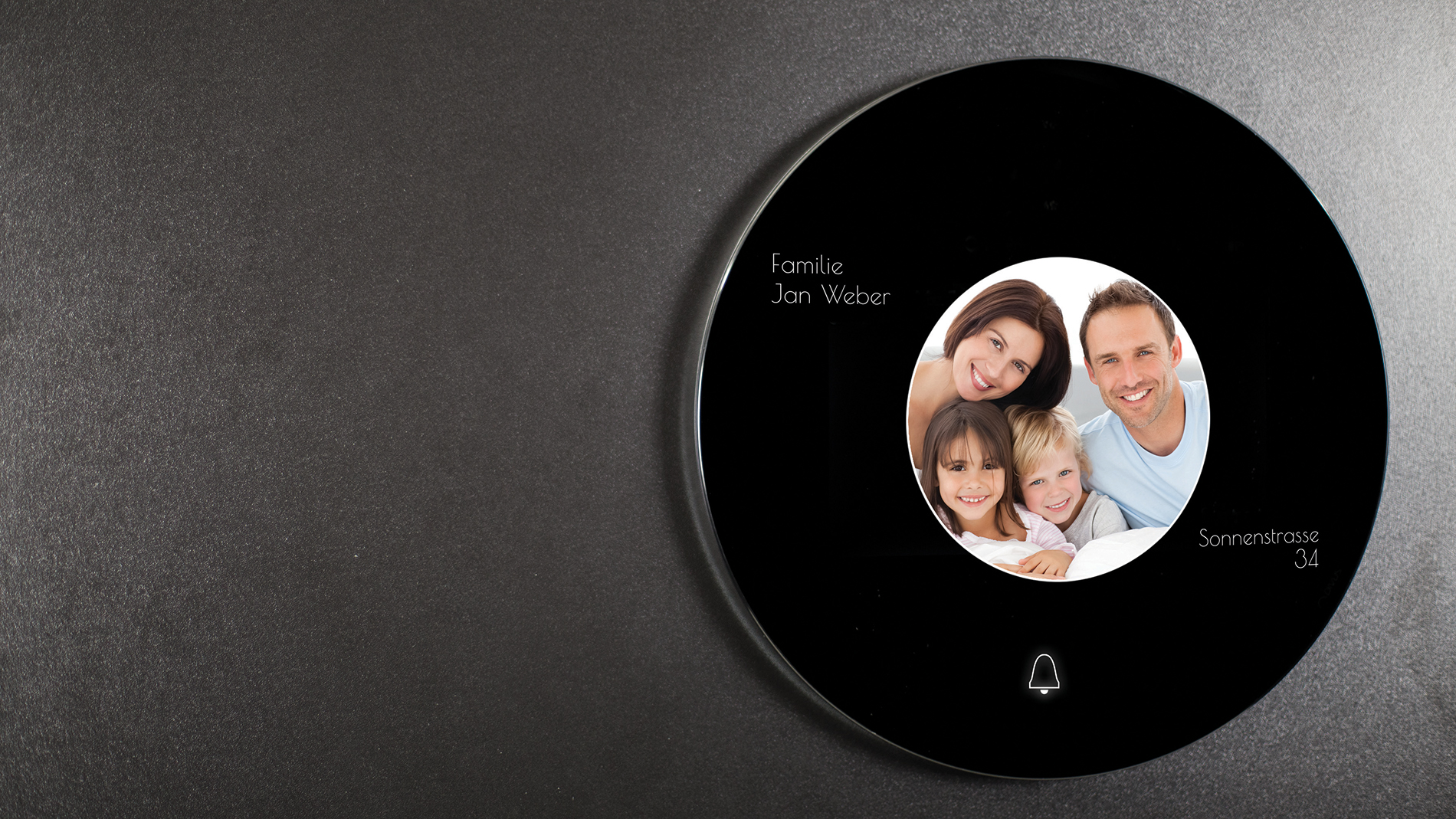 Design: DIVUS GmbH
Manufacturer: DIVUS GmbH
The innovative features and outstanding design
of DIVUS CIRCLE are upgrading the traditional intercom to an essential device for the smart home. It is your personal bodyguard, wall light and intercom all in one, thus increasing safety and comfort. It monitors the approaching guests and, according to the time of day and your predefined settings, welcomes them with a warm smile or observes them with a sceptical look. CIRCLE is ideal for family homes, apartment buildings, offices, or complex towers.
ALL IN | Desk luminaire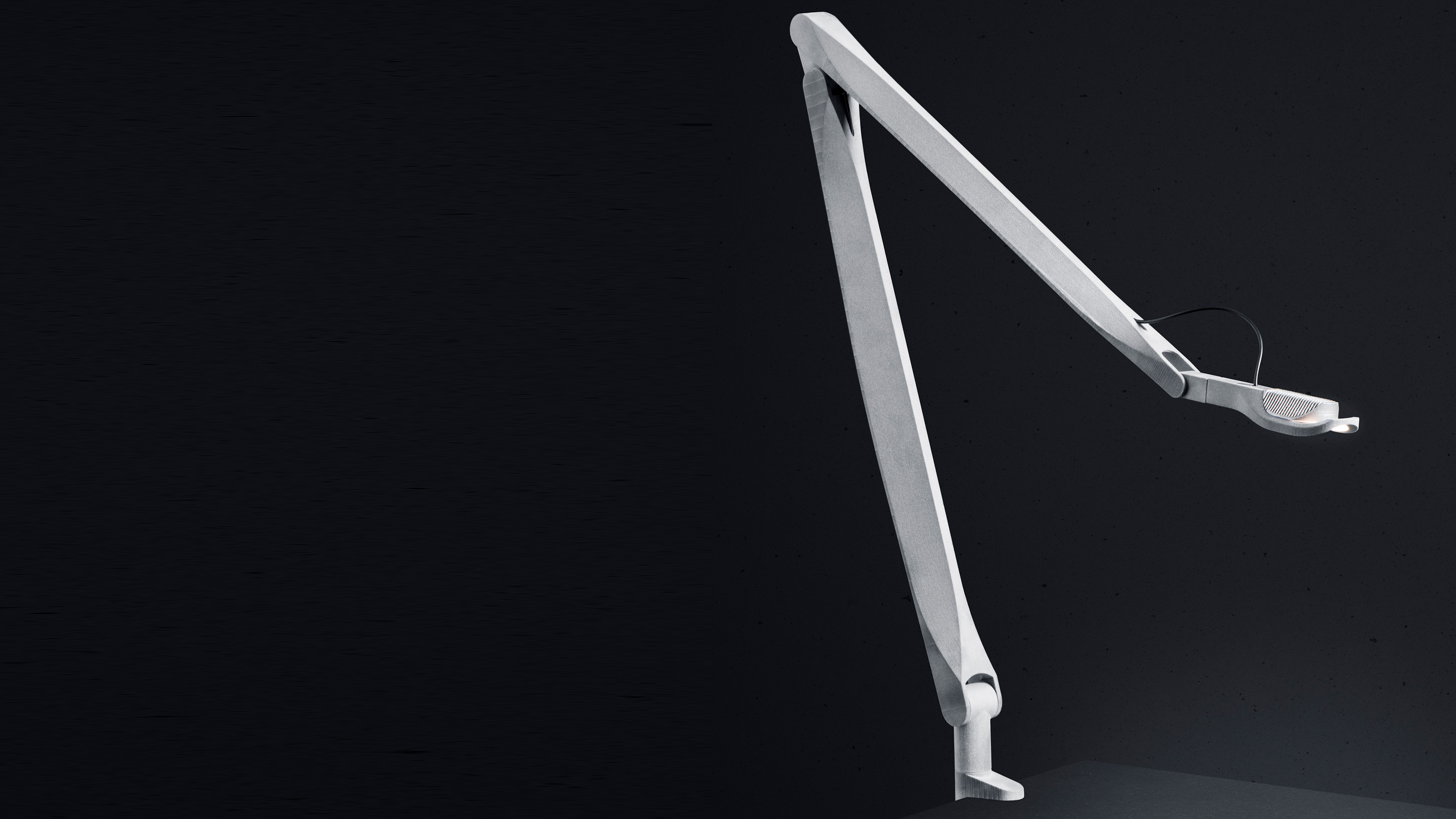 Leon Laskowski
Weißensee Kunsthochschule Berlin
ALL IN is the world's first, entirely 3D printed task light. Including all mechanical components, it is toollessly produced in one single location, in one piece, in one go and from one material, leaving but the heatsink, the LED and its electronic components to be mounted. ALL IN reduces the component count from over 100 to less than 10, enabling unparalleled recyclability and drastic cost savings in logistics of production and international transport of parts, whilst eliminating need for manual assembly by almost a 100%.
Bird | Table luminaire
Bernhard Osann
HFBK Hamburg
The light stands on one point and still cannot fall over. The projecting arm with the light source is balanced by a weight in the lower vertical part. The lamp can simply be placed on a table edge or similar. It oscillates so that the upper part always forms a horizontal and the lower part a vertical. The LED module is embedded in the profile. This area you can rotate around its own axis.
KOR black | Luminaire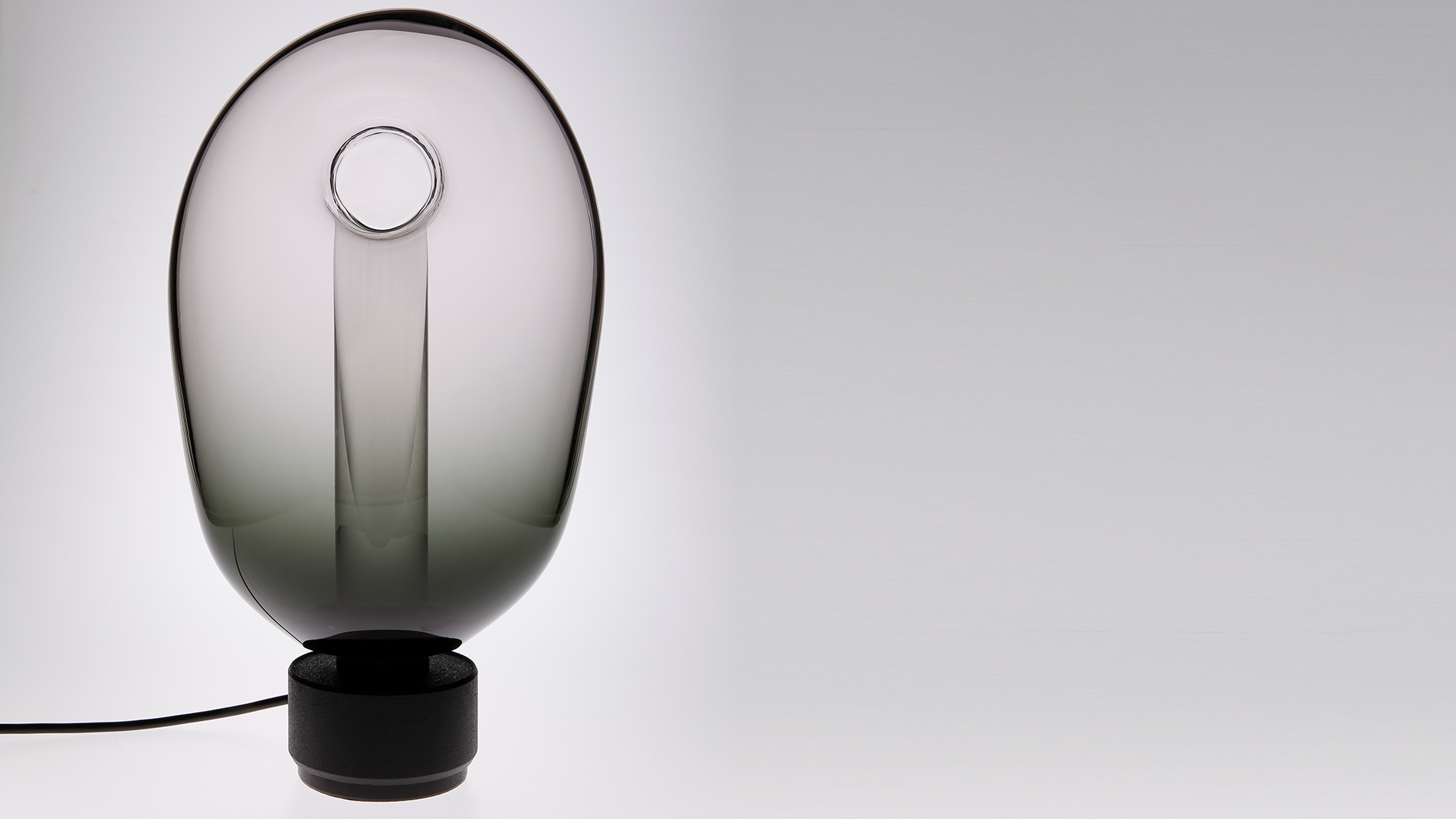 Martin Tony Häußler
Kunsthochschule Kassel
KOR elegantly combines the outside with the inside and unites the traditional craftsmanship with modern technology. The hand-blown glass lampshade rests with its pressing on an illuminated core of acrylic glass. The shade's shape and function is caused through a specially developed pressing tool. The light source is an exchangeable LED disc placed inside the base.