Why you should take a closer look at these 4 newcomers at the Light + Building fair.
More than 2,700 exhibitors are expected again at Light + Building 2018. In Hall 1 in particular, well-known design companies will be represented. They are making their mark with their innovations, product design and sophisticated applications of lighting technology. In their midst every year, there are always relatively young designers as well. Some of these have really innovative products that immediately impress with their ingenious design. We would like to introduce four of them to you in more detail.
The striking thing about the following four designers is that none of them has been active in the lighting sector for all that long. What is also common to them all is that they are engaging intensively with LED technology and its endless possibilities.
Simon Diener
Simon Diener, who is studying product design at Karlsruhe School of Art (HfG Karlsruhe), is fascinated by traditional craftmanship. His enthusiasm and passion for unusual design led him to devise the new 'Pong' lamp. Pong is a portable ceiling lamp for inside and out, with an easily recognisable retro character.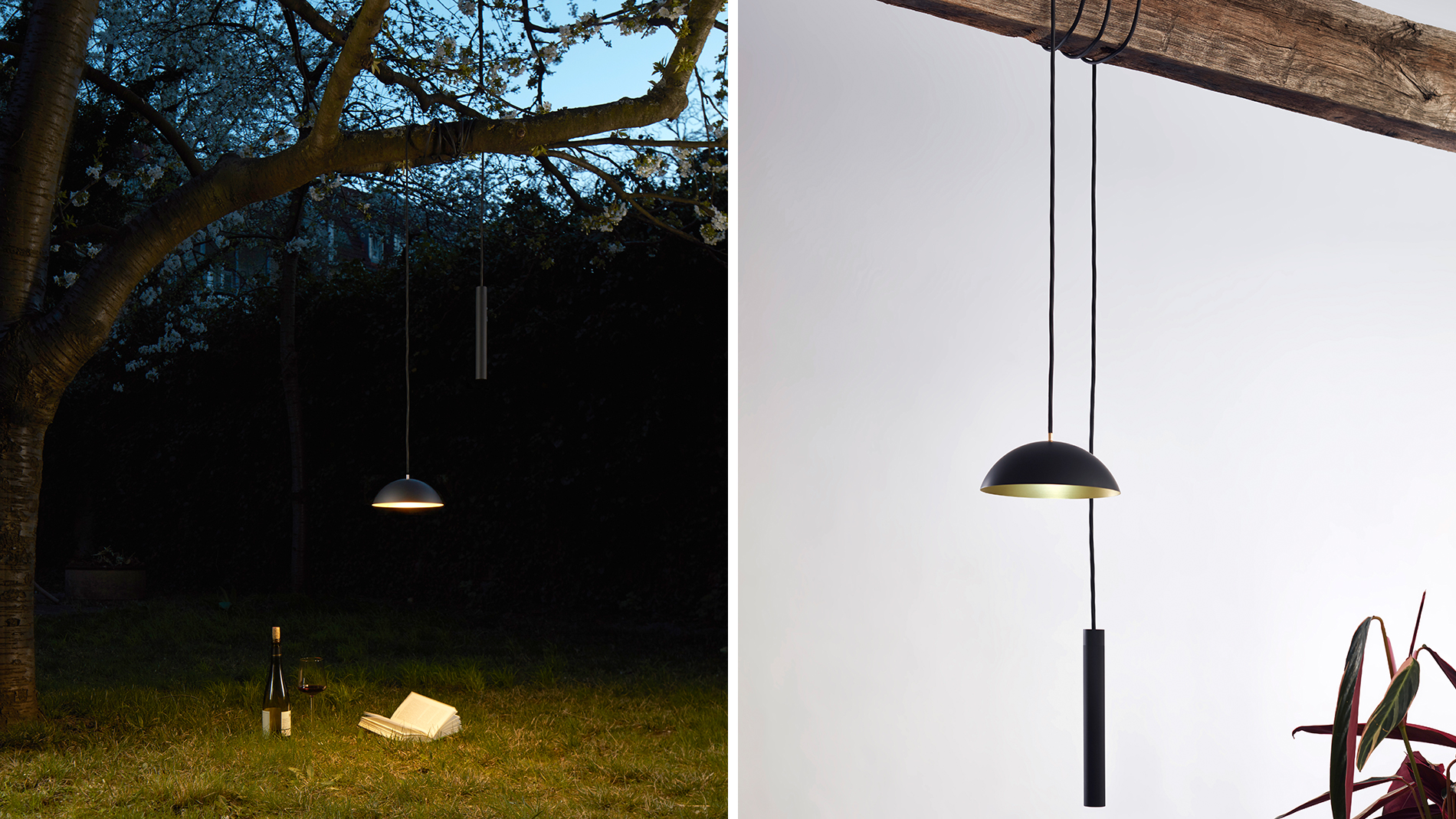 However, considerably more is hidden under the flat shade, which is finished in matt black. It's a battery-powered lamp with a more than 4-metre-long cable which can be looped as you like over a beam, a hook or even a branch (yes, it's IP44 protected and approved for outside areas).
The battery for the lamp, which is hidden in the cylindrical counterweight, can be charged by USB. The light is designed so that the light source can easily be changed when the batteries become weaker.
This interesting design has been nominated for the 2018 'Design Plus' prize. It can be seen in Hall 1.2, B40.
Florian Nübling and Daniel Rhiel
This young design team from Berlin is developing intelligent flat lighting systems that are unique in the way they are designed and function. Glass mosaics, which have been adorning living rooms and office spaces since ancient times, are equipped with the latest LED, sensor and radio technologies.
The technology is integrated into ultra-flat modules, so that external controlling devices are eliminated. Different lighting schemes can be downloaded via a Smartphone App and streamed onto the intelligent mosaic wall. The light modules can display millions of colours.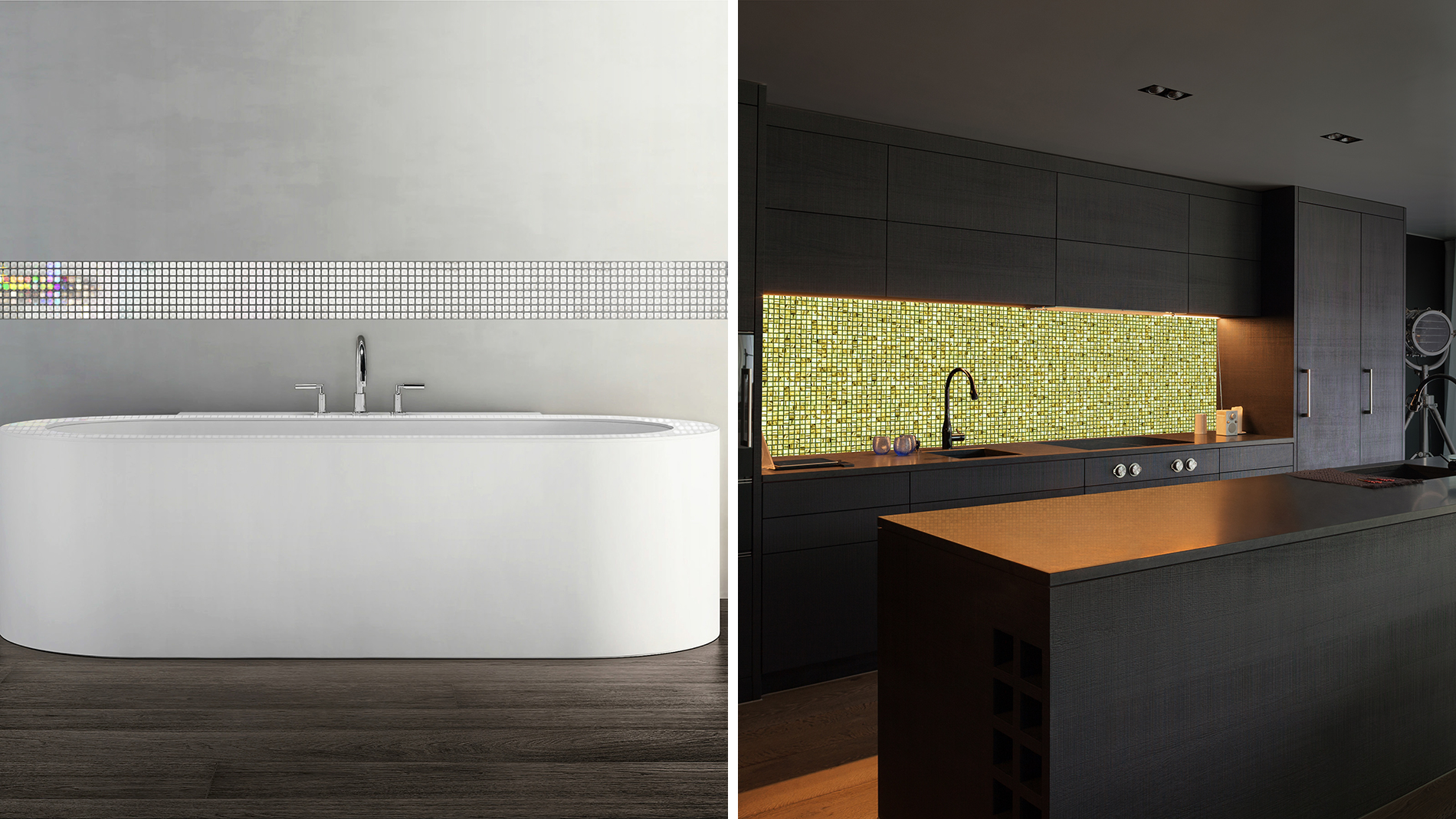 This technology makes it possible to create different compositions again and again. But that's not all: each of the mosaic tiles is touch-sensitive and so by gently stroking the wall, the colour of the light can be changed and even random patterns can be drawn on the wall. Yet, this highly intelligent lighting system is extremely easy to use. If you wish, you can control it by WiFi and a voice control is also available as an optional feature.
Some of the functions can also be operated directly by touch. In addition, there's a lot of freedom in terms of the actual design element, the glass mosaics: their basic structure is always square but the customer can choose whether to make a border, a panel or a frame with them. The designers emphasise that Germany is the manufacturing location and set very high quality standards for their own product. It has also received nominations and been awarded prizes many times, including the DESIGN PLUS Award and the 'Trends in Lighting' (TiL) Award. The designers' products can be viewed more closely in Hall 5.1, D09.
Konrad Weinhuber
What is it that can make daily life more beautiful and easier at the same time? This is the motto that Konrad Weinhuber adopts with his design team. Since 2004, Konrad Weinhuber has been designing lights that inspire us with the way they function. His first design was called 'SPIN'.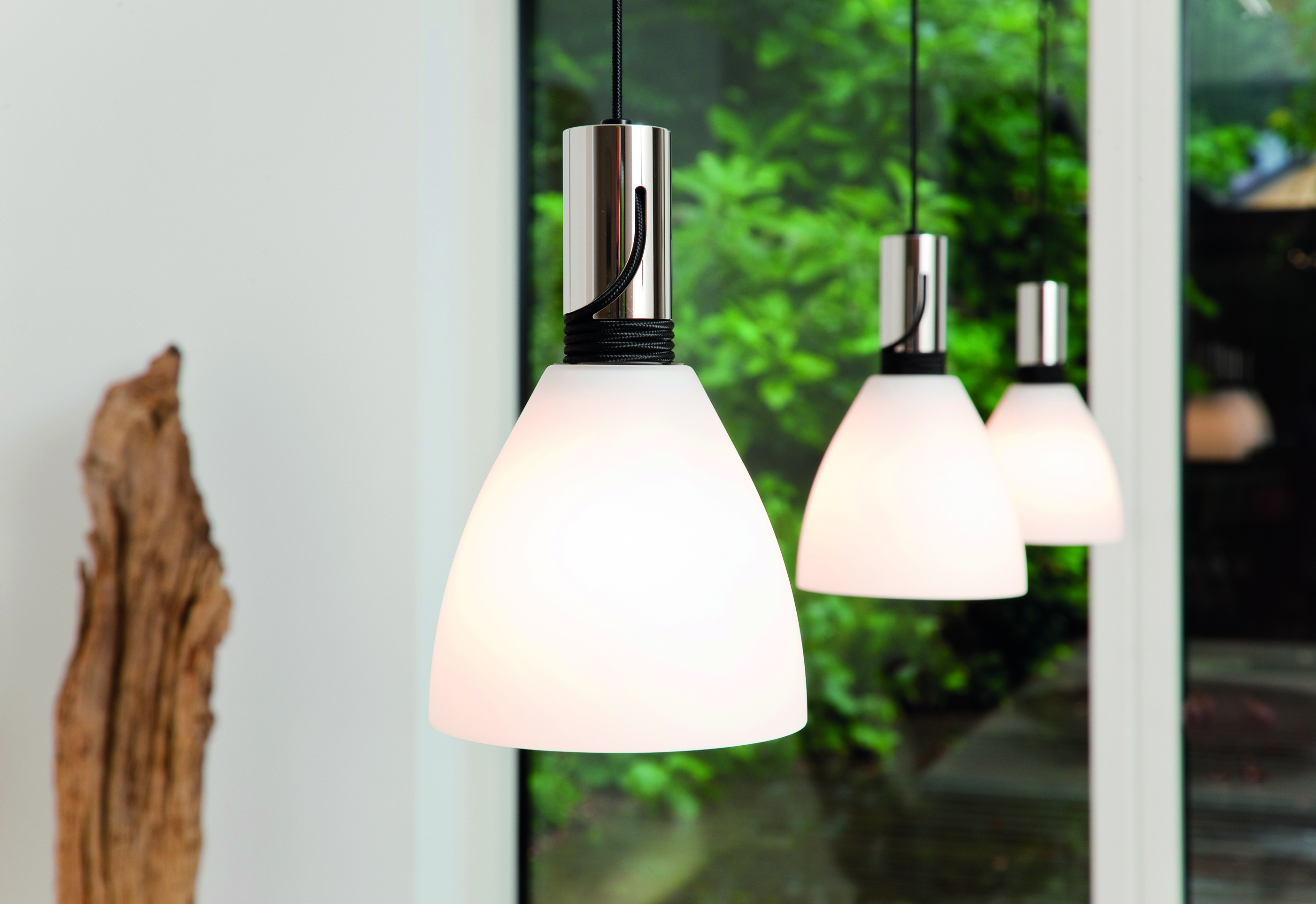 The light quickly attracted many fans because of its patented height adjustment system, and the series has since been steadily extended with the addition of new 'family members' as a result.
The light has also been awarded the International Forum Design GmbH's coveted 'iF Design Award'. The new 'COS' lighting series is proof that traditional manufacturing processes and modern LED technology can perfectly complement each other in a harmonious way.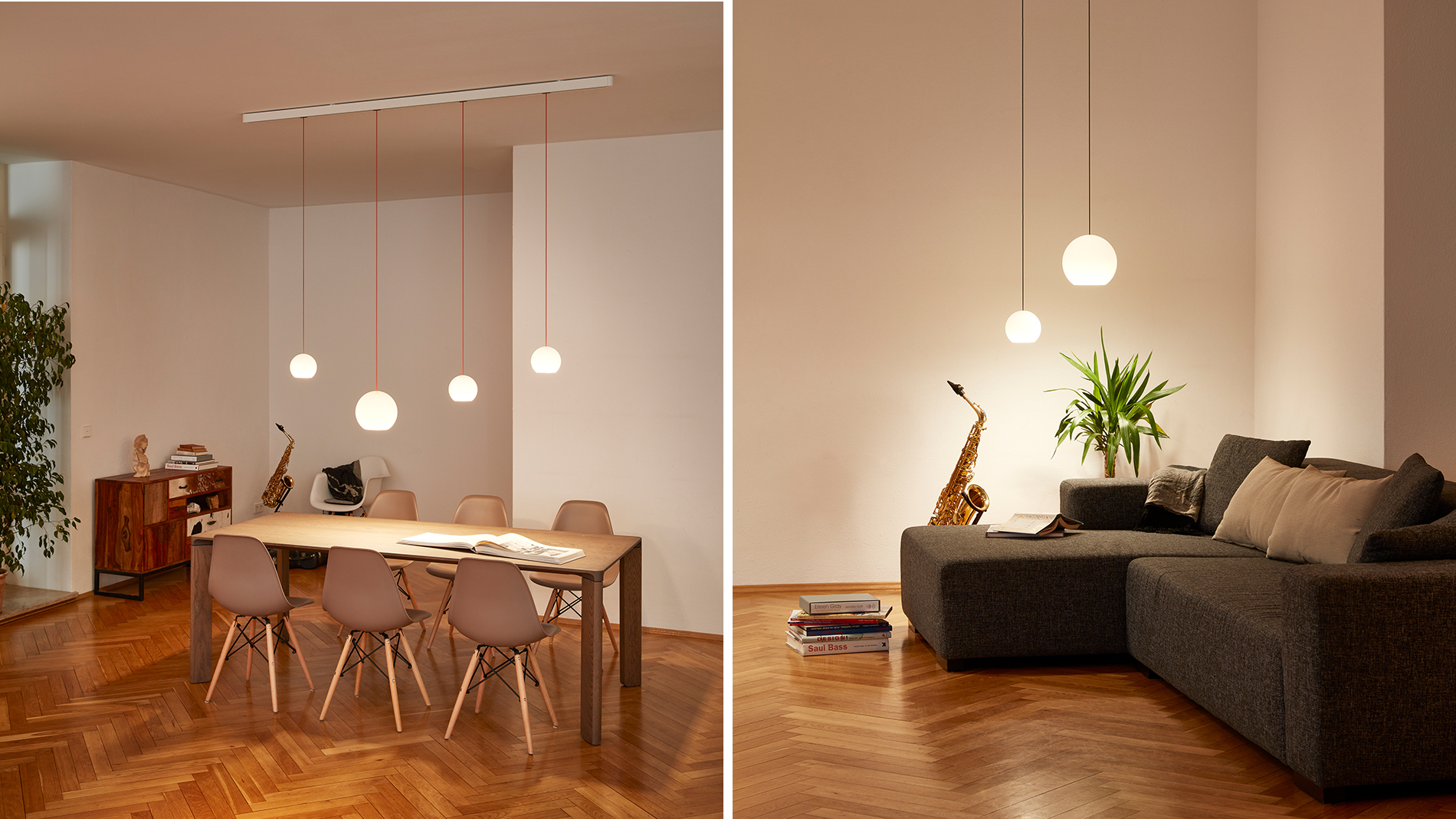 The hand-blown opal glass, combined with the latest LED technology, generates a rich and cosy light. Konrad Weinhuber told us that the mobility of the system was the prime consideration when designing the light. So the COS pendants - just like those in the SPIN series - can be adjusted easily for height: as if by magic, the cable disappears invisibly inside the light sphere. The COS is switched on and off and dimmed with ultra-modern gesture recognition technology. This is a gadget that makes control by Smartphone almost redundant because a simple hand movement is all that's needed. Konrad Weinhuber will be showcasing his lights at Light + Building in Hall 1.2, J05.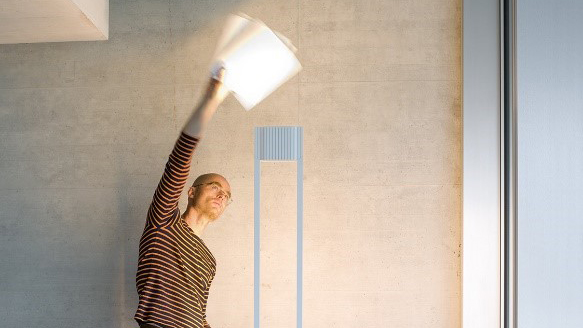 Steve Léchot
Swiss designer Steve Léchot was educated at ECAL School of Art (Ecole Cantonale d'Arts de Lausanne) and has been designing under his own name since 2003. Prior to this, he'd also worked as a product designer for a variety of well-known companies where he won prizes such as the Red Dot Design Award.

Steve Léchot lights are subject to very high quality standards; they have a slight sculptural edge, and they are made in Switzerland. His designs also go beyond the norm. So his TOTEM floor lamps and the new UNIC lamp are available in heights of 160cm to 250cm.

The UNIC floor lamp will be showcased for the first time at Light + Building. According to Steve Léchot, the lamp was born from the desire to combine powerful LEDs, lighting comfort and clear shapes. The result is a floor lamp with double indirect lighting: a ceiling light and a wall light. The individual light sources can be switched on and off with a foot switch or small half-height switches. Thanks to its luminosity, the lamp perfectly reflects the light from different surfaces - such as concrete, wood and painted walls.
On the back, the floor lamp is equipped with two optical lenses, which ensure the optimal distribution of the light beam in the room. Thanks to its versatility, its restrained design and its functionality, UNIC is equally suited for use as a main lighting source, a reading light or a mood light.

Other young talents will be showcasing their designs in the 'Young Design' area in Hall 1.1, where you will always find design ideas with innovative spirit and creative approaches. Of course, there'll be many more newcomers to see at the fair. Take a look around and make sure you allow enough time for your visit to look at the relatively unknown, new labels as well. It will be worth your while.