The fact that interior design concepts with maximum flexibility and adaptability are enjoying boom times at present is not just a trend.
At a time of dynamic change, dominated by rapid innovation cycles and hybrid usage, this shift offers decided advantages: it becomes part of the constantly changing environment. And this expectation is equally true for the lighting sector, which continues to offer new functionality and aesthetics.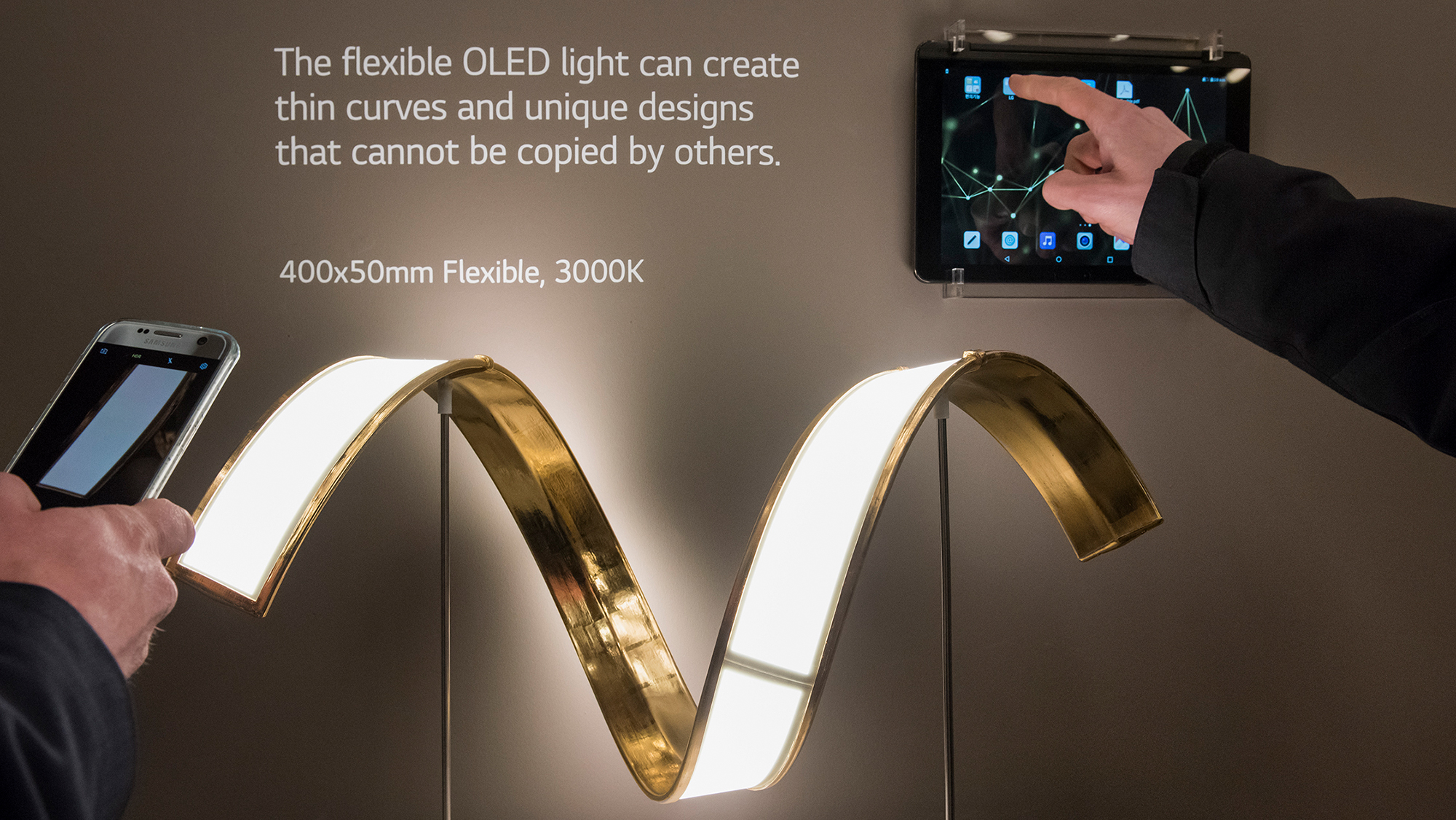 These days, offices must be planned in such a way as to ensure that the team workplace can also serve as an ad hoc, up-market lounge area and then, tomorrow, at the drop of a hat, turn into shared office space for a variety of different companies.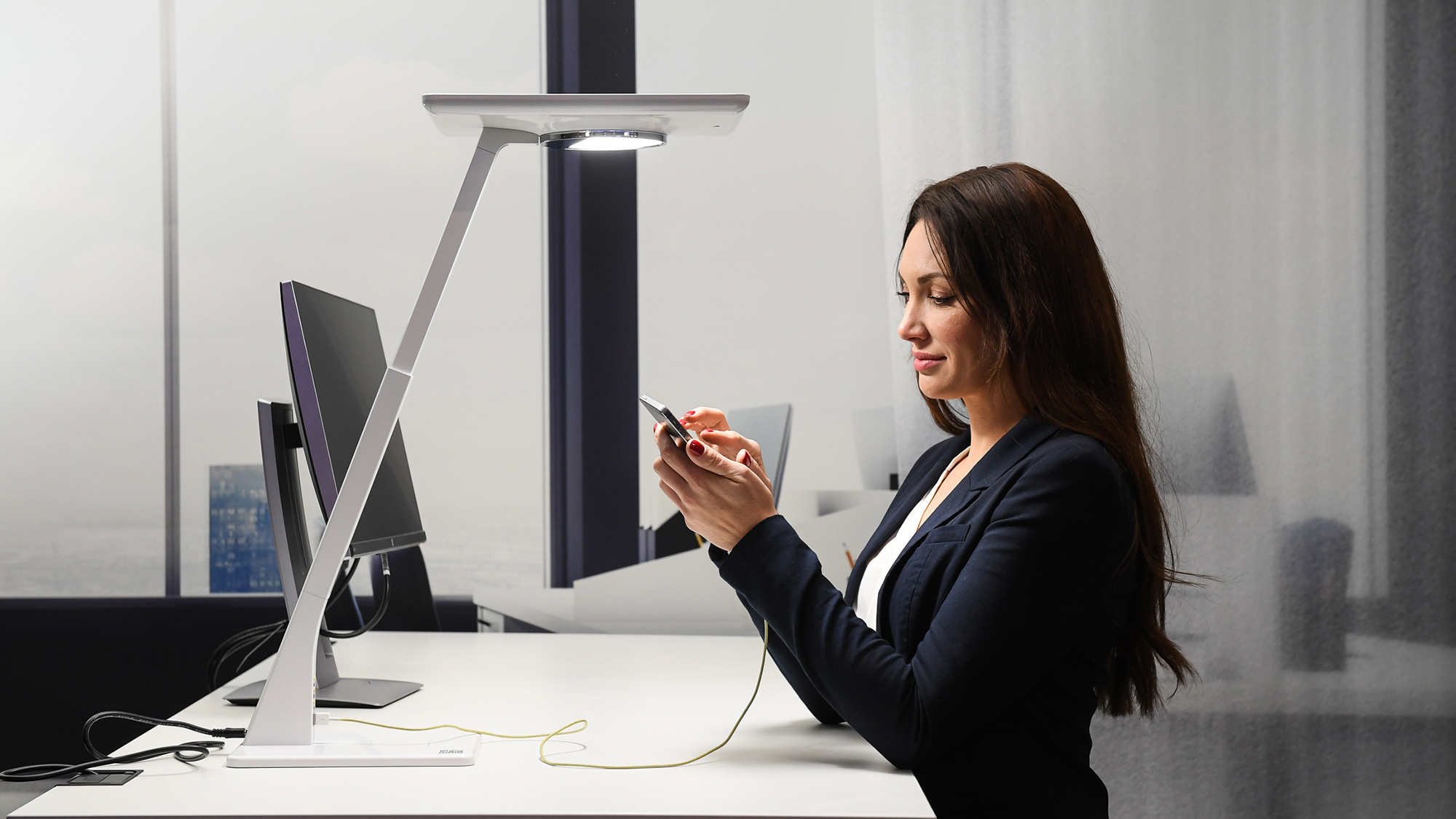 This flexibility extends to quite disparate areas. What, during the day, is a co-working zone in the hotel lobby, must also work as a cosy cocktail bar in the evening. Devotional spaces in churches are temporarily transformed into bustling concert halls, museum foyers become lecture halls with a stage for panel discussions, fashion stores become DJ hot spots and urban spaces become outdoor galleries. We even experience this kind of hybrid usage in our own homes: the sitting room, the centre of family life, brings the family together for breakfast in the morning, becomes a home office - and a playroom at the same time - during the day, only to assume a cosy elegance for the evening, when friends come to dinner.
For all these scenarios to be successful, the possibility of situational shifts between various lighting moods is a crucial factor. Light + Building will be presenting lighting solutions that make real statements about modern variability and adaptability, in terms both of design and of technology. In all sorts of fields of application – from manufacturing and office spaces to the private sphere – a new, functional lighting aesthetic now comes to the fore.
New lighting infrastructures
At the heart of this lie track lighting systems; they can be mounted in many different ways – straight onto the ceiling or onto the wall, or they can be suspended. It is then child's play to change the position of individual light sources anywhere along the track and thus adapt the lighting to changing contexts. And crucial new developments are being added all the time: curved tracks for instance. Curves facilitate creative designs and offer a solution to the problem of the rather stark linear tracks that we have known up to now. Also available are interchangeable modular units that can be used as building blocks to create hitherto unprecedented shapes. Elegant solutions for the shift from wall to ceiling now become possible anywhere in the room.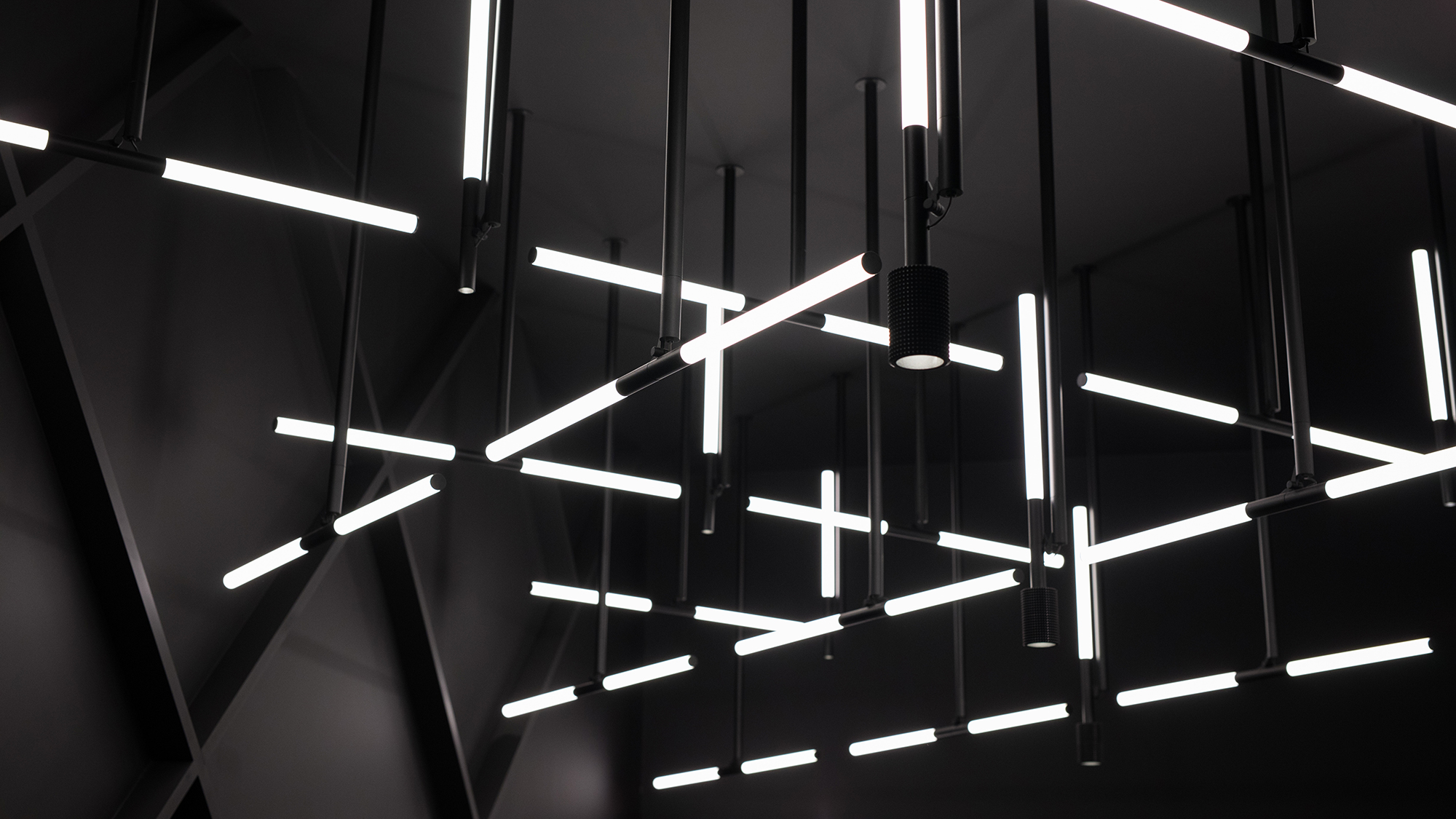 Large-scale lighting structures can be created, covering large areas, tailored to any and every interior and adapted to any and every kind of architecture, however unusual. Chandelier-like lighting, made up of individual tracks, can be put together to add a touch of modern glamour. Lighting thus becomes an architectural, sculptural element that reaches into every corner of the room.
This is underpinned, too, by the new conductive materials and connectors, which can be added to the mix: textiles, leather and rubber belts now constitute innovative, flexible lighting infrastructures. As Light + Building clearly shows: poetry is finding its way into functional lighting design and bringing with it new homely qualities – even to the lighting of large-scale open offices and public spaces.
Configuring lighting requirements to suit every situation
As is appropriate to the conductive electrical infrastructure, manufacturers are offering collections of luminaires in a variety of designs that can be put together in what amounts to a kind of lighting collage: a slim, linear light source alternating with floods and spots, for instance. These, too, are designed to be modular and appear increasingly as the perfect complement to hybrid interiors: lampshades, materials, surfaces, as well as type and quality of light are now capable of being juxtaposed and adjusted to suit individual needs.
The modular building-block approach fits in equally well with technical lighting. Today's luminaires are becoming high-performance, digital lighting instruments, equipped with a multitude of electronic controls. At the same time these high-quality light sources get closer and closer to natural daylight. Optional extras include diffusers and lenses as well as magnetic and digital filters, with the result that the illumination pattern can be subtly shifted from a narrow angle to broad surface illumination or completely diffuse light – all controlled from your mobile phone.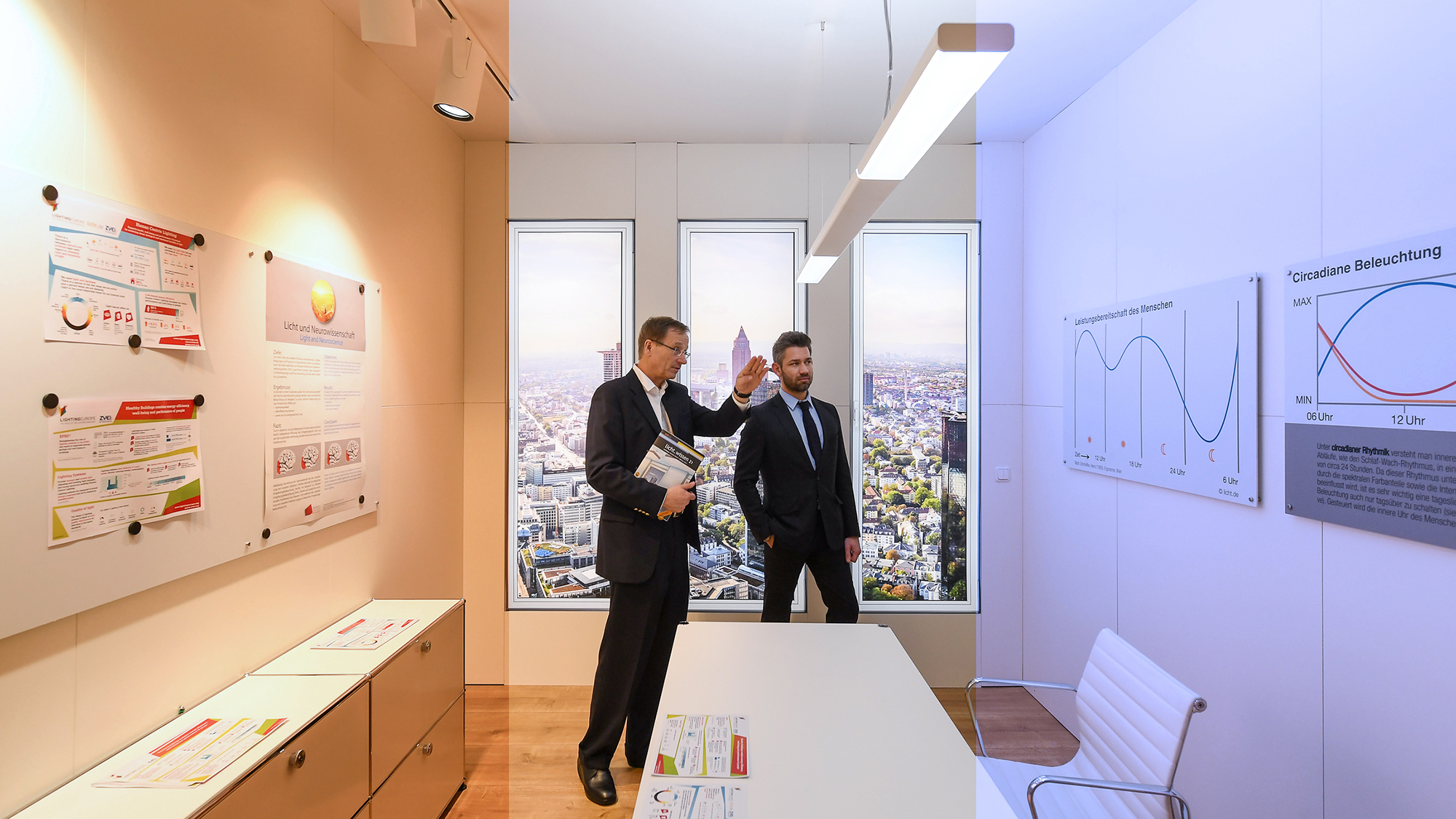 In additions, the light can be continuously dimmed; dim-to-warm functionality has a valuable contribution to make here, too.
A single luminaire can be configured to meet the entire range of lighting needs: from concentrated, work lighting to diffuse illumination for the sitting room.
Lighting will, in future, be capable of being changed and adapted on an ad hoc basis in many different ways, in order always to create a suitable lighting mood. The digital light sources have now become so 'smart' that luminaires can communicate with one another via a network. Even lighting scenarios with selected groups of lights do not present a problem. They can take on additional functions, too, and this includes storing and passing on information about energy consumption. Light + Building 2020 will be showcasing the industry's latest developments, and giving its visitors the opportunity to experience them first-hand in Frankfurt am Main.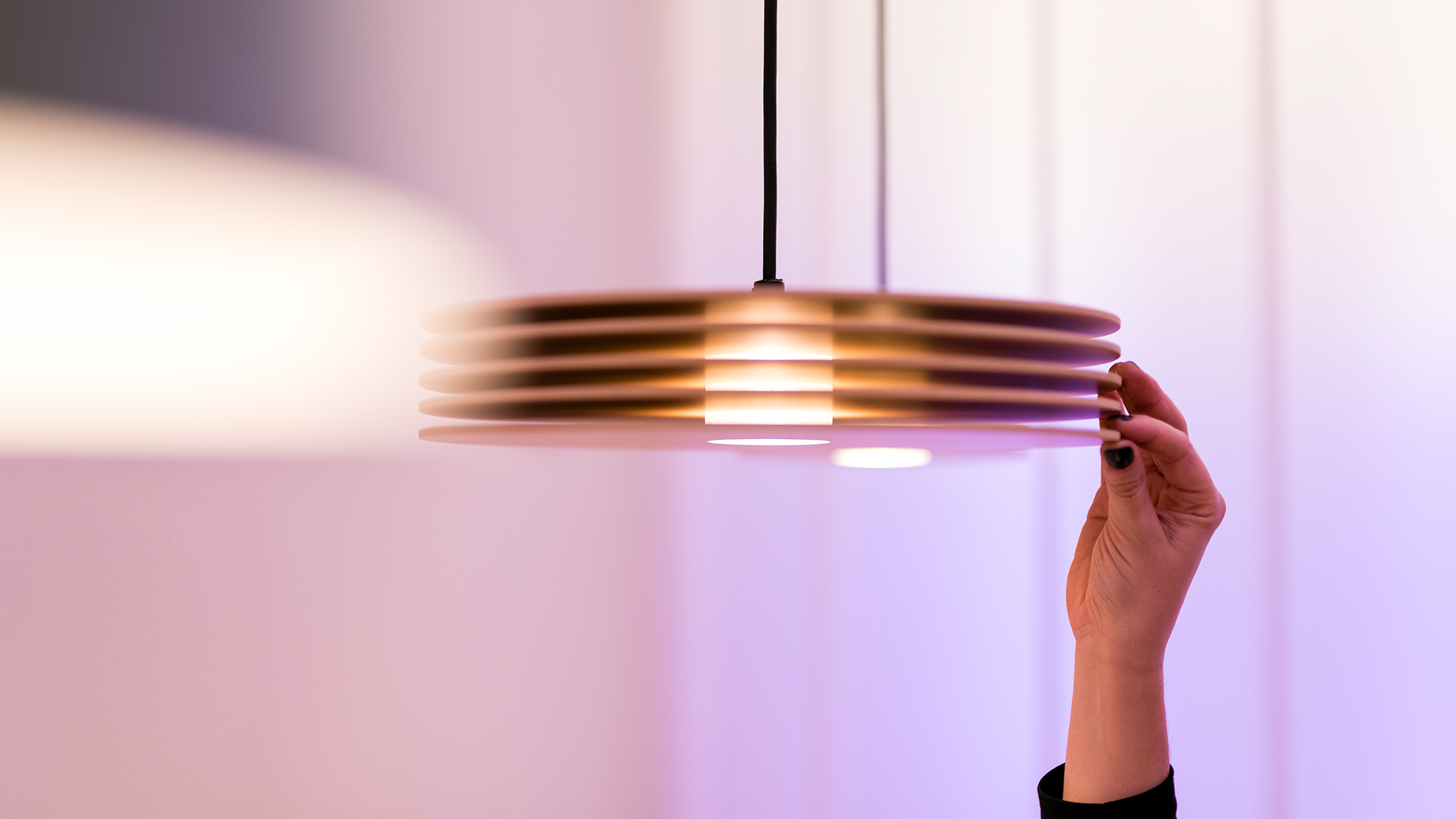 Mix and match down to the last detail
The new functional lighting aesthetic, with its trend towards the construction of systems, has now spread to decorative hanging, wall and standard lamps. Here too, the pervading idea is 'mix and match'. The new models for lampshades, materials, surfaces and colours are just as able to be selected to harmonise with the overall ambience as are the technical aspects of the light sources. This means that they are equipped with an extensive range of features and are also capable of meeting the need for work light. Moreover, decorative luminaires are, in turn, being made compatible with lighting track systems: rise and fall pendant lamps, for instance, can then be adjusted horizontally as well. For situations where a lounge area is required as a meeting venue, low-hanging lamps can be raised for working purposes. Maximum flexibility is the name of the game!
New dimensions in lighting functions
But that is not all. For architectural situations with large, dark spaces, lighting panels can reproduce almost one hundred percent daylight. For this, it is OLED technology that is mostly used. Modular ceiling panels, for instance, not only look like skylights, they also create the mood that real daylight does. Lighting technology is making quantum leaps in all sorts of directions and Light + Building offers a guide through the complexity.