Connecting. Pioneering. Fascinating. – in these three categories, the top themes of Light + Building refer to the claim of the anniversary edition of the fair. The overarching element of all three top themes is dynamic digitalisation.
Scenario: dynamic digitalisation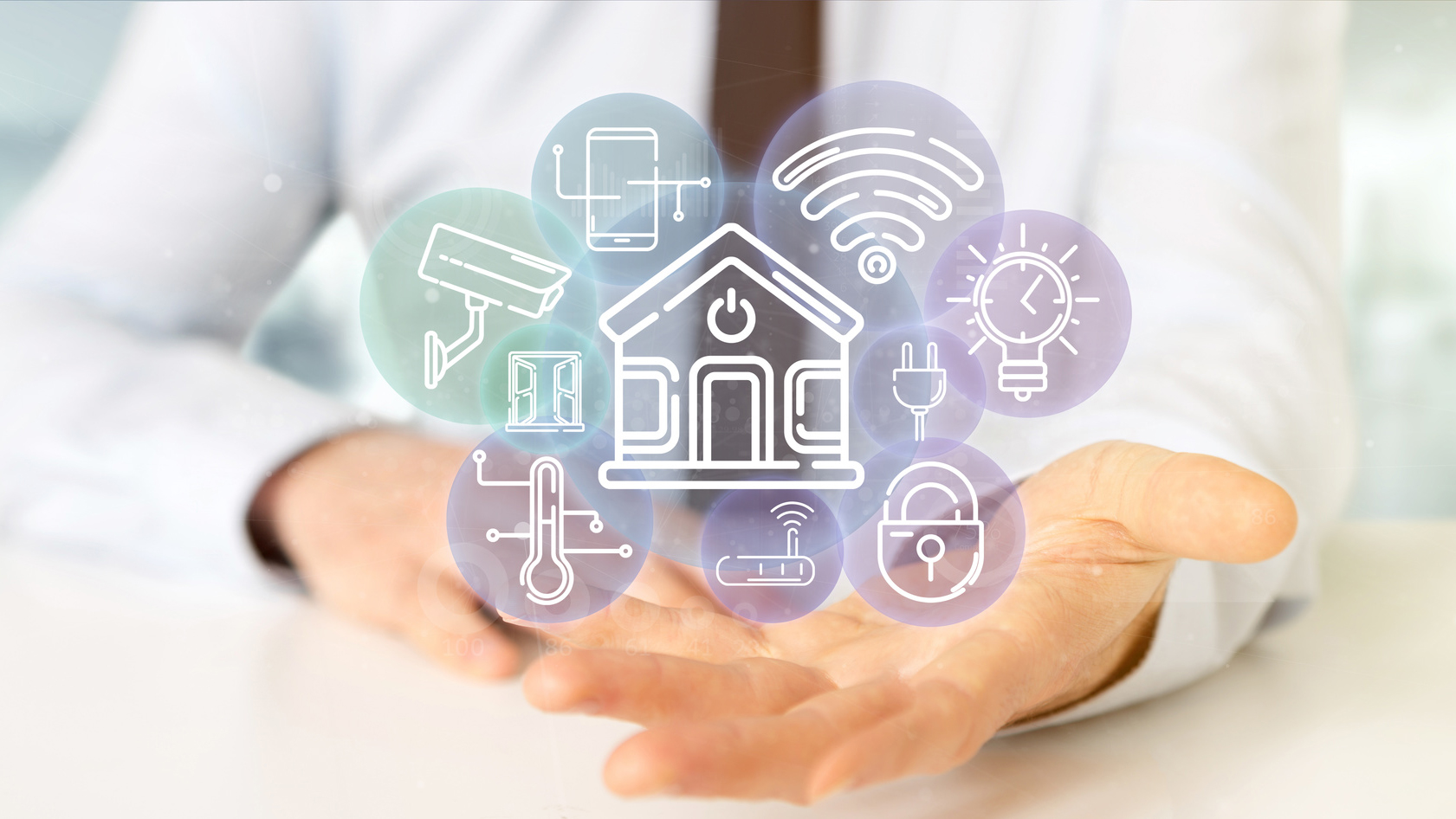 When the street light senses that the electric car has been parked in front of the house, parking fees will be charged, charging initiated, the footpath to the dwelling illuminated dynamically, the front door opened via face recognition, lighting appropriate to the time of day switched on and the occupant's favourite music played.
In the future, application scenarios for buildings and districts will only be subject to the bounds of imagination. Beforehand, however, all electronic components must be connected digitally and speak the same language.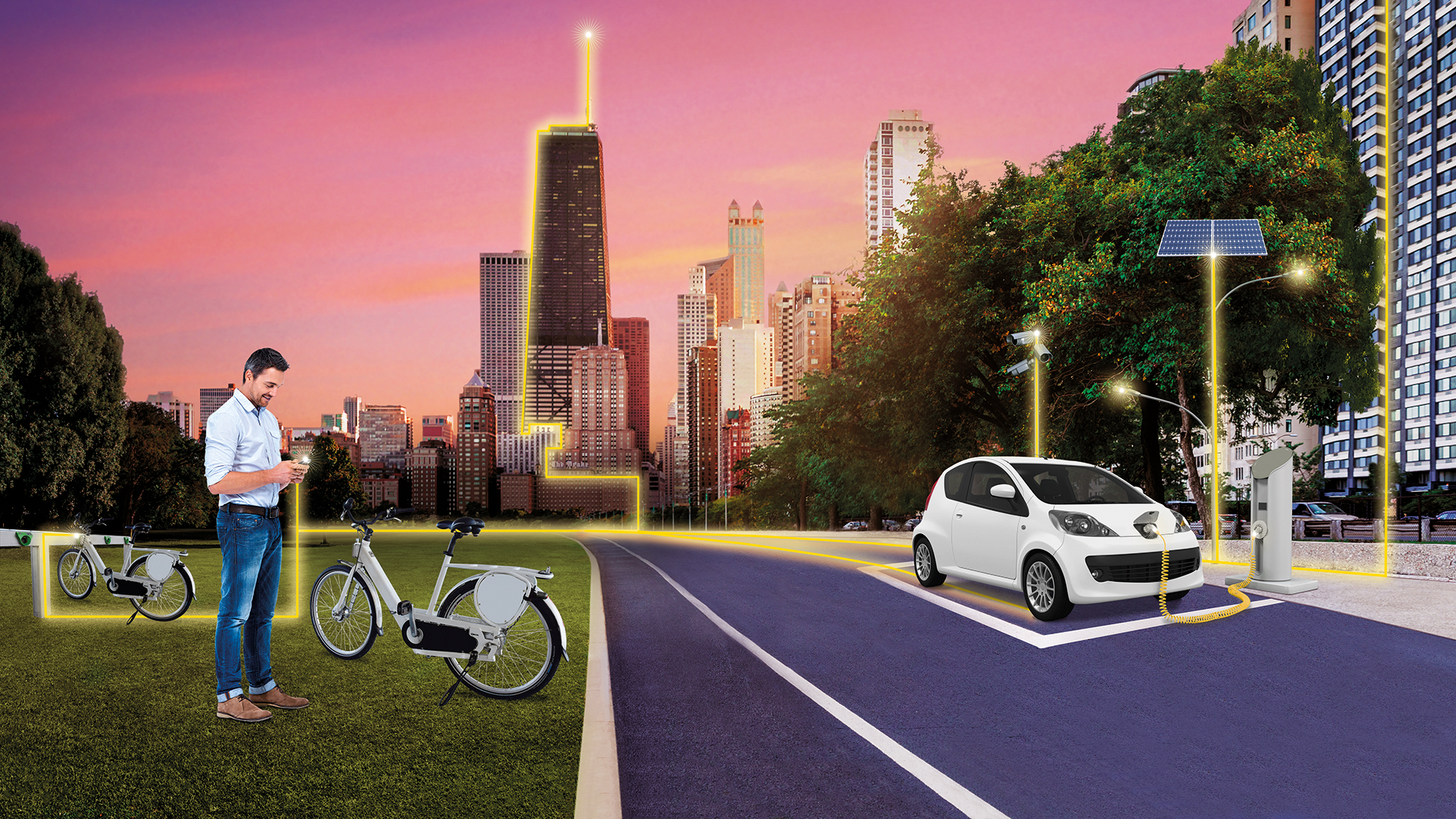 Connecting is a top topic dealing with systems whose key elements are connectivity and interoperability. The goal: To increase comfort and efficiency, also in the sense of defined climate targets. >  Read more

Progressive energy management
Connected security
Smart urban
Advanced e-charging infrastructure
Progressive energy management
The aim of future-oriented energy management is not only to serve users in the most economical, sustainable and secure way but also to control and optimise energy consumption throughout the whole building. The meta aim: efficiency and resource conservation. Moreover, progressive energy management can help, for example, to add transparency regarding the specific energy demand of individual consumers and building sectors. In the future, it will also be important to turn consumers temporarily into suppliers when their electric vehicles are not in use and the battery capacities can be released. Then, smart building automation will regulate organisational aspects thus making, for example, the integration of alternative, decentral energy generation – such as photovoltaic systems – particularly attractive.
Connected security
Modern buildings or ways of protecting them are inconceivable without intelligent systems. Monitoring, access control and data protection are equally essential, especially when security facilities are interconnected and integrated into all other building services. Thus, electronic security technology is an integral part of the smart home and smart building.
Read more
Smart urban
Smart urban stands for the intelligent infrastructure of a district. At the same time, the interconnection of the home and working spheres as the smallest and the town as the biggest unit of living and working space is part of the top theme. This includes production facilities, digital charging infrastructure for electric vehicles and dynamic street lighting, as well as connected surveillance technology and intelligent parking systems.
Advanced e-charging infrastructure
Electric mobility and urban development are closely interlinked. Private fast-charging units, public induction chargers, billing systems, car sharing and travel planning – only with an intelligent electrical infrastructure can bicycles, cars and commercial transport become part of mobility concepts suitable for mass implementation.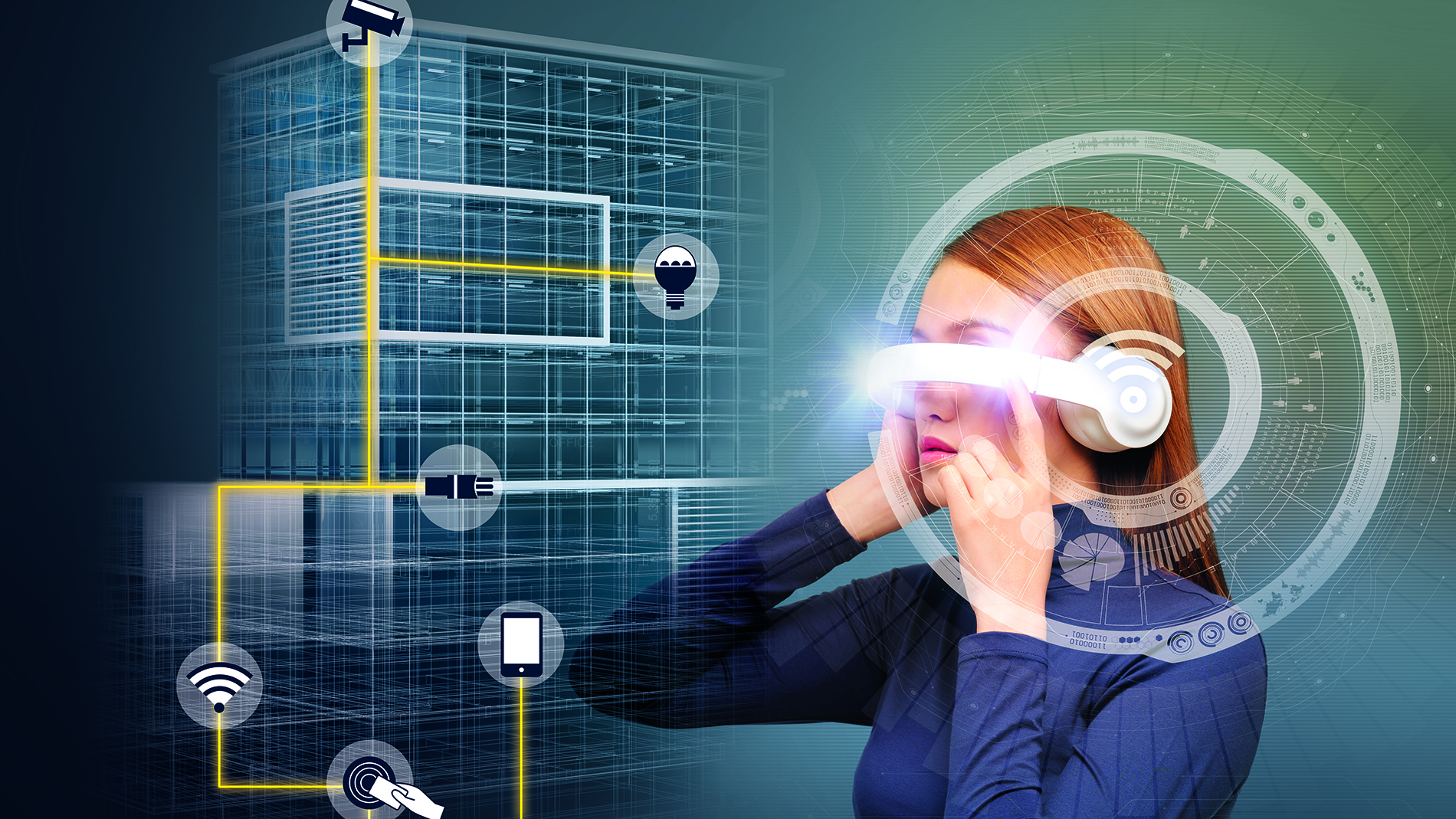 Pioneering is the top theme spotlighting the progressive vision of models and systems that are, in some cases, already reality today.
X as a Service
Predictive maintenance
Digital twin – BIM
X as a Service
Leasing cars and renting apartments are everyday occurrences. As are, for example, using light or security as services without having to pay for the necessary building technology. In this case, the specific properties of a product, i.e., in the home, at work, in education or the hospitality sector, are provided as a service. Thus, the 'X' in 'X as a Service' stands for a specific product, e.g., office lighting, security or predictive maintenance.
Read more
Predictive maintenance
Building installations, such as security systems or lighting, are fitted with sensors that continuously measure their performance. Thus, it is possible to make predictions as to when maintenance work must be carried out or a part changed to avoid qualitative or quantitative declines in performance. The name of the method: predictive maintenance.
Digital twin – BIM
All themes are linked by a future-oriented interface: BIM. Building Information Modelling is the digital twin of the physical building and, therefore, an interdisciplinary tool for planning, equipping and operating a building digitally and centrally documenting everything. All building-relevant installations are noted and illustrated three dimensionally in a database that even contains details of the manufacturers, product identification or dimensions – comprehensible for all trades involved.
Read more
'In addition to solutions for media facades, I also find innovations and technologies in the area of networking and digitization at Light + Building.'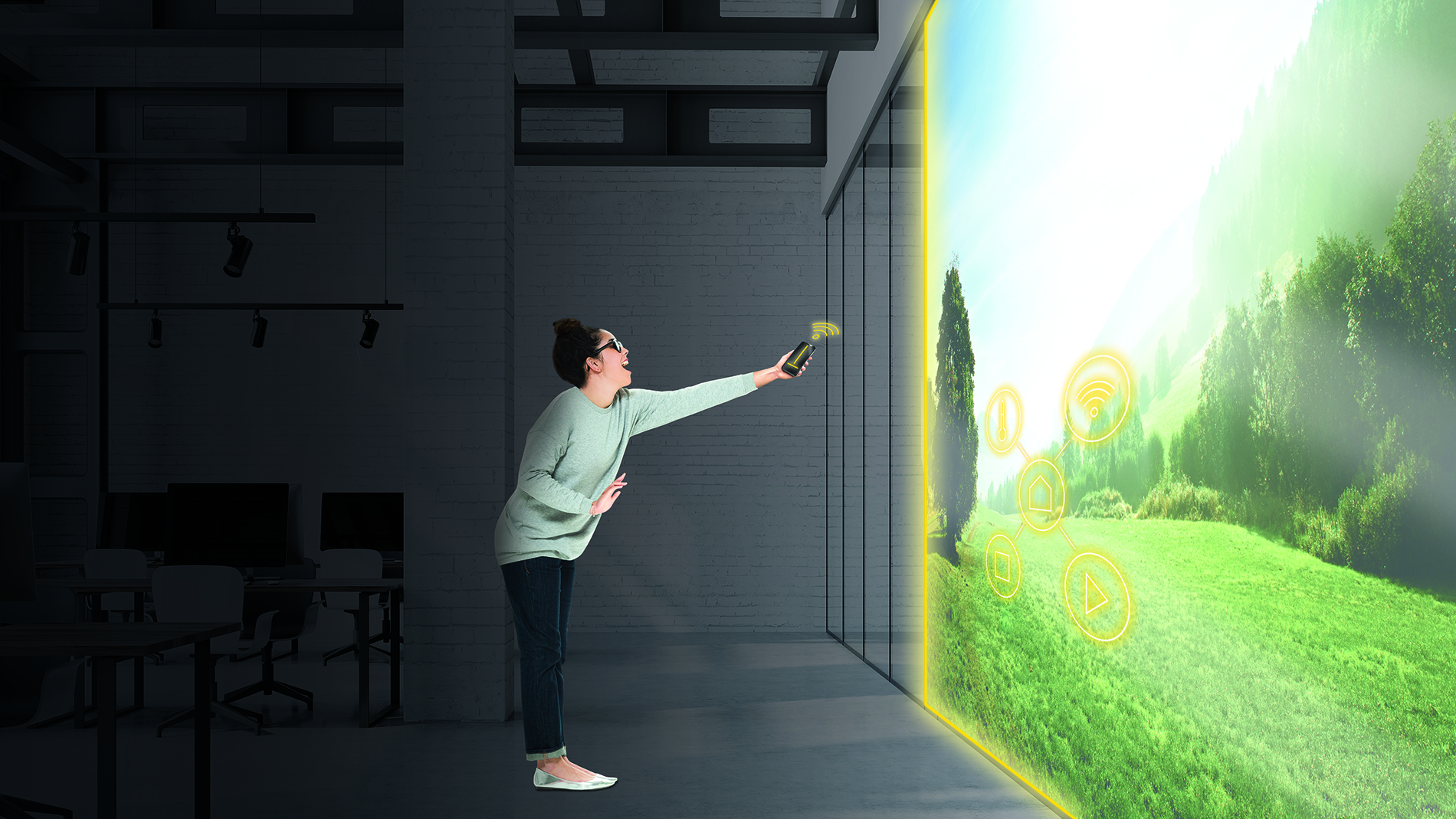 Fascinating is the top theme that focuses on light and luminaire design, at the same time as showing how light can be part of the network.
Functional aesthetics
Classic authenticity
Historical ascendency
Futuristic focus
Functional aesthetics
By consciously going without ornamentation in design and focusing on the specific lighting requirements, Light + Building will give a further boost to a megatrend. Subtle luminaire designs with variable lighting spectrums for different scenarios – in some cases controlled by the smart building – are being used more and more in the education, work and leisure fields. For example, windowless chambers can be turned into light and airy rooms. Depending on requirements, adaptive wavelengths of light can stimulate or calm the biorhythm.
Read more
Classic authenticity
Stringent and timeless – classic lighting design satisfies expectations in numerous offices and private residences. Some designs seem to never lose their attraction. On the contrary: the older the design, the greater the enthusiasm of potential users. In many cases, an emotional story and famous designers are linked with individual products.
Light + Building will present luminaires from very different epochs and styles: from reduced to exalted, from sparkling chandeliers to the uncluttered lines of Nordic standard or industrial loft luminaires. Together, they meet the demand of users for classic lighting design and future-oriented connectivity.
Read more
Historical ascendency
Regardless of whether Wilhelminian, art décor or the Memphis Group – successful design elements frequently reach the pinnacle of design. In the past, some designs have been so archetypal that relevant details are often to be seen in modern designs.International design studios will present their exhibits at Light + Building. With their luminaires, they create a link between the past and the future. And for no element does this hold truer than for the invisible because it is the invisible – the connectivity of many modern luminaires – that bridges the technological gap to the future.
Futuristic focus
Living and working are becoming increasingly flexible. After the domestic breakfast table, the co-working space is the centre of activity for around eight hours before the riverbank provides the setting for the day's last game of chess at sunset. Back home, it's time to relax with a good book in an armchair. And, always on hand: the favourite luminaire with a variety of atmospheric settings controlled via an app. Smart, portable, light and sustainable – that's the future of luminaire design.
Read more
'Light + Building is the biggest global stage for the lighting market. As a lighting designer, I am in Frankfurt because I can find the whole spectrum of design and technical luminaires there.'