Vouchers for your customer invitation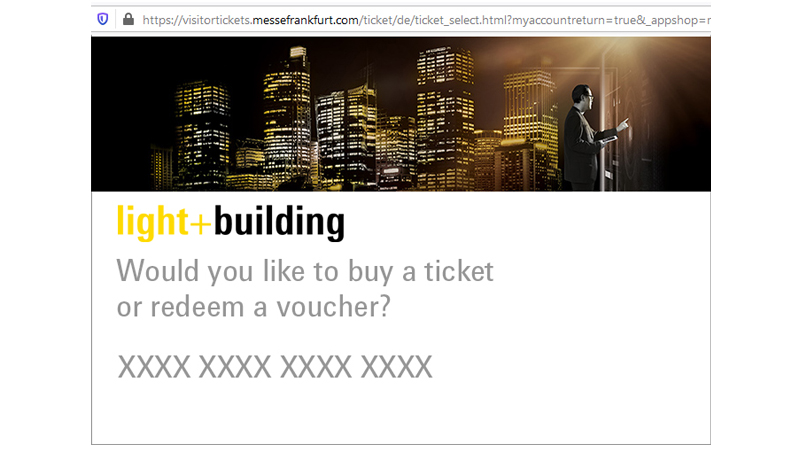 Give your customers free admission to the trade fair with a personal and individivual invitation using the Light + Building voucher. We will provide you these vouchers free of charge for the Light + Building Autumn Edition.

Inviting your customers is now even easier: Simply upload your contact list from Excel. At the press of a button our exhibitor ticketing portal system will send out invitations to your customers – with your company as sender.
Order vouchers here
E-Card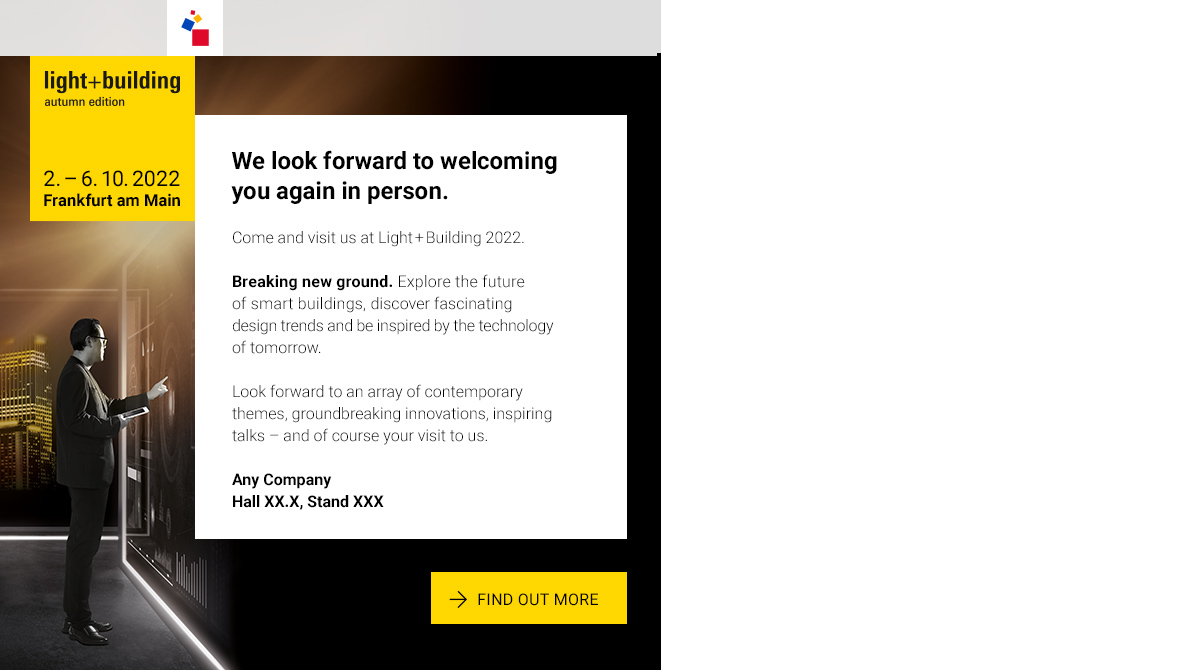 Use the e-card to send as a personal digital greeting card to your contacts – personalised with your company name and stand number. Your customers are guaranteed to find you!
Size: 657 x 689px
Order now
Online banners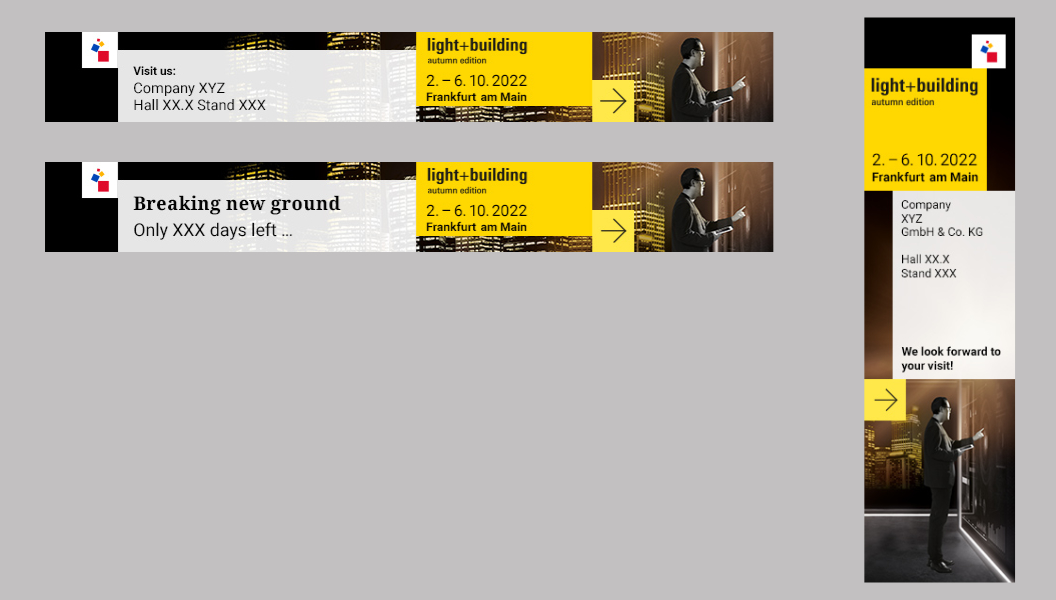 Show that you'll be taking part in the fair with the Light + Building banner on your website. Choose between two formats (728 x 90px and 160 x 600px), each of which can be customised with your individual text. The banners are available for download.
A real eye-catcher on your website: the countdown banner automatically counts down the days till the fair starts.
Order now
E-mail Signature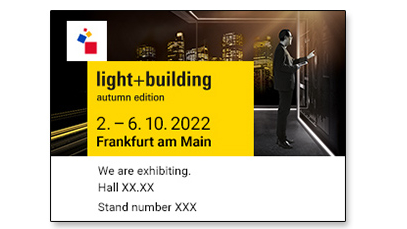 Give your e-mails a personal touch – with the Light + Building e-mail signature. Attract attention on one of the most-used communication channels.
Size: 312 x 102px
Order now
Eye-catcher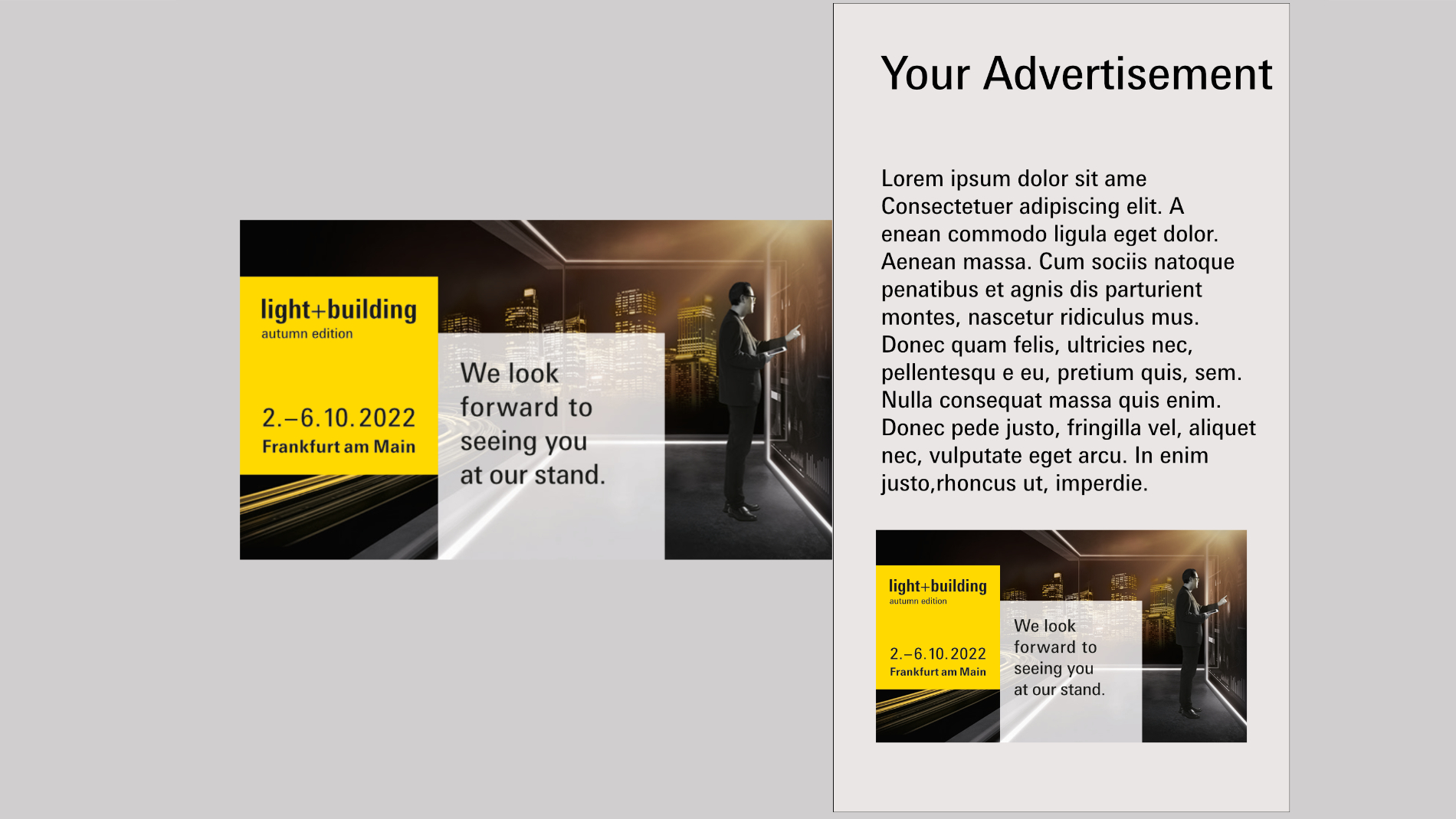 With the Light + Building eye-catcher, you can skilfully link your advertising message to inform about your presence at the fair.
Size: 68 x 39mm
Order now
SOCIAL MEDIA – Follow us!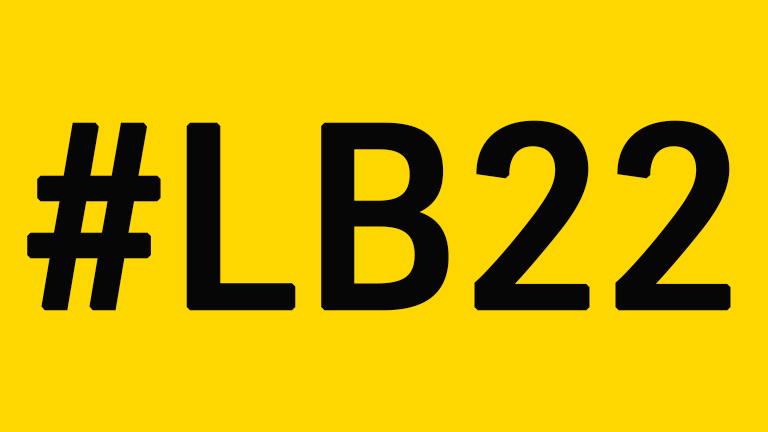 Social media has long since become an indispensable part of communication and helps to spread messages about product and trade fair topics. The Light + Building channels alone already have over 100,000 followers.
Let's reach even more potential customers together!
That's why we invite you to subscribe to our channels and tag us in your posts or use our official hashtag. This gives us the opportunity to follow your channels as well, to like, share or comment on your posts.
Let`s get social:
Hashtag: #LB22
facebook.com/light.building
linkedin.com/showcase/light-building
twitter.com/light_building
youtube.com/lightbuilding
instagram.com/building.technologies.messeffm
Website: light-building.com
Info Package
With interesting texts and lots of high-quality images, you have everything you need to inform your customers about your presence at the show – whether on your social media channels, on your website or in your customer magazine.
To the download
Logo and key visual
Download the Light + Building logo and key visual here.  
To the download